Trump's Confidence Game
After a year of uncertainty and unhappiness, the president is reportedly feeling more comfortable—but has he really mastered the job?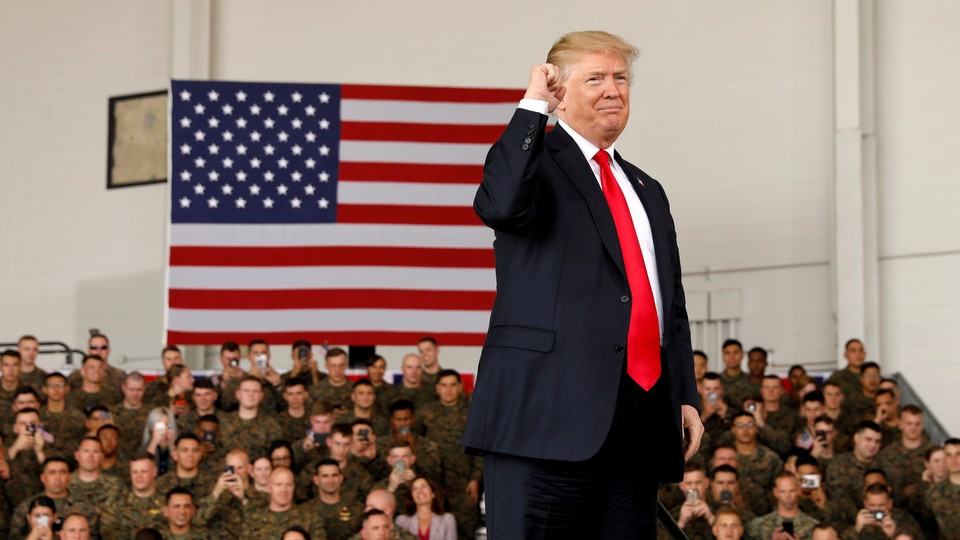 It was a fun weekend for Donald Trump. Late on Friday, Attorney General Jeff Sessions fired Andrew McCabe, the outgoing FBI deputy director whom Trump had long targeted, and the president spent the rest of the weekend taking victory laps: cheering McCabe's departure, taking shots at his former boss and mentor James Comey, and renewing his barrage against Special Counsel Robert Mueller.
Trump's moods shift quickly, but over the last week or so, a different overarching feel has manifested itself, a meta-mood. Although he remains irritated by Mueller and any number of other things, Trump seems to be relishing the latest sound of chaos, "leaning into the maelstrom," as McKay Coppins put it Friday. This is rooted, Maggie Haberman reports, in a growing confidence on the president's part: "A dozen people close to Mr. Trump or the White House, including current and former aides and longtime friends, described him as newly emboldened to say what he really feels and to ignore the cautions of those around him."
Some of Trump's advisers did not have so much fun this weekend. Aides have advised him to avoid attacking Mueller; to avoid tweets that could have bearing on that and other legal cases; to avoid sweeping tariffs; not to agree to a face-to-face meeting with North Korean leader Kim Jong Un; and counseled against any number of other steps. Those aides have seen their advice discarded, and in some cases they themselves have been discarded. Secretary of State Rex Tillerson was fired in humiliating fashion. Trump levied the tariffs knowing it would likely push economic adviser Gary Cohn to resign. Meanwhile, White House Chief of Staff John Kelly no longer has the same sway he once did, and his threats to resign have worn thin, Haberman reports. Trump no longer feels he needs these people. And two of the staffers to whom Trump was closest, Keith Schiller and Hope Hicks, have left or will leave soon.
If Trump's cheery meta-mood persists, and is rooted in this sort of new confidence, it would represent a genuine turn in the Trump presidency. Although he tried to paper over it with his trademark bluster, Trump was clearly overwhelmed by the job during the first year of his presidency. He made his unhappiness clear in the first (and to date last) press conference of his term. He marveled in February 2017, "Nobody knew health care could be so complicated." Two months later, he complained to Reuters, "I loved my previous life. I had so many things going. This is more work than in my previous life. I thought it would be easier." In the fall, he raged that he didn't get more credit from the press and pundits.
The problem with overly exuberant weekends is they tend to impart hangovers. Trump may feel that he has now mastered the presidency, but there's little evidence that he has actually done so—as the very same statements over the weekend illustrate.
The president delighted in McCabe's firing, calling it "a great day for the hard working men and women of the FBI - A great day for Democracy." For good measure, he called Comey a liar and said the Mueller probe (launched by his own Justice Department) "should never have been started in that there was no collusion and there was no crime. It was based on fraudulent activities." He fumed, "Why does the Mueller team have 13 hardened Democrats, some big Crooked Hillary supporters, and Zero Republicans?" (This question is misleading in at least one big way: Mueller himself is a lifelong Republican, unlike Trump.)
Trump either still does not understand or else does not care about the effects of his tweets. In a vacuum, Sessions has the authority to fire McCabe for lack of candor; a forthcoming report from the DOJ's inspector general reportedly finds he misled investigators, though the report is not yet public. The problem is that the firing didn't occur in a vacuum, but in the context of Trump's very public, sustained critique of McCabe. McCabe's attorney has already said that he will use the president's tweets to argue that his client's firing was illegitimate and politically motivated.
Trump's lawyers have, for the most part, also counseled him against attacking Mueller, on grounds both political and legal—since he's already being scrutinized for obstruction of justice, his poking at Mueller, and his discussions with Mueller witnesses risk reinforcing the impression of interference.
To see how this sort of tweeting backfires, look to Trump's travel ban. Independent of his public statements (both tweets and other comments), the president has broad (though not unlimited) legal authority over immigration. Yet because of his many statements describing the ban in plainly discriminatory terms, several federal judges ruled the travel ban unconstitutional. Aides have tried to get Trump to avoid similar acts of shooting himself in the foot, but as previously discussed, he sees little need for their counsel.
Elsewhere, there is little evidence that Trump has mastered other aspects of the presidency. December's tax cuts remain his only major legislative accomplishment, and the GOP's decision to quit talking about them in a losing effort in a Pennsylvania special election last week suggests the cuts aren't much of a political winner. The tariffs, like the Kim meeting, are unilateral presidential decisions undertaken somewhat impulsively, and over the advice of aides.
One reason for Trump's renewed confidence, writes Haberman, is that "warnings of dire consequences from his critics have failed to materialize." This is especially true of the stock market, where neither the tariffs nor Cohn's departure produced the sort of large dip that pessimistic prognosticators predicted. (This echoes the post-election landscape, in which expectations that Trump's victory would produce a sell-off never materialized.) The most dire predictions about a Trump presidency, from constitutional crisis to global warfare, have not materialized—or at least have not materialized yet—and figures like Henry Kissinger, a long-tenured flatterer of power, are happy to praise him publicly in the Times.
Meanwhile, Trump usually thinks in the short term. He shows this when he creates one furor to distract from another; or when he endorsed Luther Strange, then switched to Roy Moore, then boasted that he'd opposed Moore to begin with; or with his mercurial approach to Obamacare repeal, endorsing a plan at one turn, then telling senators it was "mean" soon after. This dovetails cleanly with his approach to the presidency as a series of episodes and plot twists.
Just because dire consequences haven't yet materialized doesn't mean they won't, though. Many of the risks that Trump takes are about long-term erosion of safeguards and norms, which means that their ramifications are not immediately clear. Trump sees the short-term results of his actions and likes what he sees: The stock market is booming, congressional Republicans show little interest in oversight or restraint of the executive branch, and so on.
There is an inherent disconnect between the timeframe in which Trump tends to judge his actions and the timeframe in which the results are likely to appear. Just because tariffs didn't produce an immediate economic crash doesn't mean they can't have adverse consequences down the line. (Trump, chief critic of NAFTA, ought to know this.) Just because assailing Mueller hasn't brought on a constitutional crisis yet doesn't mean Trump can't go too far in the future, perhaps by trying to fire Mueller.
It's become almost trite to point to out that Trump still hasn't faced a major crisis that was not of his own making. Predicting what that crisis might be, or when it might happen, or how the president might react is a mug's game, but it's not crazy to expect that at some point, Trump will face a crisis larger than those he has himself created. When that happens, it will test not whether Trump feels confident, but whether he has earned that confidence.