The White House Melts Down Over Steel
For a few months this fall and winter, it seemed like the Trump administration was slowly finding its footing. February destroyed that illusion.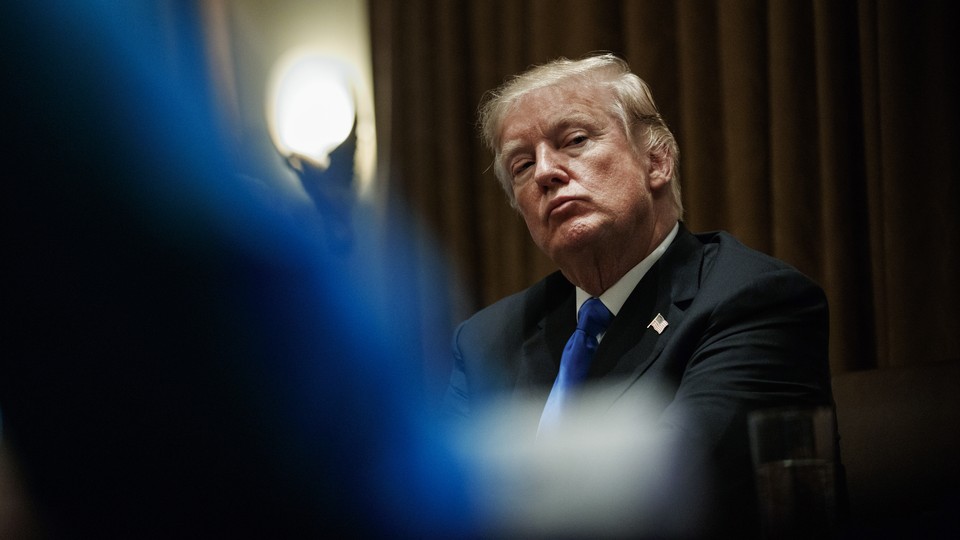 For a few months this fall and winter, someone who was squinting just right could see the Trump administration starting to finally get its footing. Chief of Staff John Kelly's tenure had started off bumpily, with Trump's sort-of backing for white supremacists after Charlottesville, but there had been some calming effect.
Kelly improved the quality of information getting to the president and calmed some of the internecine warfare in the West Wing. Trump's tweeting became slightly less frantic, though he could still manage an occasional eruption. The president gave fewer of the wide-ranging, news-upending interviews he once had. He avoided publicly sniping at special counsel Robert Mueller, or threatening to fire him. Congress finally passed one of his legislative priorities, a suite of tax cuts, in December. Trump's approval rating started to rebound.
But the month of February has destroyed any illusion that the White House was getting on track. The president, and the presidency, are as far off the rails as ever. The story that exemplifies this, strangely enough, is steel tariffs.
Wednesday evening, The Washington Post reported that the administration would impose new tariffs on imported steel and aluminum, with the announcement coming as soon as Thursday. The news didn't just take media organizations, business, and interest groups by surprise: It also came as a shock to many in the White House. Post reporter Damian Paletta says tariff backers kept the news completely under wraps, even omitting it from a high-level trade meeting on Wednesday. That's impressive information-management for a White House that leaks nearly everything, but it's also no way to run any kind of organization.
Jonathan Swan and Maggie Haberman, two of the best-sourced reporters on the White House beat, produced a running log of frantic reactions within the West Wing.
A staunch Trump loyalist inside the administration texted me this just now (reacting to the Sessions and trade announcement craziness):

"This is venturing into 'okay, this is just too much' territory."

— Jonathan Swan (@jonathanvswan) March 1, 2018
A large part of the problem is that the administration is polarized on trade. There's a strong contingent of anti-tariff figures inside the administration, including economic adviser Gary Cohn, Defense Secretary James Mattis, and Secretary of State Rex Tillerson, and National-Security Adviser H.R. McMaster. But Commerce Secretary Wilbur Ross, trade adviser Peter Navarro, and Trade Representative Robert Lighthizer are pro-tariff. Trump, meanwhile, is an impulsive decisionmaker who seems to feel no need to reconcile the differences, preferring to just steamroll over them. Yet despite the supposed impending announcement, Swan reported there was no actual language ready for Trump to sign.
The battle continued into Thursday, but early Thursday afternoon the president apparently prevailed, announcing 25 percent tariffs on steel and 10 percent tariffs on aluminum. That announcement ends the immediate debate, but with the differences of opinion in the White House unresolved, it's almost certainly not the final word. (Just this week, Treasury Secretary Steven Mnuchin has been discussing the U.S. re-entering the Trans-Pacific Partnership.)
The promise of the Kelly regime was that it would avoid hasty, poorly considered eruptions like this one. The prospect of Trump quickly signing a document without careful vetting harkens back to the earliest days of the administration, when the president signed a travel ban that was written without consultation by many of the stakeholders; that ban, and successive iterations, have repeatedly lost in court, in part thanks to the president's own impulsive statements at the time. Rob Porter, the staff secretary pushed out in February over allegations of domestic abuse, had apparently worked to kill any tariffs. White House officials were reportedly reluctant to lose Porter because he was one of the few experienced professionals in the West Wing.
The tariff scramble seemed sparked more than anything by Trump's own impulsive actions:
Trump is hopping mad tonight. In a bad place. I think when we do the tick tocks we'll find this was a moment where he said "F it." (Though I think this one is still very TBD, and I assume at *some point* tonight John Kelly will locate the steering wheel again.) https://t.co/FxiHlvh4t6

— Jonathan Swan (@jonathanvswan) March 1, 2018
This is not the only example of Trump shocking his allies with extemporaneous statements. Earlier on Wednesday, he'd held a remarkable session with members of Congress about gun violence, in which he lambasted Republican lawmakers for being afraid of the NRA, pushed hard toward Democratic arguments for more regulation of firearms, and recommended confiscating guns from people with suspected mental problems. "It takes so long to go to court, to get the due process procedures," Trump said. "Take the guns first, go through due process second."
Why might the president be emotional, volatile, and angry? There are, in fact, plenty of reasons. February was, with apologies to the bard, the cruelest month for Trump in quite some time. He closed January with his State of the Union, for which initial reactions were moderate, but soon turned against. Then came the release of a memo from Devin Nunes that Trump believed would clear his name in the Russia probe, but proved to be only the latest in a long string of failed vindications.
This was followed by the Porter fiasco, which focused attention on a number of problems at the White House, including the president's own history with women; his repeated indifference to victims of abuse; the struggle to recruit qualified staff to work in the administration; the serial dishonesty of the president's team; and, perhaps most acutely, the failure and abuse of the security-clearance system.
The revelation that the White House has been gaming the clearance system is not only an example of the kind of chaos that has rattled Trump—it is also a cause. One possible casualty is Jared Kushner, the president's son-in-law and a senior adviser. Post-Porter, there was fresh scrutiny on the fact that Kushner has been working with an interim clearance since entering the administration. There are a number of apparent hold-ups to his final clearance, including slow and incomplete disclosures on his part, complicated financial ties that have inspired foreign powers to try to manipulate him, and the Mueller investigation.
While Kushner is not out of the White House, there are signs his position is weakening. Last week, he lost his top-secret clearance as part of reset by Kelly, with the president apparently opting not to overrule his chief of staff in favor of his son-in-law. Kushner's close aide Josh Raffel this week announced he is leaving. And a New York Times article Wednesday night raised still more questions about whether Kushner is mixing his government work with his family's business.
If Kushner were to leave, it would be another blow to a president who has few close confidants, tends toward paranoia, and detests changes to his routine. He has already lost one of his closest lieutenants, Communications Director Hope Hicks, who announced her departure Wednesday. Hicks had been with Trump for three years, making her his longest-serving aide, and her departure leaves him even more isolated. She reportedly told colleagues she felt she had done all she could in the job, and given that the best the White House press apparatus can ever hope to do is maintain its head above water, it's hard to disagree. Trump also reopened his feud with Attorney General Jeff Sessions on Wednesday, attacking him publicly once again, and urging him to politicize the Justice Department and circumvent standard procedures.
Trump's previous interference in the Justice Department connects to another source of his recent troubles: the Mueller probe. February has been the most productive single month for the special counsel, and while he has still not brought charges against Trump, Mueller has demonstrated the breadth and seriousness of his probe and offered proof of concept over the last few weeks. That includes a set of detailed indictments against Russians involved in a campaign to interfere in the election, which seems finally to put to rest any suggestion that Russian interference was imaginary. Meanwhile, Mueller's aggressive pursuit of former Trump campaign chair Paul Manafort and his deputy Rick Gates demonstrates his work on the domestic front. That was enough to get Gates to plead guilty and cooperate, and since he worked for Trump through the campaign and transition, his testimony could be damaging to Trump. Even with questions about Trump campaign collusion with Russia, the president's own personal business dealings, and obstruction of justice unanswered, the evidence so far a reminder of how Trump surrounds himself with crooks and liars. Meanwhile, the White House is still negotiating with Mueller about interviewing the president himself.
Perhaps worst of all, the president, who is obsessed with polling, cannot have missed that following his brief rise in approval, his numbers have again taken a turn for the worse.
There's something fitting about tariffs being at the center of the blow-up that ties all of this together. In the first week of Kelly's regime as chief of staff, in August, Trump held a meeting in the Oval Office about trade. Swan reported that a frustrated Trump vented at Kelly and other aides. "I know there are some people in the room right now that are upset," he said. "I know there are some globalists in the room right now. And they don't want them, John, they don't want the tariffs. But I'm telling you, I want tariffs."
The fact that Kelly and others were able to hold Trump off for so long shows the ways in which they had managed to channel the president's energy, at least for a time. But the ultimate emergence of tariffs on Thursday demonstrates that any such efforts to handle Trump are doomed to failure. Even when the White House seems to be on track for improvement, it's always a temporary development, not a turning point.