The Students Who Weren't Just Marching for Parkland
Many of the young people who showed up for the March for Our Lives rally in Washington, D.C., were concerned not just about mass shootings, but the kind of gun violence that draws fewer headlines.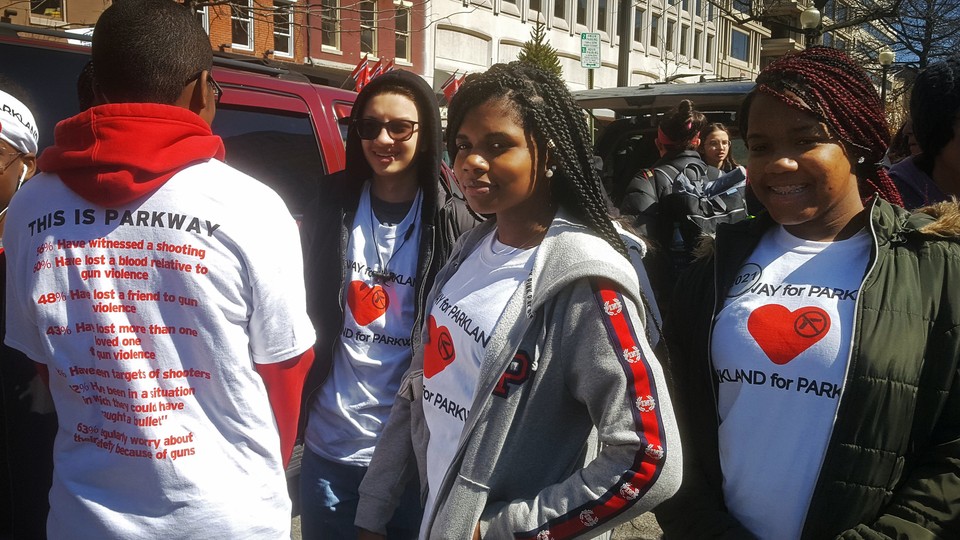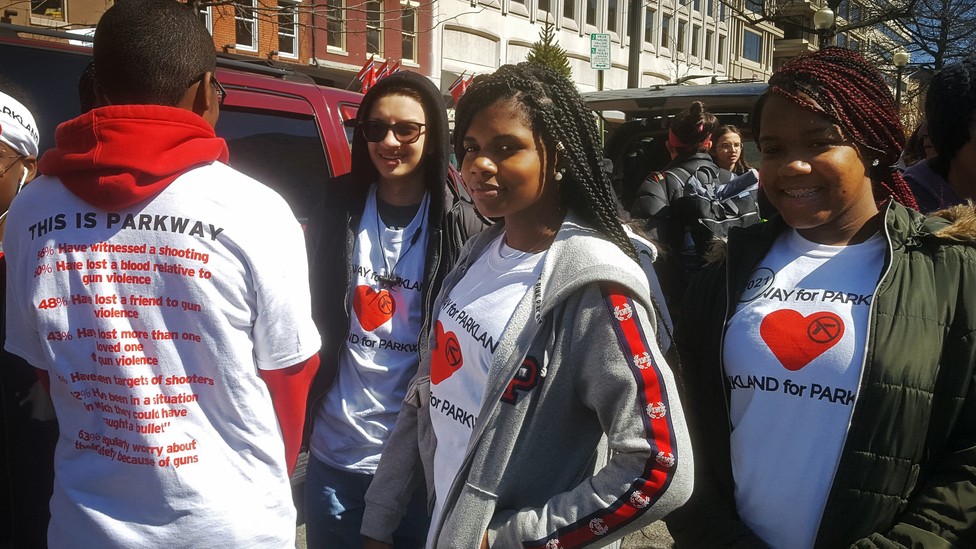 Hundreds of thousands of people rallied in Washington, D.C., on Saturday to express outrage at recent mass shootings in American schools, and to push Congress to enact stricter gun laws. But for many students in the U.S.—and especially students of color—gun violence at school isn't the only problem. Rather, it's the violence they face regularly in their homes and yards, in their neighborhoods and communities.
There hasn't yet been a worldwide march focused on that kind of violence—so they made this one their own.
"I came all the way from Chicago to help change the violence that's going on with school shootings," said 16-year-old Kaiseona Lockhart. "And to let everyone know that there's violence in Chicago." Lockhart, who lives in Englewood, on Chicago's south side, recently lost an uncle to gun violence. She's part of a violence-prevention youth group affiliated with St. Sabina Church. "They're trying to put us against each other. They're trying to say that mass shootings and shootings, they don't connect, but in reality, they both happen by a gun. We both want to change that."
In the past month, the gun-control movement has found its voice in a ragtag group of eloquent, Twitter-savvy teenagers from suburban Florida. They survived the mass shooting at Marjory Stoneman Douglas High School this past Valentine's Day that killed 17 of their peers and teachers and have since appeared on countless cable-news segments and magazine covers calling for stricter gun legislation.
Each of the recent mass shootings in the U.S. has followed a similar pattern—after the killings, there's a nationwide pang of sadness, a hot flash of anger; but then, after several days of thoughts and prayer and Facebook debates, the conversation dies down. This one, though, seems to have had more staying power. That has a lot to do with the Parkland students themselves. "They're photogenic and they're loved by the media. They have a real message," said David Hemenway, an economist and a professor of health policy at the Harvard T. H. Chan School of Public Health, in an interview on Friday. "They were born in the Columbine-era, so their whole lives … they have to be trained to protect themselves against mass-killings. It's crazy."
But mass shootings, we know by now, are only a small fraction of total gun deaths in the United States. Roughly 1,077 people have been killed in mass shootings since 1966—176 of them children and teenagers. In 2017 alone, Chicago had nearly 3,000 shooting incidents, and 3,457 shooting victims. Between 2006 and 2015, more than 14,500 people were shot in Philadelphia, a rate of one shooting every six hours. About 20 percent of firearm homicides occur in the country's 25 largest cities. And within cities, the Centers for Disease Control found that black Americans are, on average, eight times more likely to be killed by guns than white Americans.
Black Lives Matter and other groups have been advocating for stricter gun laws similar to those the marchers are demanding for years. But one of the reasons the march has gotten so much attention has to do with where mass shootings typically take place. "The massacre gives the opportunity to do something about this," Hemenway said, adding, "I think the power structure is mostly white, and when white people are killed, it gets a little more attention."
Jamin Cash, a 15-year-old at Parkway Center City Middle College in Philadelphia, told me he thinks the attention mass shootings receives is frustrating. "Not to sound insensitive, but it's unfair that we have to go through this every day, and then something that happens just once [in] a while gets so much attention," he said, sighing. "But we came." Cash and several others from his school came to the march clad in matching white t-shirts with the words "Parkway for Parkland" emblazoned on the front above a red heart. On the back of the shirts were the results of a survey his teacher, Maureen Boland, had given to him and his 120 classmates. "56% have witnessed a shooting," one line read. "60% have lost a blood relative to gun violence. 63% regularly worry about their safety because of guns."
Cash told me that he's actually been shot at more than once in his neighborhood. His classmate, Courtney Daniels, another 15 year old, said she recently had a close family friend fatally shot. "I'm hoping people notice that we need to be heard too, that we're going through the same struggles those Parkland students went through," Daniels told me. "Youth in general, not just those kids."
In just one month since the Parkland shooting, the gun control movement has made some small gains: The Florida state legislature passed new firearm regulations, and the federal spending bill signed by President Trump on Friday contains modest steps toward tightening the nation's gun laws, including the Fix NICS Act, which  strengthens the background-check system for gun purchases. Part of the package also includes a report clarifying that the CDC can conduct research on gun violence, reversing a 22-year-old prohibition.
The March for Our Lives organizers, though, are pushing for bigger changes. They want elected officials to pass a federal ban the sale of so-called "assault weapons" like the AR-15s used in recent mass shootings in Parkland and Las Vegas, and prohibit the sale of high-capacity magazines. While legislation like that might have prevented some mass shootings, those two proposals wouldn't necessarily be top priority for reducing gun violence in urban areas, like Chicago or Philadelphia. After all, Cook County already has a ban assault weapons; semi-automatic handguns are the kind of weapon most commonly used in shootings.
The final item on the march organizers' petition, though, could potentially reduce gun violence substantially. The organizers want legislators to require anyone purchasing a gun privately—through an individual exchange or a gunshow—to undergo a background check. Because so many guns are purchased privately by individuals and brought into Chicago from places with more lax gun laws like Indiana, experts say universal background checks could actually make a difference in reducing gun violence in cities. "This is an opportunity to get laws which can help everybody," Hemenway said. "This is not, 'Oh, let's just try to protect white kids in white high schools and white areas.' No, this provides the opportunity to really do something, to try to reduce gun trafficking."
I watched the march on a jumbotron with Cash, Daniels, and the students from Philly under a cluster of magnolia trees near the rally site. One of the students, another ninth-grader named Brandon Palmer, had told me earlier about how his mother was recently held at gunpoint at the local bank where she works. "In our neighborhoods, this is our daily life," he explained, his white Parkway for Parkland t-shirt tied around his head like Rambo. Palmer told me he was angry that it took a shooting like Parkland to get people energized about gun violence.
But when I asked if he was excited to be there, his face broke into a grin. "I feel like this is gonna be in the history books in the next couple years," he said. "The future generations are gonna be learning about this."