The Origins of the 'Globalist' Slur
President Trump recently used the epithet to describe his outgoing National Economic Council director—but the seeds of its disparaging use were firmly planted 75 years ago.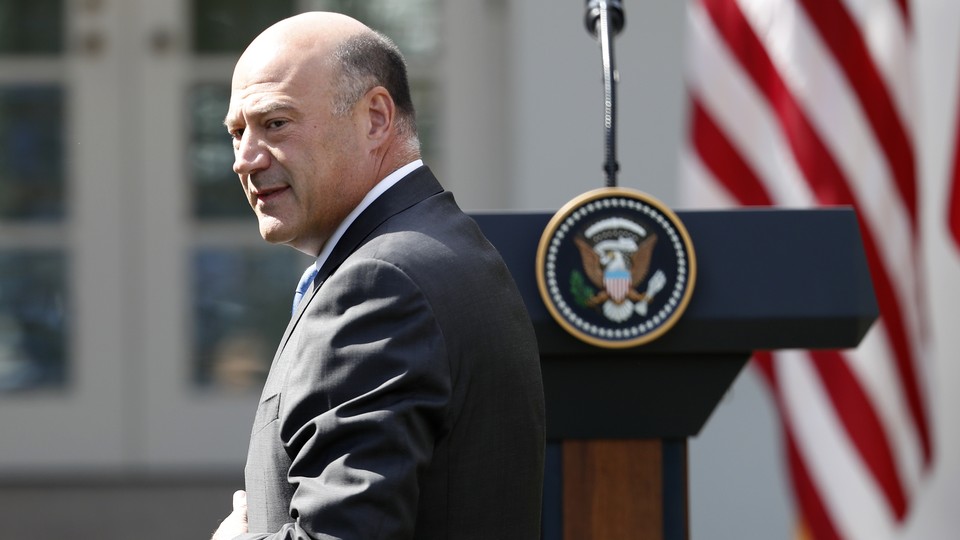 After National Economic Council Director Gary Cohn announced his resignation last week, President Trump offered a back-handed compliment to his departing adviser: "He may be a globalist, but I still like him." Mick Mulvaney, the director of the Office of Management and Budget, chimed in with his own statement: "I never expected that the co-worker I would work closest, and best, with at the White House would be a 'globalist.'"
Despite the seemingly joking use of the term "globalist" by Trump and Mulvaney, many were quick to point to the word's unseemly past as an anti-Semitic slur, embraced in alt-right circles before spreading into broader political discourse. As the Anti-Defamation League's Jonathan Greenblatt put it, "Where the term originates from is a reference to Jewish people who are seen as having allegiances not to their countries of origin like the United States, but to some global conspiracy." Greenblatt said it's "disturbing" when public officials "literally parrot this term which is rooted in prejudice."
While the latest round of "globalist" name-calling may stem from the likes of Steve Bannon and Alex Jones, the word has a history that long predates the Trump era. To understand the complex roots of the "globalist" epithet, let's turn the clock back 75 years, to 1943.
With the U.S. deeply mired in World War II, "globalism" and "globalist" could, at least early on, be applied to Adolf Hitler's rapacious expansionism combated by the Allied effort. Ernst Jäckh, a staunchly anti-Nazi academic who taught at Columbia University after fleeing Germany in the 1930s, published a book on the battle against "Hitlerism" titled The War for Man's Soul. Jäckh used "globalism" to describe Hitler's world-conquering ambitions:
Hitler … reaches out for the sun itself. He has set out to conquer the world to make the globe a German possession! He aims at more than military or economic and political conquest. He has embarked on a "holy war" as the God-sent leader of a "chosen people" bred not for imperialism but for globalism—his world without end.
Later in the book, Jäckh outlined the challenges of a "three-dimensional war" (fought on earth, air, and sea): "Thus men and countries are being shocked into the full realization of the implications of a three-dimensional war. Before it actually started, only globalist Hitler and Hitlerism were aware of its potentialities."
But the targets of the "globalist" label—then as now—tended to be domestic ones. While Americans united behind the country's entry into the war after Pearl Harbor, Franklin D. Roosevelt's Republican critics cautioned against international policies that might put national sovereignty at risk. On February 9, 1943, Clare Boothe Luce made her mark in her first speech as a member of Congress, rebuking Vice President Henry Wallace's suggestion that American airports might give the world's airlines free access after the war. "He does a great deal of global thinking," she said, "but much of what Mr. Wallace calls his global thinking is, no matter how you slice it, still globaloney."
Luce's "globaloney" may have encouraged other opponents of "global thinking" to come up with their own turns of phrase. The Republican Party at the time was splintered between the internationalist approach of the 1940 presidential candidate Wendell Willkie and isolationists who saw Willkie as no different from Roosevelt. Willkie's book One World, published in April 1943, set out his vision of global cooperation, helping to lay the groundwork for the United Nations. One anti-Willkie group in Chicago, calling themselves the Republican Nationalist Revival Committee, held a rally on May 20. The featured speaker was a leading isolationist, Senator Gerald P. Nye of North Dakota, and he titled his speech "Globalitis."
"Present day globalistics are extremely difficult for me to comprehend," Nye said in the speech, and with a nod to Luce, decried "this abundance of baloney, or global thinking … that can exist only in a dream world." He denied that "the talking of the globalists is reflective of common thought in the Congress," and he posed a series of "questions ignored by globalists," leading with an appeal to xenophobia as a wave of European refugees loomed: "How many Americans do you presume are ready to let down the immigration bars which have played so large a part in American economy in the years gone by?"
Nye's address was widely reported, and his fellow isolationist, Senator Raymond E. Willis of Indiana, entered it into the Congressional Record. Perhaps more tellingly, the text of the speech was republished in The Cross and the Flag, a magazine edited by the far-right clergyman Gerald L.K. Smith. The first principle of Smith's Christian Nationalist Crusade, printed in the magazine, was: "Preserve America as a Christian Nation being conscious of the fact that there is a highly organized campaign to substitute Jewish tradition for Christian tradition."
Not long after Nye gave his speech, the word "globalist" cropped up in a seemingly unrelated context: art criticism. In June 1943, the third exhibition of the Federation of Modern Painters and Sculptors was held at New York's Wildenstein Gallery, showcasing the work of young abstract expressionists like Mark Rothko. The lofty goals of the Federation were set out in the exhibition catalogue. "As a nation we are being forced to outgrow our narrow political isolationism," the manifesto read. "Now that America is recognized as the center where art and artists of all the world must meet, it is time for us to accept cultural values on a truly global plane."
The New York Times art critic Edward Alden Jewell made light of this declaration in an article headlined, "'Globalism' Pops Into View." "So far Globalism seems to guarantee a rather bleak and cheerless future," Jewell observed. In a follow up for the Times, he concluded, "I am afraid that so far the Globalists have accomplished precisely nothing that is intelligible (except that Mark Rothko in his 'Syrian Bull' uses nice decorative color)."
It's worth noting that Rothko (born Marcus Rothkowitz in what is now Latvia) was Jewish, as were his fellow artists in the Federation, Adolph Gottlieb and Barnett Newman. Perhaps that was merely a coincidence, as "globalist" had not yet achieved the dog-whistle status that it would 75 years later. But the seeds of its disparaging use were firmly planted from the beginning.