Medicaid Expansion's Troubled Future
The Affordable Care Act's extension of public insurance to poor adults might finally make its way into every state. But those inroads could come with a cost.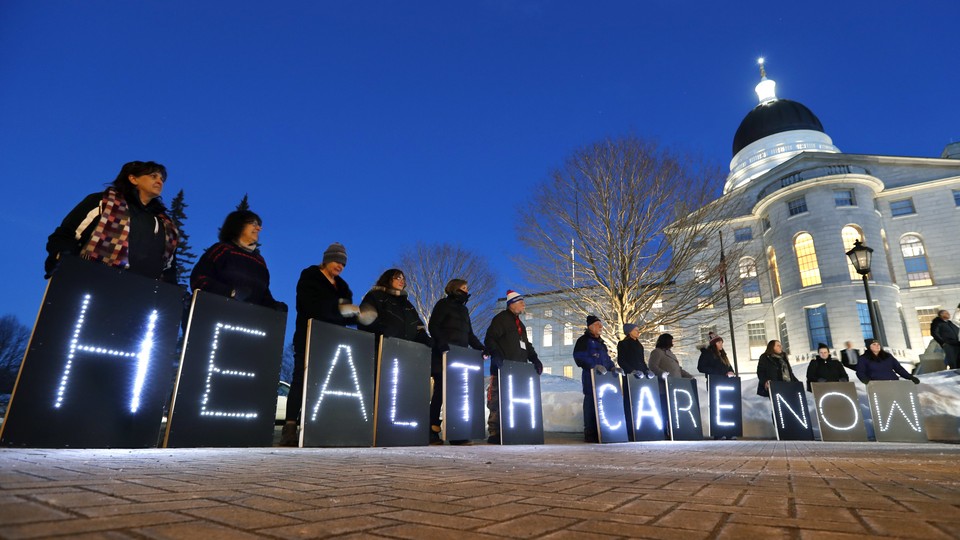 In 2012, the Supreme Court's decision in the NFIB v. Sebelius case sent shockwaves through the health-policy community, with Chief Justice John Roberts's majority opinion causing much teeth-gnashing all around. Among many conservatives, the preservation of the Affordable Care Act's individual mandate constituted "one of the worst Supreme Court decisions in American history." For supporters of the law, the decision to turn the ACA's expansion of Medicaid into a state-optional program threatened to destabilize the entire project of expanding coverage to the poorest Americans. For them, Roberts's decision was, to borrow a phrase from The Atlantic's first editor James Russell Lowell, "a good umbrella but a poor roof."
In the five years since that decision, the worst predictions have yet to come true. Before its repeal last year, the individual mandate hadn't become a springboard for more tax-enforced big-government reforms. And Obamacare hasn't been undone by the optional Medicaid expansion.
The Court's decision has, however, substantially altered the ability of the ACA to meet the affordability or access goals envisioned by its architects. Most states have chosen to expand the program, but others have held out instead, making the goal of gradual expansion of insurance to almost everyone impossible, at least in the foreseeable future. Through its sheer size and inertia, the biggest health reform in a half-century has become like most other American mega-policies: too big to truly collapse, but not quite ambitious enough to solve the problem.
At least, that was its state before Donald Trump entered the picture. Despite his promises to repeal the ACA, the president has taken steps that could effectively cement the expansion's reach into every state. Several hardcore anti-Obamacare states now suddenly find themselves contemplating expansion, motivated by conservative reforms championed by Trump's administration. Yet, paradoxically, if these reforms do help Medicaid expansion reach every state, they will almost certainly destroy the ability of health-insurance coverage to reach every person.
The peculiarity of this moment is evident in what states are suddenly eyeing Medicaid expansion, which offers health coverage to more low-income, able-bodied, non-elderly adults than the original program. It appears likely that Republican-dominated Utah will make a move at some point in the near future. The Virginia legislature is on the brink of approving some kind of framework for expansion on a bipartisan basis. Maine just recently expanded Medicaid, and similar ballot initiatives in Idaho and Nebraska might yield expansions, too. From top to bottom, even in the most conservative states, there seems to be more energy in the direction of expanding Medicaid than there has ever been.
But there's also unprecedented energy for changing state Medicaid programs in some of those same conservative states, often in ways that tighten and restrict eligibility. As Vox notes, a dozen or more states are now applying for or considering federal-government waivers that would allow them to implement work requirements, time limits, or drug tests in their respective programs. Those include Republican-led states that have already expanded Medicaid, like Arizona, Indiana, Kentucky, Arkansas, and New Hampshire. The Centers for Medicare and Medicaid Services have already signed off on conservative-oriented waivers in those areas—including one for Arkansas's "private option," which provides able-bodied adults on Medicaid with coverage through private insurance plans.
The potential for the federal government to approve further conservative reforms, such as work requirements, was an important consideration in those states when choosing to expand their programs. And in January, CMS obliged, with Administrator Seema Verma agreeing to approve work requirements in state Medicaid waivers for the first time. The first state to have such a waiver approved was Kentucky, which—in addition to implementing the new work standards—assigned a premium structure to able-bodied adults' plans, along with lockouts for those who don't pay. CMS approved similar waivers from Indiana and Arkansas in February. (Some states, like Mississippi and Oklahoma, still aren't considering an expansion of Medicaid, but they are weighing work requirements for the small population of able-bodied adults covered under their existing Medicaid programs.)
In some conservative states still without Medicaid expansion, lawmakers' deliberation over work requirements will be critical to their ultimate decision. For example, the Utah House recently passed a bill approving a limited, eligibility-restricted Medicaid expansion with a work requirement in order to stave off pressure from a citizen-led ballot initiative that supports full expansion without any such restriction. The bill now sits before the state Senate.
Utah's example is instructive, especially given the ongoing wave of pro-expansion ballot initiatives hitting conservative-leaning states. Maine Governor Paul LePage, a Republican, pushed back hard against an expansion initiative last fall, and even threatened not to implement the passed reform, which would have been a violation of state and federal law. Now, Maine is at the front of the queue seeking CMS approval for work requirements for its new expansion program. In the face of a petition to expand Medicaid in Nebraska, some state lawmakers have also suggested adding the restrictions. And with Idaho petitioners making headway on yet another ballot initiative, a plan to create a more limited expansion with work requirements is now circulating in the state legislature.
These states illustrate two trends. First, popular support for full expansion is growing—reflecting record-high public opinion for the ACA across the country—even among conservative voters and in conservative-leaning areas. That growing energy is manifesting in the bipartisan ballot initiatives and other campaigns that seek to circumvent GOP state legislators and governors, who often still oppose the measures. Second, facing the turning tide of public opinion, those GOP state leaders are choosing to stonewall or make expansion as restrictive as possible.
The latter course of action is gaining steam, with assistance from Verma. But the reforms, touted as maximizing states' flexibility, have but one major outcome: They cover fewer people. The net effect of work requirements, premiums, and lockout periods will be fewer enrollees, and more people will be kicked off for failure to work or pay premiums.
With more and more states eyeing work requirements—and more conservative legislators considering them as mechanisms to get out in front of public opinion, while simultaneously constraining state programs—these reforms actually stand to short-circuit the ACA's intent to give coverage to more people, even as they might prompt more states to get in the expansion game. Widespread eligibility restrictions could offset the benefits of providing greater access to care for low-income individuals, and set the stage for the creation of a limited, punitive Medicaid regime nationwide.
That appears to be the point. While appetite for full Obamacare repeal has died down, and CMS has recently accepted that the ACA is the law of the land, the push to tightly constrain Medicaid budgets and caseloads is only ramping up. The Trump administration's strategy for Medicaid appears particularly Odyssean: By providing more states with the mechanisms to expand Medicaid, they also provide the ultimate tools for shrinking it.