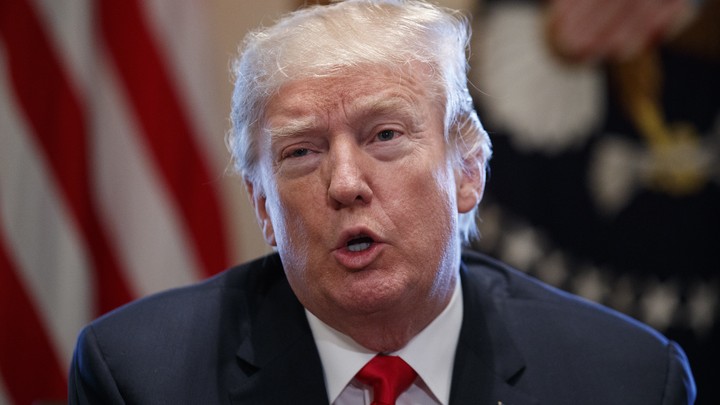 Today in 5 Lines
President Trump said he will impose tariffs on steel and aluminum imports, drawing criticism from Republicans and prompting the Dow to drop 420 points. MSNBC reports that the White House is preparing to replace National-Security Adviser H.R. McMaster "as early as next month." The Senate Intelligence Committee found that Republicans on the House Intelligence Committee leaked private text messages between the Senate panel's top Democrat, Mark Warner, and a Russian-connected lawyer, according to a New York Times report. President Vladimir Putin said Russia has developed highly advanced nuclear weapons he claims are impossible to intercept. Equifax said hackers were able to access the personal information of 2.4 million Americans during a summer security breach, more than previously reported.
---
Today on The Atlantic
Follow stories throughout the day with our Politics & Policy portal.
---
Snapshot
---
What We're Reading
Hope-less: The White House communications director's decision to resign wasn't about the Rob Porter scandal, or the intense pressure of the Russia investigation. It was a long time coming. (Olivia Nuzzi, New York)
The Trade War Begins: If President Trump imposes tariffs on steel and aluminum imports, beer and cars could get more expensive. Here's what else might happen. (Patrick Gillespie, CNN Money)
Pretty Bleak: White House staffers have had an especially tough month. "I've talked to several people in the last week trying to find a way out," said one former official, "but they can't get out because no one is really hiring people with Trump White House experience." (Tarini Parti and Matt Berman, BuzzFeed)
No 'Epidemic of Mass School Shootings': By keeping the national spotlight on the shooting  at their school, Marjory Stoneman Douglas High School students are bringing much-needed attention to gun-safety in America. But they're also triggering a moral panic. (Eric Levitz, New York)
---
Visualized
All Mahogany Everything: Department of Housing and Urban Development Secretary Ben Carson is trying to cancel the agency's order for a controversial $31,000 dining set. (Rene Marsh, CNN)
---
Question of the Week
On Monday, the White House announced that President Trump will host French President Emmanuel Macron in April for the first state visit of his administration. While Trump has hosted many foreign leaders in the past, this is the first visit that will consist of a ceremonial welcome and a state dinner.
This week, we want to know: If you were president, which world leader would you invite to the White House for a formal visit—and why?
Share your response here, and we'll feature a few in Friday's Politics & Policy Daily.
-Written by Elaine Godfrey (@elainejgodfrey) and Lena Felton (@lenakfelton)
We want to hear what you think about this article. Submit a letter to the editor or write to letters@theatlantic.com.
Lena Felton
is a former editorial fellow at
The Atlantic
.