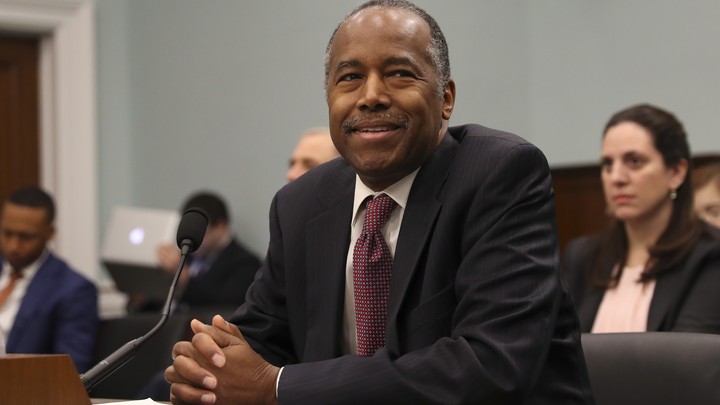 We're also keeping an eye on the Democratic primary in Illinois's 3rd congressional district, where seven-term Representative Dan Lipinski, a conservative Democrat, is being challenged by the much more progressive political newbie Marie Newman. The GOP primary in the state's 16th district could also prove interesting: Republican Representative Adam Kinzinger has spoken out against Trump and as a result, could lose votes to pro-Trump businessman Jim Marter.
Polls close at 8 p.m. ET.
Note: The single Republican running for the GOP nomination in the 3rd district is Arthur Jones, a Holocaust denier and self-described "white racialist."
---
Today on The Atlantic
Follow stories throughout the day with our Politics & Policy portal.
---
Snapshot
---
What We're Reading
Nixed: Cambridge Analytica, a data firm with ties to Donald Trump's presidential campaign, said it suspended CEO Alexander Nix after undercover videos showed Nix saying he could entrap politicians with bribes and women. (Jordan Robertson, Bloomberg)
What Should Democrats Do If They Win Back Congress?: Ryan Cooper outlines a platform for the party to reform America's political institutions. (The Week)
The Left's Problem with Free-Speech Criticism: Progressives are dodging questions about left-wing dogmatism by pointing fingers at conservatives, argues Jonathan Chait, an impulse that "encourages overlooking unhealthy habits on one's own side." (New York)
A Wave of Losses Coming: There's an influx of female candidates running for Democratic seats in 2018—but many of those women are running in races considered to be easy Republican wins. (Danielle Kurtzleben, NPR)
'Utterly Horrifying': The former Facebook operations manager said it's likely that hundreds of millions of Facebook users had their private information gathered and exploited by numerous companies. (Paul Lewis, The Guardian)
---
Visualized
Did It Help or Hurt?: Data from the Congressional Budget Office shows how the Affordable Care Act's tax increases affected the wealthiest and poorest Americans. (Sam Baker, Axios)
-Written by Elaine Godfrey (@elainejgodfrey)
We want to hear what you think about this article. Submit a letter to the editor or write to letters@theatlantic.com.