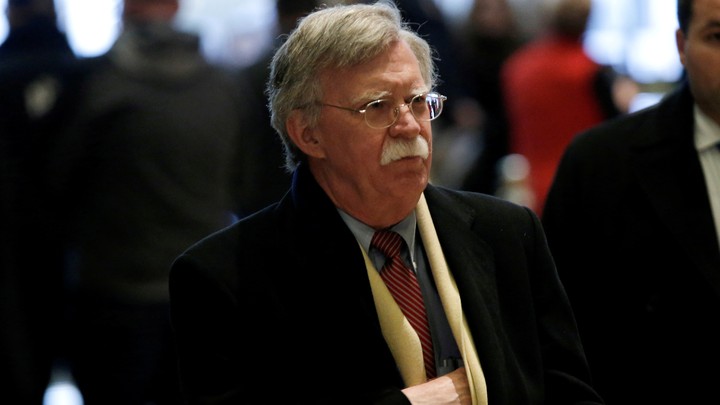 Today in 5 Lines
---
Today on The Atlantic
Follow stories throughout the day with our Politics & Policy portal.
---
Snapshot
---
What We're Reading
'The John Bolton I Knew': Trump's new national-security adviser is a highly competent and masterful tactician, argues Matthew Waxman. That's also what makes him dangerous. (Lawfare)
The Purge: Andrew Sullivan writes that the recent tumult in the Trump administration is a sign that the country is entering "the second phase of tyranny." (New York)
'We Got the 10': After a woman accused former Alabama Senate candidate Roy Moore of sexual misconduct, two of Moore's supporters reportedly offered her attorney $10,000 to drop the case. (Shawn Boburg and Dalton Bennett, The Washington Post)
Elizabeth Warren's Most Serious Battle: It's been a tough year for the progressive Democrat, but it's about to get tougher: The Democratic Party has shown a willingness to move to the center—away from her far-left positions. (Fred Barnes, The Weekly Standard)
'He Tried to Pay Me': In an interview with CNN, former Playboy model Karen McDougal described an alleged extramarital affair she had with Donald Trump before he was president. Trump has denied the relationship. (Eli Watkins)
Did It Work?: The #MeToo movement called for an overhaul. But while headlines about workplace sexual harassment have captured national attention, many women say they haven't seen change. (Jodi Kantor, The New York Times)
---
Visualized
Where Are Tomorrow's Protests?: The main March for Our Lives rally will take place in Washington, D.C. on Saturday. But hundreds of others have been planned across the country —and around the world. (Audrey Carlsen and Jugal K. Patel, The New York Times)
-Written by Elaine Godfrey (@elainejgodfrey)
We want to hear what you think about this article. Submit a letter to the editor or write to letters@theatlantic.com.