Mitt Romney Is Not Joining the Resistance
With remarks stressing his hawkish views on immigration, the Senate candidate provided a reminder that his opposition to Trump is rooted in his conservatism.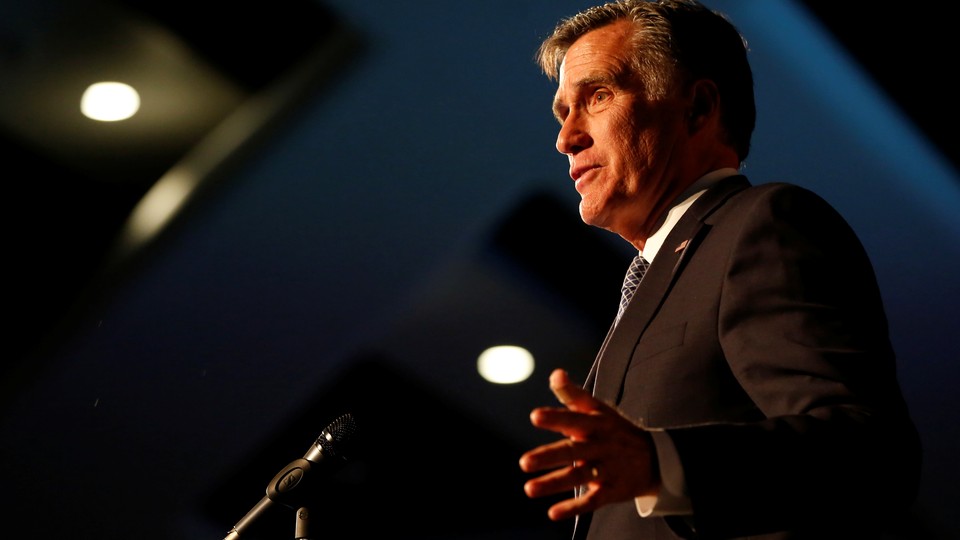 At first, it looked like little more than a classic Mitt Romney flip-flop.
It began Monday in Provo, Utah, where Romney—the former Republican presidential nominee, current Senate candidate, and noted Donald Trump antagonist—sought to make the case in a Q&A with voters that he was more conservative than the president on a range of issues.
Utah's Daily Herald reported:
Romney went so far as to say he's more conservative on certain issues than President Trump.

"For instance, I'm a deficit hawk," Romney said. "That makes me more conservative than a lot of Republicans and a lot of Democrats. I'm also more of a hawk on immigration than even the president. My view was these DACA kids shouldn't all be allowed to stay in the country legally."
The DACA remark drew a predictable outcry from critics on both the left and the Never Trump right. Since 2016, Romney had positioned himself as one of the GOP's most outspoken critics of the president—why was he now suddenly championing a Trumpian immigration platform?
Within 24 hours, his campaign appeared to be backtracking. When I emailed a Romney spokesperson a few follow-up questions about the candidate's DACA position, she responded with a statement:
During his speech yesterday Gov. Romney made reference to his stance on immigration while running for president in 2012. Since then circumstances have changed. President Obama enacted DACA and Gov. Romney believes the commitment made by President Obama should be honored. Therefore, he agrees with President Trump's proposal to allow DACA recipients to legally stay in the country but does not support a special pathway to citizenship.
That statement, in turn, was greeted with a tsunami of Twitter snark, with critics casting it as the return of the craven, fence-straddling candidate they'd been ridiculing for years. Hay was made by Democrats, takes were made by pundits, and by Tuesday evening, everyone seemed to be moving on. But this brief episode offered an important reminder about what to expect from a Senator Romney.
While it's easy to forget now—in the age of Trump, the 2012 election feels like neolithic history—Romney was actually quite restrictionist when he ran for president. In fact, immigration was arguably the one issue on which he successfully outflanked primary opponents like Newt Gingrich and Rick Perry on the right. In a truly epic twist of irony, when Romney lost the general election, Trump himself criticized him for being too "mean-spirited" with his immigration rhetoric.
"He had a crazy policy of self-deportation which was maniacal," Trump told Newsmax at the end of 2012. "It sounded as bad as it was, and he lost all of the Latino vote."
Many assumed at the time that Romney was simply pandering to the Republican base to win the primary. But the evidence suggests that his hardline immigration stance is sincerely held.
Take, for example, this little-noticed Salt Lake Tribune interview from last month, in which Romney offered a slightly more expansive version of the remarks that got so much attention this week:
I welcome legal immigrants to our country, and those who follow the process and come here legally are welcome and if they become citizens they're as much an American citizen as anybody else. At the same time, we have to stop illegal immigration. I was probably more conservative on that than most Republicans. I won't mention names but I was not in favor of the DREAM Act. Now that's water under the bridge. President Obama made representations with regards to the Dreamers that have changed circumstances. But I'm pretty hard on stopping illegal immigration and that meant, for me, we need to have a border fence or wall or whatever you want to call it. We need to put in place a very effective e-verify system and heavily penalize companies that hire folks who are here illegally. I also agree with the president that we should stop the chain-migration approach that immigration has taken. And I think he's right about this lottery program. But I don't think we're far apart on immigration. That's probably a part of where I'm more conservative than most.
The interview suggests that his campaign's statement on DACA wasn't just a hasty walk-back from an unexpected gaffe—it was consistent with his apparent belief that, while President Obama should not have instituted the DACA policy in the first place, recipients are now owed some protection.
But in a broader sense, the interview also makes clear that Romney has not shed his immigration hawkishness since 2012. On virtually every policy question—from e-verify to the border wall to chain migration—he holds a position similar to Trump's.
As others have noted, Romney has no obvious political reason to remind voters of this in Utah. A poll conducted last fall found that an overwhelming majority of Utahns—including even those who identify as "very conservative"—believe DACA recipients should be able to stay in the U.S. This is in keeping with other research that finds Mormon voters have significantly more moderate views on immigration than other elements of the Republican base—one of many reasons Trump struggled to win the state in 2016.
All of which is to say, Mitt Romney does not have to pander to immigration hardliners in order to win an open Senate seat in Utah. This appears to be one of many issues on which his views are decidedly—and genuinely—conservative.
When Romney first began exploring a Senate bid last year, many of the president's opponents envisioned him storming Washington in a burst of truth-telling, bomb-throwing bravado—here to heroically wrest the Republican Party from the clutches of Donald Trump, and maybe even save the Constitution while he was at it. Suffice it to say, the reality will likely be less to their liking.
As I've reported, Trump's rise was, in fact, one of the contributing factors in Romney's decision to come out of retirement and reenter the political arena. But he was never going to join the resistance. Instead, he has framed his campaign as a means of championing Utah's unique style of conservatism—that is, a challenge to Trumpism if not Trump himself. On the stump, Romney has repeatedly said he will support the president when he pursued conservative policies he agrees with, and will call him out when he does things that warrant censure.
As a senator from Utah, the 71-year-old Romney will likely have an extremely safe seat from which he is free—perhaps for the first time in his political career—to be unabashedly who he is, without any serious threat of electoral blowback. That could lead him to hold the president accountable in ways that other Capitol Hill Republicans have shied away from. (Romney is notably one of his party's leading Russia hawks, for example.) But those expecting him to take up the fight against the more traditionally conservative elements of Trump's agenda will be disappointed.