The Radicalization of Richard Painter
The former White House ethics lawyer is considering turning his anti-Trump crusade into a Senate campaign.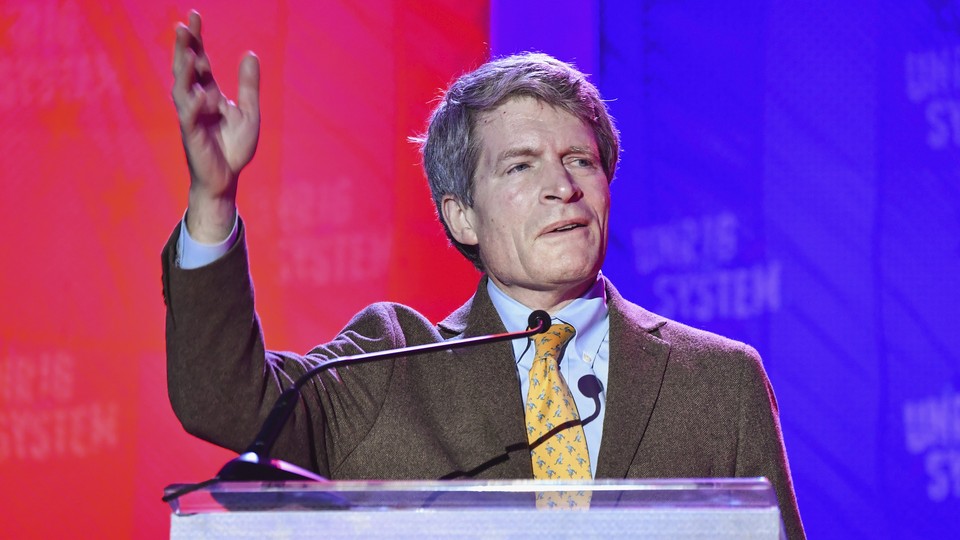 Richard Painter, a former White House ethics lawyer with little public profile before 2016, has emerged as a prominent critic of Donald Trump. The 56-year-old law professor has tried to discredit the president through op-eds, countless television appearances, and a high-profile lawsuit. Now, he's considering turning his anti-Trump crusade into an actual campaign.
"If I choose to enter this race, it will be to fix the problem of corruption in our government at the federal level," Painter said during a news conference at the Minnesota state capitol on Wednesday afternoon, adding that he sees "a lot of room for someone like me" in the political middle.
Painter, a longtime Republican who teaches at the University of Minnesota Law School, announced Wednesday that he's launching an exploratory committee for the Senate seat currently held by Tina Smith, who was appointed to the Senate after Al Franken resigned amid allegations of sexual misconduct. "I've been concerned about ethics in government for a long time," Painter told me in an interview Wednesday, ahead of the announcement. "And the problems we've had under President Trump are only indicative of the longer-term problem of the erosion of public office and government." That erosion, Painter said, stems from the outsize role of money in politics, which was exacerbated by the Supreme Court's Citizens United decision in 2010.
Painter hasn't followed the usual trajectory of a political candidate: He began his career as a New York-based attorney, entered the world of academia in 2002, and later joined the George W. Bush administration as chief White House ethics lawyer. Like many Americans who've found their political calling in the last year, Painter was essentially radicalized by the president: He transformed from a low-profile arbiter of obscure government-ethics issues into a sharp-tongued political activist with a fairly large microphone.
Since the 2016 election season, Painter has been a go-to Republican critic for many media outlets in need of an anti-Trump voice. His criticism has focused mainly on Trump's conflicts of interest stemming from his family business. For example, Painter co-authored a column with fellow ethics lawyer Norm Eisen back in September 2016 listing six reasons why a Trump presidency would be "ethically compromised." The two men followed up with an article blasting Trump's refusal to release his tax returns, and another in The Atlantic explaining why Trump's ascension to the presidency would violate the Constitution's foreign-emoluments clause. In recent weeks, Painter weighed in on the ethical implications of the Trump sons' travels, and commented on reports that Trump's personal lawyer paid off a porn star to keep quiet about an alleged affair.
Painter and Eisen, who was chief ethics lawyer in the Obama administration, are now board chairs at the nonprofit government-watchdog group Citizens for Responsibility and Ethics in Washington, which filed multiple lawsuits against Trump in early 2017 for failing to place his assets in a blind trust. (One lawsuit was dismissed in December for lack of standing; CREW is appealing the decision.)* According to E&E News, as a leader of CREW, Painter is "at the center of more than 180 legal challenges" against Trump and his administration.
Painter told me he doesn't know yet if he'll run for the GOP nomination for Senate or as an independent. Either way, he suggested, his party is in need of a substantial overhaul. "It's been several decades that we've had erosion of what I've called the traditional Republican values of self-government: responsible government, efficient government, budgetary responsibility, and a commitment to racial equality and environmental conservation," he explained.
"I don't want to blame Trump for all our difficulties in government," he added. "But he certainly hasn't made the situation better."
Painter could potentially have difficulty appealing to Republican primary voters in Minnesota, where Trump earned nearly 45 percent of the vote in 2016, only 2 percent less than Hillary Clinton. A representative for the Minnesota GOP said it hadn't been in contact with Painter, but noted that "if he's looking to run as a Republican, we would be more than happy to welcome him." A spokesman for Karin Housley, the only Republican candidate to have formally announced a primary run for the seat, said in a statement that Housley, too, welcomes a new opponent.

Painter told me he believes voters could look beyond party affiliation in this election, which could make a run as an independent less risky. "I think the wave everyone should expect is the wave of voters who want to restore integrity in government," he explained. "I don't think that is a cause identified with any particular party."
Minnesota does have a record of electing independents and iconoclasts, like Jesse Ventura, the retired professional wrestler and political independent who became governor of Minnesota in 1999. Still, it's unlikely Painter would win as an independent, according to Richard Keiser, a political-science professor at Carleton College in Northfield, Minnesota. "The typical thing for that third-party candidate to [succeed] is the two other parties have to be so unappealing," he explained. "I don't think Tina Smith has had enough time to become unappealing."
Keiser isn't any more optimistic about Painter running as a Republican. "Being a well-funded typical establishment Republican reminds me of [former presidential candidate] Mitt Romney, and those kinds of people lose to Democrats in this state," Keiser said. He added that someone with Painter's background as an "intellectual who knows about political correctness" is not something the average Trump voter is looking for: "They want somebody who knows the rules and loves breaking them." Keiser is only one voice, but he could have a point: Painter might be more radical than ever these days, but he's certainly not a rule-breaker.
---
* This article originally stated that CREW had not yet appealed. We regret the error.