Republicans Can't Stop Trump's Trade War
Congress has the power to block the president's proposed tariffs on steel and aluminum. Why aren't lawmakers using it?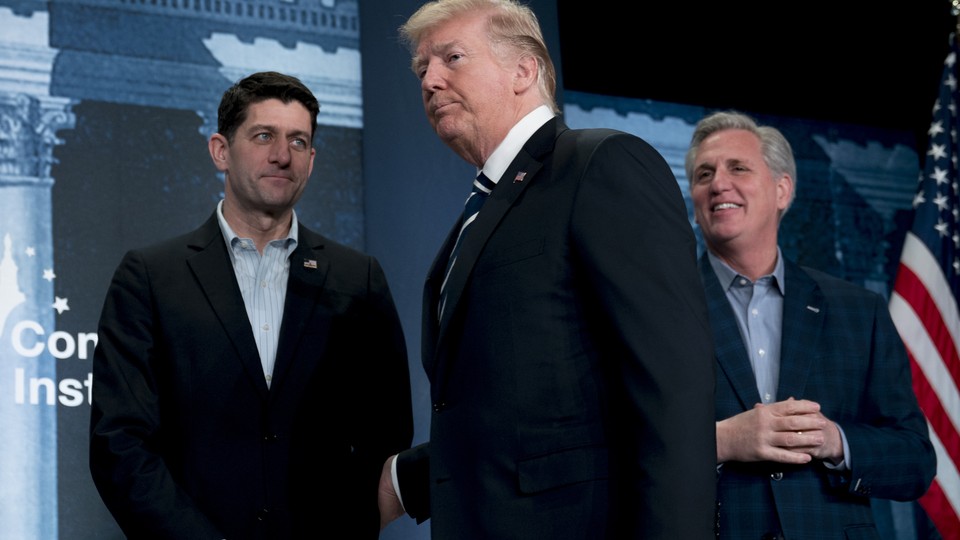 It's a major recurring theme of the Trump administration: The president threatens to betray a conservative principle, and Republicans in Congress try to talk him out of it.
When Trump has veered left on immigration and told either Democratic leaders or bipartisan groups of lawmakers that he'd back a simple deal to give the so-called Dreamers a path to citizenship, conservatives on Capitol Hill—along with hardliners like Stephen Miller in the White House—have persuaded him to back off and insist on a tougher stance instead.
After the president flirted last week with strict gun-control policies, National Rifle Association lobbyists swooped in to set him straight, and GOP leaders backed them up by putting off quick votes on tighter gun restrictions.
But top Republicans may have met their match when it comes to trade—an issue that has animated Trump's politics for three decades. Last week, he declared that he would unilaterally impose steep tariffs of 25 percent on steel and 10 percent on aluminum as soon as his administration could get him the papers to sign. The hastily arranged announcement horrified the veteran free-traders who lead the GOP in Congress: not only House Speaker Paul Ryan, but also the chairmen of the House and Senate committees with jurisdiction over trade, Kevin Brady of Texas and Orrin Hatch of Utah, respectively. Trump has rebuffed the efforts by Republican lawmakers and some of his own advisers to slow his drive for tariffs, and GOP leaders appear to lack either the will or the votes in Congress to block him legislatively.
The Republican leaders fear a trade war that would dampen the economic benefits of their tax cuts, which the GOP is depending on to stave off heavy losses in November's midterm congressional elections. Republicans were clearly hoping the White House would roll back Trump's announcement over the weekend, either by putting off the tariffs or by making clear that key U.S. trading partners would be exempted. But the president gave no ground, defending his decision in a series of tweets and even welcoming a trade war as "easy to win." He insisted that the tariffs would go away only if Canada and Mexico agreed to renegotiate the North American Free Trade Agreement. With Trump digging in, Ryan and his lieutenants tried a more confrontational approach.
"We are extremely worried about the consequences of a trade war and are urging the White House to not advance with this plan," AshLee Strong, the speaker's spokeswoman, said in a statement. "The new tax-reform law has boosted the economy and we certainly don't want to jeopardize those gains." Strong sent reporters an article blaming a dip in the stock market—whose previous gains Trump championed—on investor jitters over the president's directive. Brady spent the weekend in Mexico and on television urging the president to narrow the tariffs, and on Monday, his office said he was gathering Republican signatures for a letter of concern to the president.
Trump still didn't flinch. "No, we are not backing down," he told reporters who asked about Ryan's criticism in the Oval Office on Monday.
Congress could stop Trump from imposing the tariffs tomorrow if it wanted to. The Constitution gives the legislative branch explicit authority "to regulate commerce with foreign nations." And just last month, on a 400 to 2 vote, the House passed legislation that extends for three years a program that reduces various tariffs for businesses.
But over the last 50 years, Congress has delegated the bulk of its trade power to the president, and there isn't much expectation that it'll wrest it back anytime soon. "To claw those powers back would in effect take veto-proof majorities coming out of the House and Senate, and I just don't see that as remotely likely in the current circumstances," said Edward Alden, a senior fellow specializing in trade at the Council on Foreign Relations. "So I think the president does hold all the cards here." Trump is imposing the tariffs under a provision of the Trade Expansion Act of 1962 that allows the president to do so for reasons of national security. That rationale has rarely been used, trade experts said, and it could lead other countries to cite their own national security to restrict imports of U.S.-made products.
A Republican congressional aide, speaking on the condition of anonymity to discuss a sensitive policy topic, said GOP leaders "won't rule out potential action down the line." But the vagueness of that threat itself underscores the reluctance of Ryan and Senate Majority Leader Mitch McConnell—who has said nothing publicly on tariffs—to take Trump on so directly. To have any chance at success, they'd have to muster an overwhelming majority of Republicans, because Democrats remain deeply divided on trade. Even then they might fall short. When former President Barack Obama sought authority to negotiate trade agreements that would not be subject to amendment by Congress, all but 28 Democrats voted no. The trade deal he ultimately struck, the Trans-Pacific Partnership, never even received a vote.
Both House Minority Leader Nancy Pelosi and Senate Minority Leader Chuck Schumer have stayed uncharacteristically quiet on Trump's tariff move—a decision that allows Republicans to fight it out amongst themselves but also reflects the lack of consensus among Democrats. The man who challenged Pelosi for her party-leadership post in 2016, Representative Tim Ryan of Ohio, issued a statement supporting Trump's decision, although he pushed for exemptions for key allies.
Trump has long argued that the United States has been on the losing end of its trade deals, allowing competitors like China and Japan too easy access to its markets. His decision to impose tariffs on steel and aluminum, however, seems equally about fortifying what he sees as his white working-class base in states like Ohio and Pennsylvania. Yet Republicans worry that the move is woefully shortsighted and that the limited boost to domestic steel and aluminum producers will be wiped out by losses suffered by industries that rely on those materials—especially automakers and the aerospace industry, and even big-box stores that use steel and aluminum for shelving.
The other big fear is the impact from retaliation if U.S. trading partners slap their own tariffs on American exports in response to Trump's unilateral actions. "Our trading partners are not political novices," said Matt McAlvanah, a former trade official in the Obama administration who now consults on the issue for the Monument Policy Group, a Washington, D.C.-based lobbying firm. "They are going to target products, and have already indicated they will target products, that are politically important not just to Trump's base, but to the base of Republican leadership." A top European Union official has already warned of tariffs on bourbon—a speciality of McConnell's Kentucky—and Harley Davidson motorcycles, whose manufacturer is based in Ryan's home state of Wisconsin.
Foreign countries could also try to split Trump's base down the middle by targeting agricultural exports, pitting the biggest industries in the Midwest against each other. "Republicans are going to be squeezed from all sides on this," McAlvanah predicted.
On that point, the Democratic analyst will get no pushback from conservatives, who have sounded the same warnings in recent days. "For every steelworker job that might be saved because of a tariff, our country will lose even more American jobs in auto plants, construction, and so many other industries," David McIntosh, the president of the conservative advocacy group Club for Growth, said in a statement. "Tariffs will also harm the pro-growth effects of the tax cuts, stall the economy, incite a trade war, and help hand the election to the Democrats."
Trump insisted Monday that a trade war isn't likely—that he can slap tariffs on steel and aluminum without risk of a tit-for-tat retaliation that Republicans have long predicted. But if he's wrong, he'll have to wage battles on two fronts—against the trading partners he's angered, and against his stalwart allies in Congress who fear the fallout from a fight they've begged him to avoid.