'We Cannot Move Forward if These Kids Are Left Behind'
These local grassroots groups are trying to close the income, wealth, and education gaps between families of color and their white counterparts.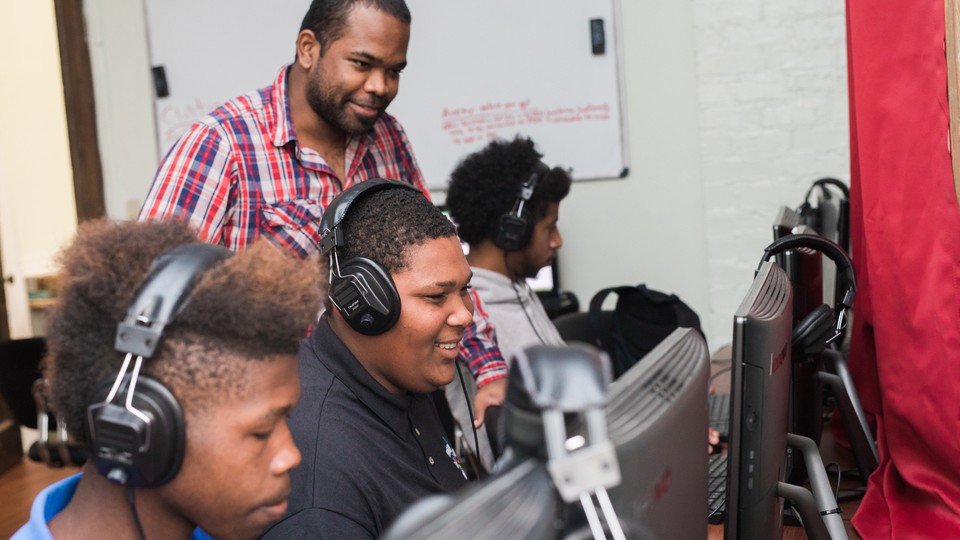 What does it take to widen the circle of opportunity in a rapidly diversifying America?
Few questions are more pressing for the country. The Census Bureau recently forecast that racial and ethnic minorities will become a majority of the nation's under-18 population by 2020, most of the under-30 population by 2027, and a majority of the under-40 population just six years after that. These young people represent the nation's future—its workers, consumers, taxpayers, and voters. Yet despite gains over the past generation, particularly in educational attainment, huge gaps still separate African American and Latino families from white (and, often, Asian American) families in terms of income, wealth, and college completion.
Each of the five winners of the 2017 Renewal Awards, which will be announced Tuesday at a forum in New Orleans, is trying to narrow those gaps. Now in their third year, the awards honor grassroots nonprofit organizations confronting the nation's toughest challenges. The common insight connecting these groups was perhaps best expressed by Teresa Granillo, the executive director of Con Mi Madre, one of the winning organizations. "As a nation," she told me, "we cannot move forward if these kids are left behind."
The 2017 winners of the Renewal Awards, which are supervised by The Atlantic and sponsored by Allstate, capture an array of innovative responses to that challenge. Con Mi Madre supports young Latinas in Austin and El Paso, Texas, with academic enrichment and emotional counseling from sixth grade through college. Let's Innovate Through Education, based in Memphis, provides classes, mentors, internships, and grants to encourage more young African Americans and Latinos to start businesses. Anew America provides support to immigrant, minority, female, and low-income entrepreneurs in Oakland and San Jose, California. The Hazleton Integration Project works to expand opportunity for Latino kids in Hazleton, Pennsylvania, and to smooth relations between the city's rapidly growing Latino community and its mostly older white population. Lastly, the Youth Empowerment Project in New Orleans operates 11 different programs, from educational initiatives to mentoring to job readiness. Each is designed to create pathways to employment and stability for young people who are either reentering society after incarceration, disconnected from work and school, or simply looking for more opportunity than is available in their neighborhoods.
"We want to reach kids whenever we have the opportunity," said Melissa Sawyer, the co-founder and executive director of YEP. "We [as a society] continue to fail our young people in so many different places across their life span. We want to tell young people, 'Yeah, come on in; we have something for you,' because our young people have been told 'No' so many times."
The five winners each received grants of $20,000 from Allstate. This year, the awards drew nearly 3,000 nominations. A team of Atlantic researchers and editors narrowed the selections down to 25 finalists. From that list, four general-category winners were selected by a panel of outside judges and through public online voting. Allstate selected a fifth winner for its Youth Empowerment Award, aimed specifically at groups that work with young people. (YEP, in New Orleans, won that prize this year.)
In addition, Allstate gave $10,000 grants to five runners-up, chosen through the same process. In the general category was: Family Agriculture Resource Management Services in Rock Hill, South Carolina, which supports low-income farmers and organizes large-scale donations of fresh produce to food banks, shelters, and other social agencies across seven Southern states; Fugees Academy in Clarkston, Georgia, which operates the nation's first school solely for the children of refugees and is opening a second campus in Columbus, Ohio; Soldier's Angels, in San Antonio, which provided over $15 million in assistance last year to members of the military, their families, and veterans; and Profound Gentlemen, in Charlotte, which provides on-the-ground support services in five cities for young men of color serving as teachers. Summer Search, in San Francisco, was named the runner-up for the youth award; it helps low-income students in five metro areas around the country transition to college through a years-long mentoring program and immersive summer trips.
While the five winners differ in the specific programs they offer, they share several common principles. One is that they recognize that the complex challenges facing low-income families require comprehensive responses, both in breadth and duration. "We communicate that when you enter Con Mi Madre: You have entered a new family; we are going to be here the entire time," said Granillo, expressing a philosophy integral to all of the winning organizations.
Several of the groups work with their participants over much longer periods than is common for social programs. Con Mi Madre started as an enrichment program just for sixth graders, then extended its services through high school, and now works with young people through their college years. YEP technically follows young people from ages seven through 24—already an imposing span—but it extends one-fourth of its adult literacy and job-training programs to people 25 and older. LITE in Memphis, which begins training its aspiring entrepreneurs in their mid-teens, measures success by the milestones its students have reached by their mid-20s: college completion, employment, business formation. "For us, success looks like [this:] By the age of 25, 75 percent of the students have high-paying jobs … and 25 percent have launched businesses," said Pamela Urquieta, the group's executive director.
Another common thread is the groups' unusually broad range of services. Anew America starts with a core nine-week training course for its aspiring business owners, about 90 percent of whom are minorities and roughly three-fourths women. But it also provides an intensive one-day business "boot camp"; ongoing coaching and technical assistance; working groups addressing specific business problems; and even their own lending operation. At Con Mi Madre, Granillo said, mothers and daughters look for guidance on challenges far beyond the educational issues central to their mission, from health-related needs to immigration. ("It floors me some of the stuff they trust us with," she said.) The Hazleton Integration Project not only offers bilingual preschool and after-school enrichment, mentoring, and athletic leagues aimed at kids, but it also administers English and high-school-equivalency programs targeting adults. Jane Addams, whose settlement-house movement helped the melting-pot generations of immigrants at the turn of the 20th century, would recognize the comprehensive reach of these programs.
Addams would recognize something else, too: the fraught political environment in which these organizations are operating. Now, as then, rapid demographic change has produced tension between those who see the new faces as a source of revitalization and those who fear that they represent too much change too fast. Last week, for example, Fox News host Tucker Carlson complained that Americans—by which he almost certainly meant white Americans—were being exposed to "bewildering" rates of demographic change. As evidence, he specifically cited Hazleton.
It was exactly those fears that led Joe Maddon, a Hazleton native and the manager of the Chicago Cubs, to establish the organization in the first place, recalled Bob Curry, who is married to Maddon's cousin Elaine and serves as the organization's president. After Maddon visited his hometown in late 2010 and heard many of his childhood friends lamenting the growth in the city's Latino population, he launched the project with Elaine and Bob to help ease tensions.
The organization's founding insight, Curry said, was recognizing that the new generation of immigrants from Central America and Puerto Rico—drawn to work in the huge warehousing operations that have sprouted around the city—were only following the footsteps of the Italian, Irish, and Polish immigrants attracted decades earlier to Hazleton's now mostly shuttered mines and factories. Once the project opened its doors, Curry said, it drew a significant response from Latino families—1,800 people showed up the first week. It also became a rallying point for local whites who saw the new arrivals as a rejuvenating lifeline for a town that was otherwise aging and shrinking.
"The people [who welcomed the new arrivals] were silenced by the loudness of the voices in opposition," Curry said. "But here we come and we're pretty vocal and we are there every single day. That helped give voice to a whole lot of other people who felt the same way but may have not been comfortable stating it."
Like most nonprofits, the Renewal Award winners consider their greatest challenge to be achieving scale. Yet all of them have expanded their services beyond their original scope in response to the needs of the families they work with. "We have continued to add programs organically," said Sawyer of YEP. "It came from the understanding that if we are going to truly help these young people we need to stick and stay with them."
The groups seem acutely aware of how many more people they could reach with additional resources. "The nonprofit sector is taking on more and more of the role the public sector used to play," Sawyer said, "but we don't have the public-sector resources following us."
All likewise understand that even the best grassroots programs can only chip away at structural inequities that are national, or even global, in scope. "There is still a disconnect in terms of access to capital for women entrepreneurs and entrepreneurs of color," said Steve Dial, the chief executive officer of Anew America.
Similarly, LITE's Urquieta noted that there is an enormous gap between Memphis's population, which is already majority-minority, and the tiny share of the city's business revenue generated by minority-owned companies. While that gap can't be closed overnight, "we are just trying to make sure … this happens sooner [rather] than later," she said. The only way to close the gaps, Dial added, is to establish more extensive partnerships between all of the institutions that can channel resources toward those in need: businesses, civic groups, governments, and foundations. The response, he said, "has to be collaborative."
The Renewal Award winners capture America's fractious condition as it careens through its latest demographic transformation. On the one hand, the nation is more polarized than at any point since at least the 1960s—possibly even since the 1860s—with the central fault line largely between those comfortable with the country's hurtling demographic and cultural change and those who are not.
On the other hand, the winners show how many creative and tenacious innovators are stepping up at this fragile moment to build bridges forged through shared values and common aspirations. The centrifugal forces pulling the United States apart are operating at gale force. Yet the commitment of these local activists justify the kind of optimism Curry expressed from the jagged front line of change in Hazleton. When asked for the key to his group's successes so far, he paraphrased a saying often attributed to anthropologist Margaret Mead. "Never think a small group of people cannot affect the course of history," Curry said, in what could amount to the common credo of all the groups that participated in the 2017 Renewal Awards. "It's the only thing that ever does."