Trump Proves Indefensible
John Dowd is the president's second personal lawyer to leave the job and it's the second major change to his legal team this week.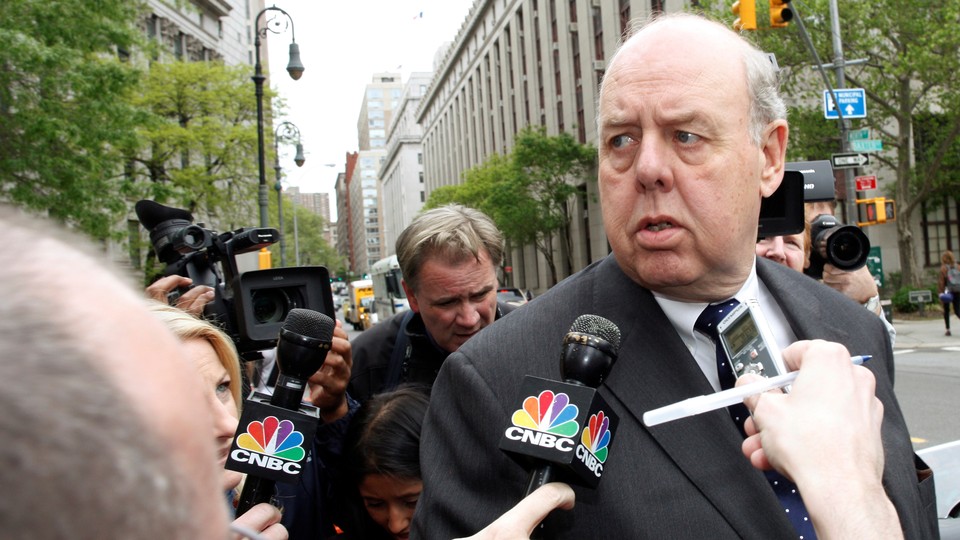 Updated on March 22 at 1:15 p.m.
John Dowd announced he will depart his position as President Trump's lead personal lawyer in the Russia investigation, the second person to leave that job in less than a year.
Dowd announced his exit late Thursday morning. The specifics of the decision remain obscure—The Washington Post described it, somewhat paradoxically, as "a largely mutual decision"—but the departure comes amid rising frustration from the president with his legal team and frustration from the legal team over Trump's refusal to follow advice. Dowd had been a particularly strong voice arguing against Trump testifying to Special Counsel Robert Mueller, and over the weekend Dowd called for Mueller's firing, initially telling The Daily Beast he spoke for the president, then later insisting he spoke only for himself.
In a statement emailed to the Post, Dowd said, "I love the president and wish him well."
The events that culminated in Dowd's exit on Thursday show why the president is so difficult for any lawyer to defend, and why replacing Dowd will be a tall order for Trump. Last week, Trump tweeted:
The Failing New York Times purposely wrote a false story stating that I am unhappy with my legal team on the Russia case and am going to add another lawyer to help out. Wrong. I am VERY happy with my lawyers, John Dowd, Ty Cobb and Jay Sekulow. They are doing a great job and.....

— Donald J. Trump (@realDonaldTrump) March 11, 2018
On Monday, however, Trump confirmed the Times's reporting when he hired a new attorney, Joe DiGenova, an accomplished lawyer who has, however, recently peddled conspiracy theories about the Mueller probe.
On Tuesday, a White House spokesman insisted that was it. "There are going to be no changes to the White House legal team," Raj Shah said, a statement that is true only in a legalistic sense, since Dowd headed the president's team of outside lawyers.
This shows the problem for any lawyer representing Trump: He lies repeatedly, a liability in any client; and furthermore, no lawyer speaking for him can trust that the president won't undercut or contradict him soon afterward, just as he does to aides.
Dowd is the second personal lawyer for Trump to leave, after Marc Kasowitz, who resigned in July 2017, following ill-advised and vulgar emails to strangers. (Mark Corrallo, a spokesman for Trump's legal team, left around the same time, and has reportedly spoken to Mueller since.) Dowd is a veteran, successful lawyer, and his appointment was viewed by experts as a step up from Kasowitz, who had represented Trump in New York but had little experience with a complex Washington investigation like Mueller's.
Dowd did make some notable missteps during his tenure. In addition to the changing attribution of his statement to The Daily Beast about firing Mueller, he was also overheard by a Times reporter speaking loudly about the investigation with Ty Cobb, a White House lawyer, at a steakhouse in Washington. Dowd also claimed responsibility for a tweet from Trump's account, which seemed to contradict the president's earlier statements about the firing of National-Security Adviser Michael Flynn, and to some observers implied obstruction of justice by Trump.
Dowd's most notable publicly known position was his reluctance to have Trump testify to Mueller. While experts think it is unlikely Trump could simply refuse to speak to the special counsel, there are good reasons for the president's lawyers to be wary of such an encounter, and to seek to find ways to limit the scope of such an interview, whether by topic, length, or format, like submitting written answers. Given the seriousness of the probe and Trump's difficulty telling the truth, an interview presents a serious legal risk (although as I have reported, Trump tends to be more honest under oath). Negotiations between Trump's team and Mueller are currently in process, and it's not yet clear how Dowd's exit will affect them.
At the end of an event about tariffs on China on Thursday, Trump reiterated his desire to speak with Mueller. "Yes. I would like to," he said.
While Dowd has lobbied against speaking to Mueller, Trump has pronounced himself eager to be interviewed. This is one possible area for Dowd's frustration with his erstwhile client, but hardly the only one. Trump speaks often and impulsively about matters that fall under the realm of the investigation, sending lawyers scrambling. He has also taken to speaking to Mueller witnesses about their interviews, a practice frowned upon by defense lawyers.
Even as Dowd leaves, there's speculation about the fate of Cobb, another white-shoe lawyer who is serving as the White House's lead counsel on the Russia investigation. Trump is reportedly disgruntled with Cobb as well. Cobb has been the foremost advocate for taking a cooperative approach to Mueller, but he has also repeatedly claimed that Mueller's probe would be over soon—first by Thanksgiving, then by Christmas. The calendar has now rolled into spring of 2018, and there's little evidence Mueller is close to concluding his investigation.
But replacing Dowd, and perhaps Cobb, might be a tall order, given the president's complicated legal troubles and his proven record of making life difficult for lawyers, to say nothing of discarding them altogether. According to the Times, Trump spoke with Emmet Flood, who helped defend Bill Clinton during his impeachment trial, about joining his team—but did not tell his existing lawyers. A spokesman for Ted Olson, a famed Republican lawyer, shot down speculation earlier this week by saying Olson would not be representing Trump.
Just as it's easy to see why Dowd was ready to leave Trump's team, it's easy to see why Olson would prefer to stay clear of the case, and why some of the other most qualified attorneys would think twice before taking the job. A lawyer can have a fool for a client even when he doesn't represent himself.