McCabe's Firing Chips Away at the Justice Department's Independence
Shortly after he was dismissed Friday by Attorney General Jeff Sessions, the former FBI deputy director pinned the blame directly on President Trump.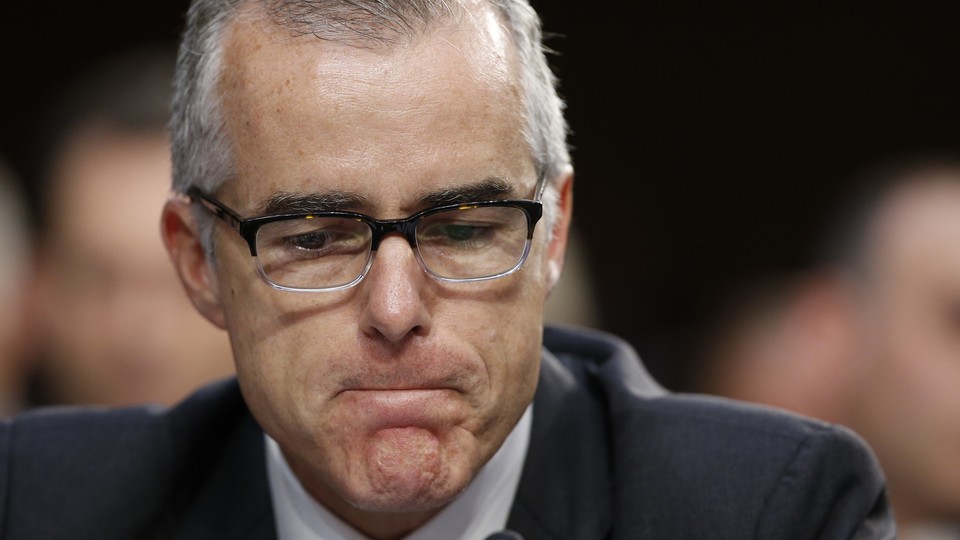 Updated at 10:50 a.m. ET on March 17
Andrew McCabe, a former acting and deputy FBI director who had drawn the ire of President Trump, was fired by Attorney General Jeff Sessions late Friday evening, a decision that raises troubling questions about the independence of both the Justice Department and the FBI.
Trump and his associates are a focus of Special Counsel Robert Mueller's inquiry into Russian interference in the 2016 election, and McCabe's firing could send the message to federal law-enforcement officials that they risk their jobs and reputations if they displease the president.
In his first public comments on the matter, just after midnight, Trump effusively praised McCabe's dismissal:
Andrew McCabe FIRED, a great day for the hard working men and women of the FBI - A great day for Democracy. Sanctimonious James Comey was his boss and made McCabe look like a choirboy. He knew all about the lies and corruption going on at the highest levels of the FBI!

— Donald J. Trump (@realDonaldTrump) March 17, 2018
McCabe was fired two days short of his planned retirement, which puts his benefits in danger. Late Friday, Sessions released a statement saying that the department's Office of the Inspector General, which has investigated the FBI's handling of the probe into former Secretary of State Hillary Clinton's emails, found "that Mr. McCabe had made an unauthorized disclosure to the news media and lacked candor—including under oath—on multiple occasions."
Sessions's reasoning is difficult to independently evaluate, because the underlying Inspector General's report outlining McCabe's conduct has yet to be released. But Matthew Miller, a former Justice Department spokesman under Attorney General Eric Holder, suggested that even if the cause was legitimate, Sessions's timing reflects political pressure from the president.
"I put a lot of faith in the Inspector General and the career people in [the Office of Professional Responsibility] and the senior career officials at DOJ, who all seem to have reviewed this and agreed that McCabe should be disciplined," Miller said. "I do think that this moved as quickly as it did because the attorney general was trying to appease the president. Left to the normal process, this would not have happened this quickly, and you would not have seen it until the Inspector General's report was released."
McCabe was one of the FBI officials overseeing the Clinton investigation, which ended without prosecution. While Sessions did not identify the news outlet to which the FBI disclosed information, in 2016 McCabe authorized bureau personnel to talk to a Wall Street Journal reporter about a potential investigation of the Clinton Foundation.
McCabe is also reportedly a witness in Mueller's investigation, which is additionally examining whether the president sought to obstruct justice when he fired former FBI Director James Comey last May. McCabe cited his involvement in the inquiry in a statement released to the press on Friday. He described his dismissal as retaliatory:
I am being singled out and treated this way because of the role I played, the actions I took, and the events I witnessed in the aftermath of the firing of James Comey. The release of this report was accelerated only after my testimony to the House Intelligence Committee revealed that I would corroborate former Director Comey's accounts of his discussions with the President. The OIG's focus on me and this report became a part of an unprecedented effort by the Administration, driven by the President himself, to remove me from my position, destroy my reputation, and possibly strip me of a pension that I worked 21 years to earn. The accelerated release of the report, and the punitive actions taken in response, make sense only when viewed through this lens.
McCabe has repeatedly attracted the ire of the president and his supporters. McCabe's wife, Jill, ran for state Senate as a Democrat in Virginia, which Trump later said compromised McCabe's role in overseeing the FBI's Clinton probe. That investigation ended with a public press conference in July in which then-FBI Director Comey declined to prosecute Clinton, even as he characterized her handling of classified information as reckless.
On Twitter, Trump repeatedly singled out McCabe, writing in December 2017, for example, that "FBI Deputy Director Andrew McCabe is racing the clock to retire with full benefits. 90 days to go?!!!" Privately, Trump reportedly asked McCabe to "ask his wife how it feels to be a loser," in reference to her earlier campaign. He also reportedly asked McCabe who he voted for in the 2016 election. (According to a CNN report, McCabe voted in the 2016 Republican primary in Virginia, but not the general election.)
Michael Bromwich, McCabe's attorney, said in a statement that Trump's attacks on McCabe were "quite clearly designed to put inappropriate pressure on the Attorney General to act accordingly." McCabe decided to step down in January, having by then become a frequent target of the president. But he wanted to make it effective this month so he could receive his full benefits.
Dave Gomez, a former FBI agent and a senior fellow at George Washington University's Center for Cyber and Homeland Security, echoed Miller's assessment that the timing was linked to Trump. "I think there's a substantial amount of evidence that this is the result of retaliation on the part of the Justice Department and the White House," Gomez told me. "While there might have been sufficient cause to fire him under FBI rules, the way it was done, [shortly] before retirement, smacks of a vindictive and retaliatory nature."
Ali Soufan, a former FBI agent who now runs the Soufan Group security firm, suggested the charge that McCabe "lacked candor" was hypocritical. He pointed to Sessions's own testimony under oath to the Senate last year, in which he falsely stated he had no contact with Russian officials during the 2016 campaign. "He was fired for lack of candor by people who have no candor," Soufan said.
McCabe joins a growing list of FBI officials to be demoted or pushed out of the bureau in recent months. James Baker, a top FBI lawyer and Comey ally, was reassigned to a different post in December. James Rybicki, Comey's former chief of staff, was also replaced.
And then there's Comey himself. His May 2017 dismissal was publicly justified as a consequence of his departure from Justice Department protocol ahead of an election—first, with his July press conference in the Clinton case, and later with his October letter to Congress stating that the Clinton email probe had been reopened.
The latter decision, made just days before the 2016 presidential election, was based on the possibility that new evidence had been found; no additional evidence ever was. At the time, the FBI was also investigating links between the Trump campaign and Russia, though that probe did not become public knowledge until months into the Trump administration.
Despite the initial justification for Comey's dismissal, the president later told NBC News that he was thinking about "this Russia thing" when he decided to fire him.
Soufan said that the McCabe firing, combined with the recent nomination of Gina Haspel to be CIA director, sent a clear message to law-enforcement and intelligence officials. Haspel is a longtime CIA official who oversaw a secret "black site" in Thailand where detainees were subject to waterboarding and other so-called enhanced interrogation techniques; she was later involved in the decision to destroy videotapes of waterboarding sessions.
"A lot of these FBI agents have families, mortgages, kids, and they just want to put fear in your heart. They want to make you think twice before doing your job," Soufan said. "At the same time, you can destroy tapes, torture people, and we'll have your back.
"It's a very chilling message," he said.