Trump Vents His Anger Over Border-Wall Funding
The president is upset with congressional leaders for slow-rolling his core campaign promise, and for failing to defund sanctuary cities in their spending bill.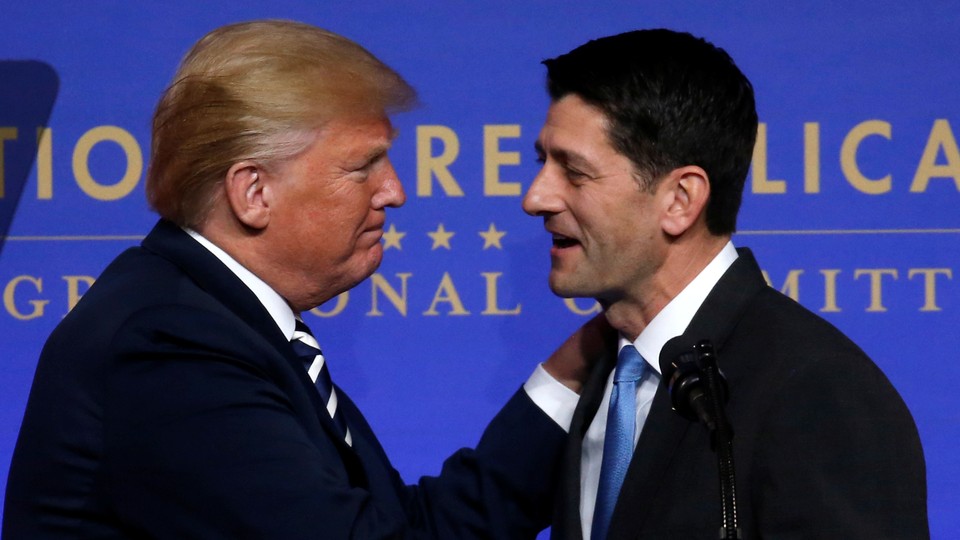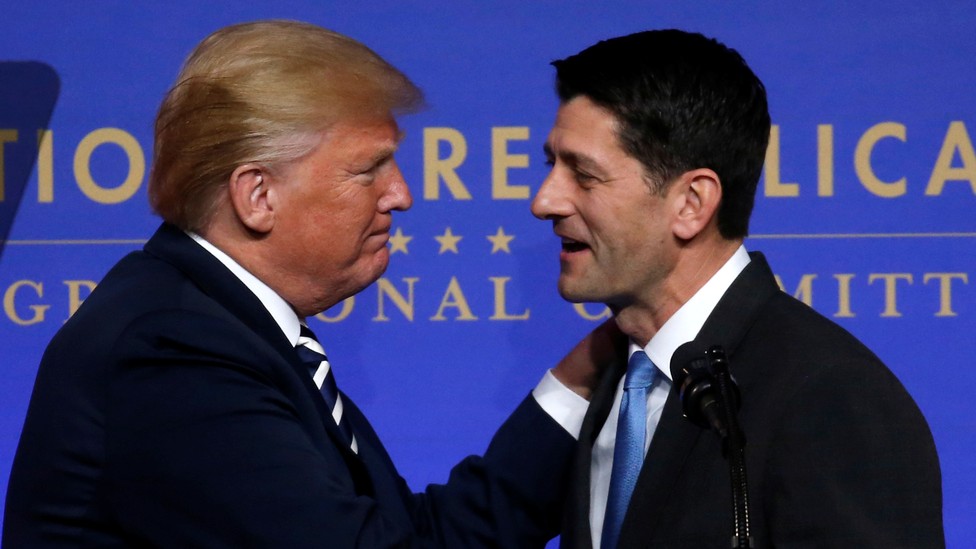 President Donald Trump threatened to veto a massive government spending package over border wall funding measures, a senior White House official and two senior House Republican aides told The Atlantic. The president is also "upset" that the bill lacks a measure to defund sanctuary cities, both sources added.
"He certainly wants the wall money," the senior White House official said. "And he knows the ink is not dry yet on the bill."
Another White House official told The Atlantic that Trump's comments about the border wall in particular indicate the president's broader dissatisfaction with congressional leaders, who he believes have been stagnant on moving ahead with his core campaign promise.
All four officials spoke on condition of anonymity, citing the sensitive nature of the negotiations.
The $1.3 trillion omnibus bill currently includes $1.6 billion for "border security" measures, including more border agents and funding for the construction of wall prototypes, and just $641 million for the wall itself—far shy of the $25 billion Trump requested.
House conservatives have groused in recent days that Republican leaders have all but abandoned efforts to follow through on Trump's core campaign promises related to immigration. "They don't even pretend anymore to want it," said one senior aide to a conservative member about the border wall, who requested anonymity to talk about private discussions.
Trump met at the White House on Wednesday afternoon with House Speaker Paul Ryan and Senate Majority Leader Mitch McConnell.
"The speaker met with the president this afternoon to discuss the emerging funding bill. They had a good conversation about the wins delivered for the president, and he is supportive of the bill," said AshLee Strong, a spokeswoman for Ryan. In a statement, White House Press Secretary Sarah Sanders said the three had discussed, "their shared priorities secured in the omnibus spending bill," and that "the president and the leaders discussed their support for the bill."
Indeed, the senior White House official and senior House Republican aide both cautioned that the bill was far from a lost cause, and said that they don't expect a shutdown. The Republican aide said members familiar with the president's thinking are unclear whether Trump is having "second thoughts, but pulls the trigger anyway," or "actual second thoughts."
Government funding runs out on Friday at midnight.