A Win for Democrats, but Not for Nancy Pelosi
Conor Lamb won a red district in Pennsylvania after ditching his party's leader. Will other Democratic candidates follow his lead this fall?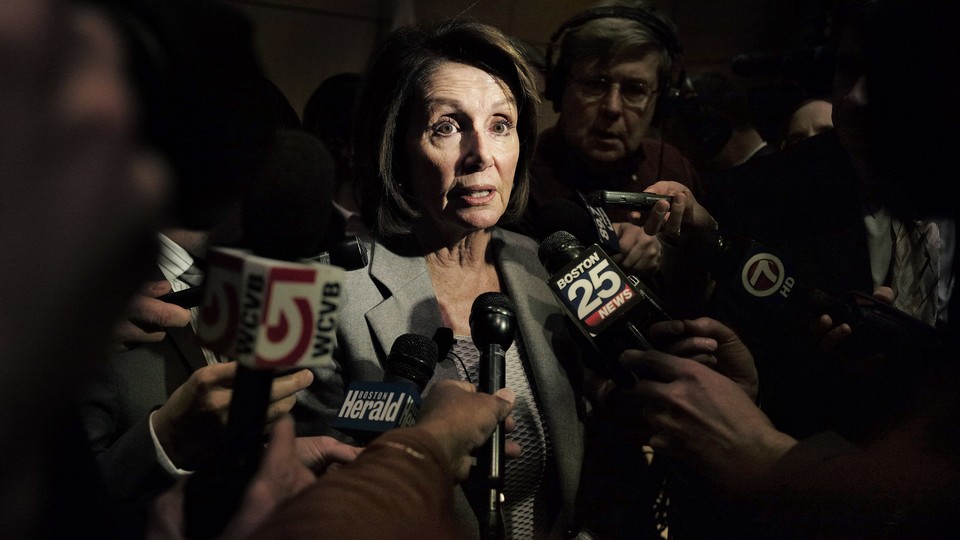 Conor Lamb's apparent victory in a Pennsylvania special election on Tuesday moves Democrats a step closer to recapturing the House majority this fall. It does not, however, necessarily help Nancy Pelosi in her bid to reclaim the speaker's gavel next year.
Following a campaign playbook they've used for years, national Republicans tried at every turn to tie the 33-year-old Marine to the longtime House Democratic leader, who come January could reclaim the speakership she lost in 2011 after the GOP knocked Democrats out of power. Lamb early on declared he would not support Pelosi and called for new leadership in both parties.
Ultimately, the GOP strategy failed, as Lamb declared victory over Republican Rick Saccone early Wednesday. The outcome will do little to shift the immediate balance of power in Washington: Republicans will retain a comfortable House majority despite losing the seat, and the district Lamb and Saccone were fighting over will disappear once Pennsylvania adopts a new congressional map for the midterm elections in November. Lamb will have to run another campaign this year in a freshly drawn district.
The real significance of Lamb's win, in a district that favored Donald Trump by 20 points in 2016, is what it might mean for the fall elections and the way both parties wage their campaigns. And one important question is why the GOP's anti-Pelosi strategy fell short: Did voters in Pennsylvania's 18th congressional district not care about Pelosi, who in leading House Democrats for the past 15 years has withstood unrelenting GOP attempts to demonize her? Or did Lamb, by deciding to oppose her, inoculate himself against those very attacks—giving Democratic candidates a model for success going forward and sending Pelosi a signal that her future as leader is in doubt?
The debate about Pelosi was as strong within the Democratic caucus on Wednesday as it was among the political operatives spinning the close race for either party.
"It's a great message for any candidate running right now," Representative Kurt Schrader of Oregon, a co-chairman of the Blue Dog PAC, told me Wednesday afternoon, referring to Lamb's call for new leadership in both parties. The fiscally conservative Blue Dogs endorsed Lamb, and he's expected to join the group once he's sworn in. "If you're in a district like Conor Lamb's that is representing huge swaths of rural and suburban areas," Schrader said, "I think you have to make a clear statement about your support—or lack thereof—of the current leader of the Democratic Party."
"Otherwise you're going to get canned," he continued. "You're going to get beat."
Representative Jim Himes of Connecticut, however, suggested Pelosi wasn't as big a factor in the district as Republicans wanted her to be. The GOP, he said, made the same mistake he's seen Democrats make by losing focus on what he called kitchen-table issues. "I think Republicans fell right into that trap," said Himes, the chairman of the business-friendly New Democrat Coalition. "I'm just not sure that there are a lot of families in Pennsylvania or anywhere else who are anxious about Nancy Pelosi."
Republicans, Himes told me, "tried to run a Washington playbook, and it failed spectacularly."
In the Capitol, two Democrats with an eye toward replacing Pelosi one day—Democratic Caucus Chairman Joe Crowley of New York and Vice Chairwoman Linda Sanchez of California—each said the GOP's strategy failed. "This election was not about Nancy Pelosi," Crowley told reporters, calling the Republican attacks on her "sexist." "They need to move on from that."
Republicans, meanwhile, argued that it was Lamb's rightward turn—against Pelosi and strict gun restrictions in particular—that allowed him to eke out a narrow win. "The candidate that's going to win this race is the candidate that ran as a pro-life, pro-gun, anti-Nancy Pelosi conservative," Speaker Paul Ryan told reporters on Wednesday morning.
Unlike most Democratic candidates running this fall, Lamb didn't have to survive a party primary in the race to replace former Representative Tim Murphy, a Republican who resigned in scandal last fall. Most Democrats, Ryan and other Republicans argued, will have to tack to the left to win progressive voters in a primary—they won't be able to run the centrist, even conservative, campaign that Lamb waged.
Jesse Hunt, a spokesman for the National Republican Congressional Committee, defended the party's anti-Pelosi pitch, noting that even after Lamb declared his opposition to her, he took the unusual step of running a television ad underscoring his stance. "You don't do that unless it's working," Hunt told me. "That's campaign politics 101: You don't respond to an attack unless you feel it's really having an impact on your candidacy."
Pelosi spokesman Drew Hammill rejected that argument, saying Lamb's upset victory in the face of persistent GOP attacks on his boss demonstrated that the strategy fell flat. "It clearly didn't work," he said.
Democrats also scoffed at Ryan's suggestion that Lamb ran as some kind of conservative, noting that he publicly supported the Affordable Care Act and opposed the tax cuts that Republicans enacted late last year, the GOP's lone major legislative achievement of 2017. "You can't get away with yesterday saying he's a Pelosi liberal, and today he's a Republican," Hammill said. "That is so transparently spun that no one should even repeat it."
With Lamb's victory, Democrats now need to flip 23 seats in November to win control of the House. Pelosi, however, would need 218 Democratic votes on the floor to return as speaker, and if Lamb keeps his word, he won't be one of them. So far, just one other Democratic candidate in a highly competitive district, Paul Davis in Kansas, has publicly vowed to oppose Pelosi. But on Wednesday, another Democratic hopeful in a longer-shot race, West Virginia state Senator Richard Ojeda, told me he wouldn't vote for her either. Ojeda, an Army veteran who said he voted for Trump in 2016, is running for the seat currently held by Representative Evan Jenkins, a Republican challenging Senator Joe Manchin this fall. "I don't think she relates to the working class," Ojeda said of Pelosi. He said he'd support Representative Tim Ryan of Ohio, who ran unsuccessfully against Pelosi for Democratic leader after the 2016 elections.
Despite the loss in Pennsylvania, Republicans said they'd stick to their anti-Pelosi message going forward. "Absolutely," the NRCC's Hunt told me. "We're going to continue to make the connection. Democrats are going to be forced to answer for Nancy Pelosi, her record, and her policies. As long as they continue to vote for policies that align with her agenda, she's going to continue to haunt them."
Republicans believe most Democrats will be hard-pressed to ditch Pelosi as Lamb did, especially those facing competitive primaries. But by following the Pennsylvania model of forcing a Democrat to campaign against his party's leader, the GOP risks winning the battle against Pelosi herself, but losing its majority in the process.