A Generation Under Siege
On a cold spring day, hundreds of thousands of adults stood and listened to children—under attack, and unwilling to wait any longer for solutions.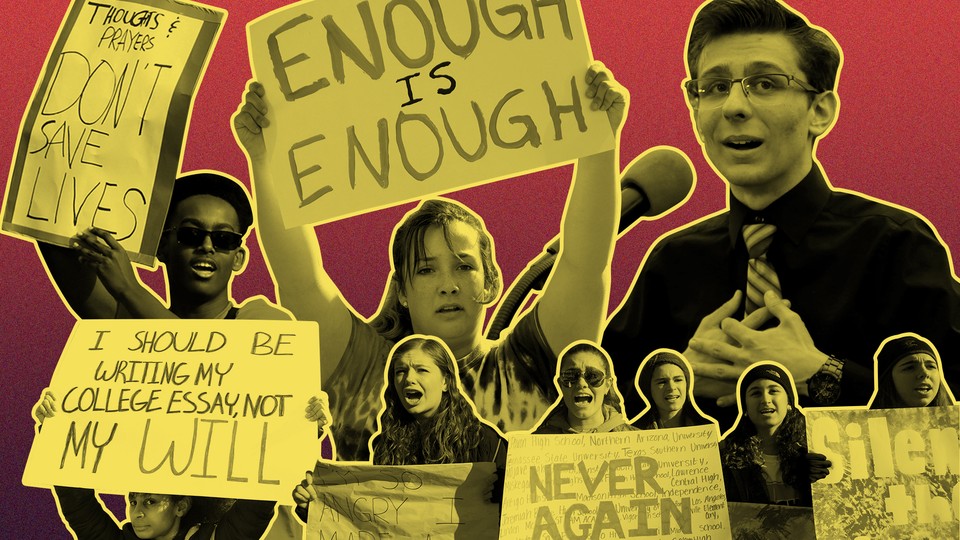 Forty days ago, Emma Gonzalez was a promising 18-year-old American high-school student. She was well-spoken, and curious, and funny, and rebellious, but in the restrained way that self-aware kids dabble in rebelliousness. Late last summer, when she decided to shave her head, she delivered a PowerPoint to her parents to persuade them to go along with it. "People asked me, 'Are you taking a feminist stand?' No, I wasn't," she told a local paper. "It's Florida. Hair is just an extra sweater I'm forced to wear."
She was a teenaged girl—anonymous, and blessed in that anonymity.
On Saturday, hundreds of thousands of Americans assembled to hear Emma and her classmates speak. So many people came that they shut down the most famous road in the capital city of the most powerful nation on Earth. Several pop stars performed for the crowd, but its members seemed to be on a first-name basis with only Emma.
Adult men wore shirts with the words: WHAT EMMA SAID. Young professional women were still parsing Emma's speech hours after she gave it. The ever-entrepreneurial souvenir peddlers of downtown D.C.—who sell MAGA caps one day, "Impeach" buttons the next—now hawked baseball tees with a cartoon of Emma's face on them. "I STAND WITH EMMA," said the shirts. "WE CALL BS."
This kind of terrible celebrity only afflicts the very talented or the very unlucky. Gonzalez is clearly both. On February 14, a gunman entered Marjory Stoneman Douglas High School, which Gonzalez attends, and pulled the fire alarm. As the hallways filled with confused kids, he began firing. Six minutes later, 14 students and three teachers were dead.
It was one of the deadliest school shootings in U.S. history, and among the 10 deadliest mass shootings of any type. Three of the shootings on that list had occurred since October 2017.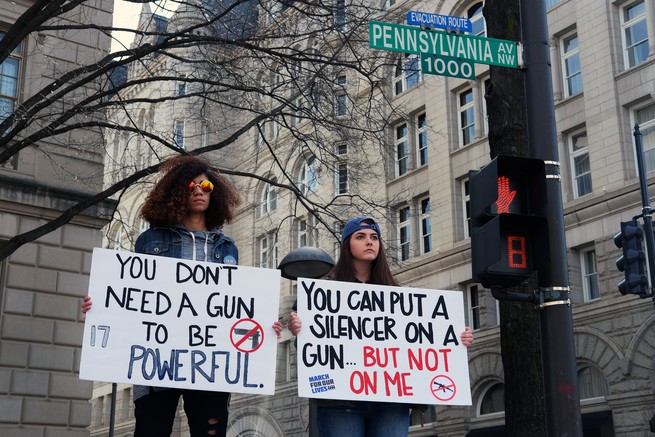 But something was different about the Parkland, Florida, shooting. David Hogg, a senior at the school, had the wherewithal to interview his classmates from inside a locked-down classroom. Gonzalez gave a fiery speech at a memorial for the victims, then went on Ellen. Kyra Parrow, Morgan Williams, and other students became social-media celebrities for contesting anti-gun-control talking points in real time. Something remarkable happened: A week passed, and then another week, and the public's attention stayed focused on a mass shooting.
Saturday's March for Our Lives was the culmination of that perseverance. In Washington, D.C., and hundreds of cities around the world, millions of people gathered to call for stricter gun-control policies. Their proposals were not particularly novel: universal background checks, a ban on assault-style weapons, "a comprehensive and effective bill … to address gun issues."
By far the most radical part of the March for Our Lives was this: Hundreds of thousands of adults stood outside on a bright, cold spring day and seriously listened to children and teenagers talk about their lived experience. It was a day when adults paid attention to the everyday lives and traumas of young people—not out of fear, anxiety, or frustration—but out of respect.
When was the last time so many adults gathered to hear teenagers talk—and not out of overweening fascination or prurient interest, but sincere admiration?
"I'm just so proud of these kids. They're not cynical. They're not defeated. They still believe that change can happen," Diane Heim, 63, told me during the rally. On April 16, 2007, Heim's daughter lived in Ambler Johnston Hall, a dormitory at Virginia Tech. Two students were shot and killed in that residence hall, among the 32 students ultimately murdered in that school's mass shooting. Heim's daughter survived unharmed.
They still believe that change can happen—that thought defined the day. For gun-control advocates, March for Our Lives brought hope dimmed with much else: loss, trauma, and years of defeat. The usual question that follows a large political mobilization—now what?—felt too scary for many protesters to ask. For the gun-control movement, what's been next, for years and years, has been near-total political failure. Horror stories from traumatized survivors, and from the parents of the dead, have done little to change that.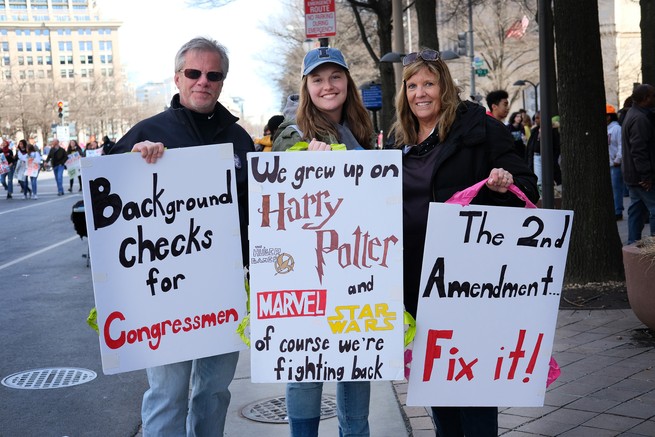 On October 1, Rebecca Hickerson, 33, was at concert in Las Vegas with two of her friends, mere feet from the stage, watching the country singer Jason Aldean perform. At 10:04 p.m., she sent one of her friends a happy Snapchat about the show.
One minute later, a shooter opened fire into the crowd. Hidden high in the Mandalay Bay resort across the street, the shooter fired more than 1,100 rounds in 12 minutes. He killed 58 people and injured more than 500. After hearing the first pops, and seeing blood, Hickerson and her two friends ran toward a bar in the venue and hid behind it. They remained there as the shooting intensified and the screams grew louder.
"We saw literally bodies, and people dragging people," Hickerson told me.
One of Hickerson's friends wanted to sprint to the door. "I kept telling them, the police will come get us out," Hickerson said. The police never arrived, but she believes that staying behind the bar saved her life. "The people who were running were huge targets," she said.
The shooting lasted 12 minutes. Hickerson stayed behind the bar for another 13 minutes. When they realized that minutes had passed without any new shots, they ran out of the venue and into the MGM casino next door. The casino floor was filled with so many victims, it was unclear if someone had been shooting there, too. They hid beneath a blackjack table.
But soon that felt unsafe, and they descended farther into MGM. Eventually they found a nook in a basement kitchen. They remained there until 3 a.m., when the police finally found them and took them to a ballroom where survivors were being triaged.
Surrounded by protesters in Washington on Saturday, Hickerson—who attended the march with her mother and extended family—was eager to share these details. Before she took to the streets, she posted text messages from that night on her Instagram. "Until people meet someone directly affected by a mass shooting, it's hard to imagine," she told me. "You see it on TV, you have sympathy or empathy for it, but then we move on so fast."
But surviving a mass shooting has changed what she imagines now, too. When Hickerson and her family emerged from the Metro on Saturday, she found herself scanning the tops of the buildings around her for snipers. The Hickersons tried to stand at the back of the crowd—so that they could avoid getting trampled if people suddenly fled the march—but attendance was so high that they found themselves in the middle. When she noticed a group of police officers were listening to their radios and entering the crowd, she flinched.
"I don't want to get to the point where it takes everybody knowing somebody—until you know somebody directly affected by a mass shooting, I don't think that you can understand," she told me. Hickerson is in therapy, and she attends a support group for survivors of the Las Vegas shooting. "We still have people literally in the hospital. We still have people who are learning to talk and walk again, people fighting in intensive rehab, and it's gone from the media."
Nearby stood another family affected by a mass shooting. Linda Sandberg, 59, held a sign commemorating Reema Samaha, a victim of the Virginia Tech shooting. Sandberg was a friend of Samaha's parents. Ranjana Majumdar, 53, accompanied her to the march. "I have a 12-year-old in middle school now. Everyday, he says to me at the door, 'Mom, if I don't come back, remember I love you,'" Majumdar told me.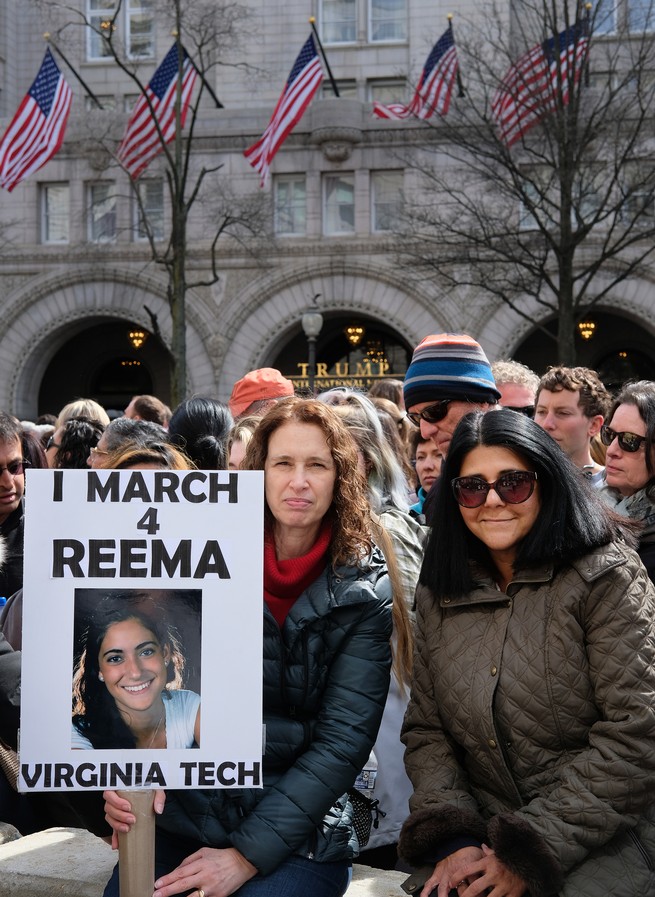 The three women were invigorated by the march, even as they fell into a discussion of whether it would ultimately mean anything. "We are saying the same thing, over and over—I hope this is the tipping point," Sandberg said.
"I think there will be a big change, but I think it's going to take time," Hickerson told me. "It's going to take time to take all the assault rifles off the street. There are so many out there."
On Saturday, Parkland survivors seemed ready to dig in for a years-long partisan siege. They mentioned Republican politicians and led cheers of "Vote them out!" But they also showed videos of pro-gun media personalities and National Rifle Association leaders to the crowd. It seemed the audience was supposed to boo the clips, two-minute-hate-style. Though it perplexed some members of the audience, it also sent the message: This is who stands in your way.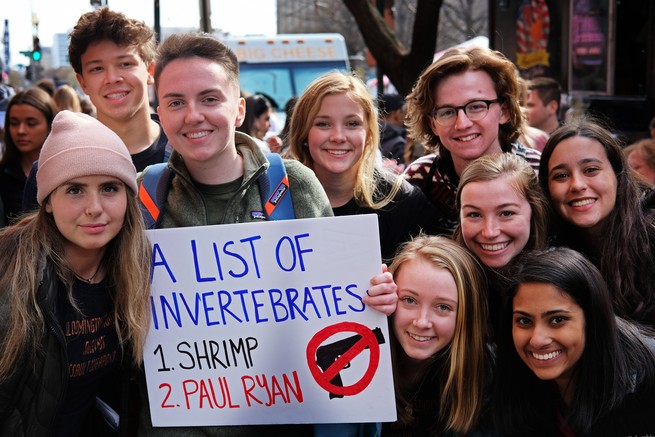 In the meantime, shootings will continue, and there will be more survivors with stories of their own. The children of Parkland will grow into voters. Emma Gonzalez will face the difficult challenge of coping with trauma while leading a political movement. And a generation of teenagers will learn something about American democracy from this moment—about its virtues, and its frustrations.
Fifty teenagers took a bus to the march from Bloomington, Indiana. They organized the trip, booking hotel rooms and raising enough money so that every high schooler who wanted to come could attend for free. They seemed invigorated after the rally ended. Perhaps the epoch of mass shootings will end soon, they said.
"It's a steady flow—something that happens every school year," Sarah Hannon, a 17-year-old from Bloomington, Indiana, told me. "One more child to die is not acceptable. We can't wait to fix this in three years. Because that means three more years of kids dying."