What's at Stake as Trump Replaces Gary Cohn
There are three ways the president might turn—and his choice will force clarity about his administration's direction.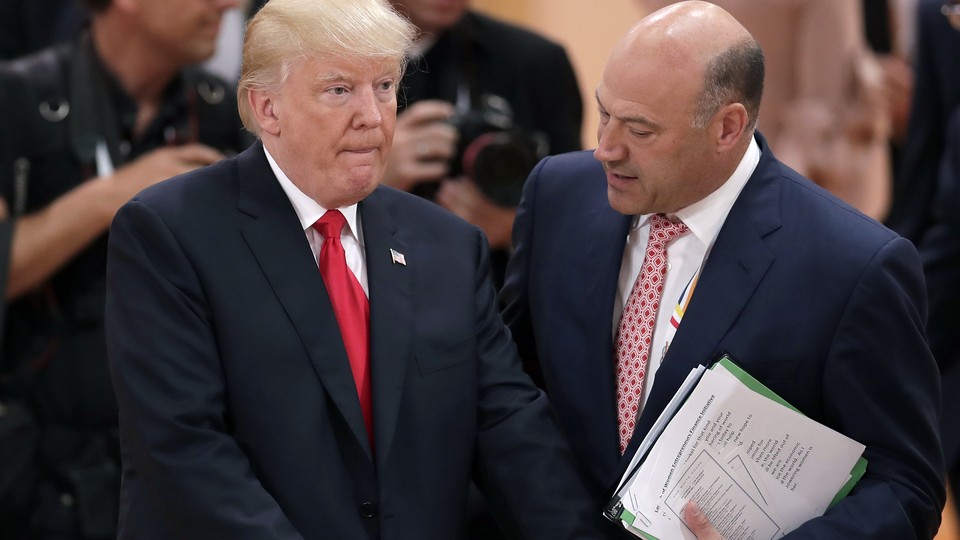 Gary Cohn, President Trump's top economic adviser, announced Tuesday he'd be stepping down, and he used his resignation to make his point in a way that would be heard. The resignation "hit global equities, U.S. stock futures and the currencies of America's trade partners, as many investors judged the news meant President Trump was pushing forward with tariffs," The Wall Street Journal reported. Through 2017, Trump again and again cited a rising Dow Jones average as proof that his administration was succeeding. On January 4, 2018, the president tweeted happily:
Dow just crashes through 25,000. Congrats! Big cuts in unnecessary regulations continuing.

— Donald J. Trump (@realDonaldTrump) January 4, 2018
Then the market stalled, turned, and crashed. Trump's most recent Dow tweet, February 7, expresses defensive bafflement that his preferred metric has suddenly gone negative on him.
In the "old days," when good news was reported, the Stock Market would go up. Today, when good news is reported, the Stock Market goes down. Big mistake, and we have so much good (great) news about the economy!

— Donald J. Trump (@realDonaldTrump) February 7, 2018
The Dow has risen a little since then, but has stayed below past highs. Financial markets in general are now blinking warnings against Trump's plans for trillion-dollar deficits and global trade wars. Cohn's departure offers a handy peg on which to hang all those anxieties.
Cohn signed up for the Trump administration with his eyes open. He swallowed qualms after Charlottesville to stay aboard and fight for tax cuts.
But it's also true that Cohn is competent at his work, a rare quality in the Trump White House. Cohn recognized—contra the president—that trade wars are bad, and seldom end in wins for anybody. He remained in his role to protect the country from a serious danger in his designated area of responsibility. He fought against that danger hard. And when he lost, he quit to sound a warning. That's good service to the public.
It's another public service that his departure now rips open a vacancy in economic decision-making—a vacancy that will force clarity about this administration's direction. Three types of candidates are most often mentioned as Cohn's likeliest successors as the president's top in-house economic adviser.
Type 1 is another corporate chieftain in the Cohn mold: perhaps Andy Puzder, the fast-food CEO whose nomination as Labor Secretary had to be withdrawn after video resurfaced of his ex-wife alleging domestic abuse. It seems incredible that Trump would proceed with such a nomination a second time, but … Trump.
From an economic point of view, a Puzder or similar nominee would likely calm the financial world—but not reassure it. Cohn, a former Goldman Sachs Chief Operating Officer, was a top-tier business figure: widely known, broadly respected, a major leader. Trump has had enormous difficulty recruiting such people, and he surely will face even more difficulty now. The thought—"I wouldn't hire Peter Navarro as a summer associate in our economics department, and now I'm supposed to move to Washington to argue with him?"—will haunt them all.
If Trump goes with Type 1, he's likely to emerge with someone either of obviously less heft than Cohn: perhaps a B-lister like Treasury Secretary Mnuchin or someone even more doubtful, like an Anthony Scaramucci. A Type 1 hire would end up dramatizing how this administration has become a hazard zone for anyone with a reputation to protect. And the world would have to wonder: If Gary Cohn could not mitigate Trump's trade-wrecking instincts, what hope is there from a lesser figure?
Type 2 is a zombie Reaganite like Office of Management and Budget Director Mick Mulvaney or former cable-TV host Larry Kudlow. Their fierce ideological commitment will dispose them to overlook the concerns that might deter a more broadly credible figure. The good news is that free trade remains (at least for now) as a crucial tenet of zombie Reaganism. Even House Speaker Paul Ryan, who has swallowed every other toad served him by  Trump, spoke out against the steel and aluminum tariffs. A Type 2 figure might well be the best hope to avert the present looming crisis in global trade—even if his or her narrowness and dogma will make them useless (or worse) to the larger work of fiscal and economic management. The comfort of Type 2 in their natural habitat—cable-TV news—may enhance their clout with this TV-consuming president, a force multiplier when their advice is good (as on trade); a clear and present danger when their advice is dangerous (the rest of the time).
Type 3 would be the current winner of the Survivor: White House Edition reality show: Peter Navarro himself or somebody who thinks like him. Such a hire would jolt markets and alarm allies. Trump might enjoy that. On the other hand, the president never likes to see anyone who works for him remain a winner for very long. His own ego—and his TV-programming instincts—prompt him to humiliate or overthrow in the next episode whoever appeared dominant in the prior episode. Navarro may be about to discover—as so many Trump White House contestants have already learned—that the elevator to the top comes equipped with a trap door into the piranha tank below.