Democrats' Biggest Threat in 2018
Unless the party can effectively challenge the GOP on economic grounds, it risks making the same mistakes it did in 2016.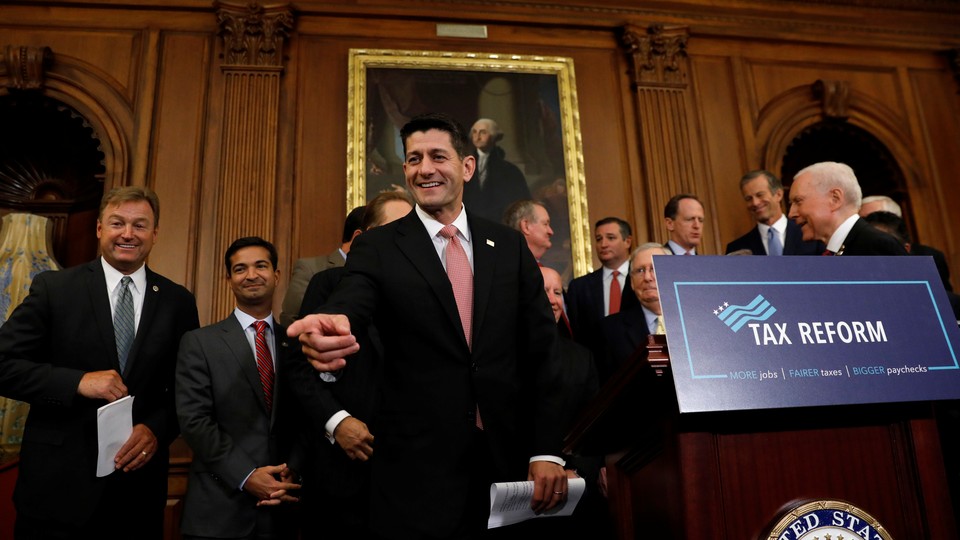 The biggest threat to Democrats in the 2018 election may be the risk of repeating their biggest mistake in the 2016 election.
That mistake was Hillary Clinton's decision to focus almost all of her effort on convincing voters that Donald Trump did not share their values, while failing to effectively challenge his promise that he would represent their economic interests. That failure helped Trump win despite exit polls showing about three-fifths of voters doubted he had the experience or temperament to succeed as president.
The comparable risk for Democrats this year is that they will be caught in an endless succession of Trump-centered battles—both cultural (guns, immigration) and personal (Russia, White House chaos)—and fail to effectively challenge the GOP claim that its tax-cut plan is benefiting average families. Republicans expect that if voters believe the party is putting more money in their pockets, even many people recoiling from Trump's performance will still vote to maintain GOP control of Congress.
That's why so many Republican strategists believe that talking up the tax plan is the key to avoiding a worse-case scenario this fall. "For Republicans, it's absolutely the most important thing," said Liam Donovan, a GOP lobbyist close to the party's congressional-campaign strategists. "There are other things they can't control—this is something they can."
Almost daily, congressional Republicans and Trump administration officials tout evidence that workers are seeing more take-home pay as Washington adjusts its tax-withholding tables; and that companies, flush with cash after the plan's huge reduction in corporate taxes, are providing bonuses and other financial benefits to their employees. Americans for Prosperity, the political group associated with the billionaire Koch brothers, earlier this month aired a flight of television ads criticizing Democratic Senators Claire McCaskill of Missouri and Joe Donnelly of Indiana for voting against the plan.
Recent polls have provided Republicans some indication that their campaign is working. When the tax bill passed in December, surveys showed that most Americans opposed it. But the plan has gained ground since. An online SurveyMonkey/New York Times poll in early February was the first to show the tax plan drawing support from half of Americans. That's still an equivocal verdict. But the trajectory shows that, in the short term, Republicans—and their business allies—have been winning the tax debate. If Democrats can't reverse that trend, it could limit their gains this fall.
Democrats are only starting to engage with the Republican case for the tax bill. They showed their cards most clearly in the ads a Democratic group recently ran to defend McCaskill and Donnelly. In those spots, the Senate Majority PAC hammered at three quick arguments: that the tax cuts will primarily benefit the rich; that they will swell the national debt by $1.5 trillion; and that "to pay for the tax giveaway," Republicans are planning "to cut Medicare for seniors."
That last contention may be the most critical to the tax bill's impact in November. Former President Bill Clinton won his epic budget showdown with a Republican-controlled Congress in 1995 and 1996 by linking the GOP's tax cuts with its simultaneous proposals to cut Medicare and Medicaid. Democrats have to sell a more subtle argument today: that the huge revenue loss the tax cuts precipitate will eventually force congressional Republicans to retrench Medicare, Medicaid, and other safety-net programs. House Speaker Paul Ryan has made that linkage easier by urging precisely such cuts to the safety net, but the Senate has shown little interest in following suit this year. That means Democrats will need to work harder than Bill Clinton did to tie the tax cut with threats to Medicare and Medicaid.
"I think that message will be central to everything that Democrats do going forward on the tax bill," predicted Democratic pollster Geoff Garin. In suburbs around the major metropolitan areas—ground zero in 2018—Democrats can also plausibly claim the bill will eventually raise taxes on many people by limiting mortgage and local tax deductions.
One asset Republicans have in this struggle is that corporate America is actively trying to bolster the tax plan. There's good reason for that: Federal figures show it will drop corporate taxes to only about 6.5 percent of federal revenue this year, near the lowest level since World War II. The flurry of highly-visible salary bonuses and pay increases that companies announced after the law passed may be the most important factors lifting its approval.
Yet evidence is growing that companies are devoting far less money to workers than to stock buybacks that benefit their shareholders, at a time when the top 10 percent of families own more than four-fifths of all stocks. While media tallies show companies have issued about $6 billion in bonuses, they have already announced $171 billion in stock buybacks in 2018, a record high and over double the level at this point last year. Spending on buybacks almost certainly will remain elevated, because executives feel a kind of arms-race pressure to lift their own stock prices while other companies are doing the same. "Once some companies start doing it, people say, 'We've got to keep up,'" said William Lazonick, an economist at the University of Massachusetts, Lowell, who has studied buybacks.
As Donovan notes, Republicans have succeeded more in convincing Americans the tax cuts will benefit the overall economy than they have in persuading them it will benefit their personal bottom line. In the SurveyMonkey/Times survey, half of Americans still said they did not expect any financial benefit from it. Republicans are working every day to improve that number with the conviction that it represents their best chance of building a levee against a potential Democratic wave in November. That's something Democrats would forget at their peril, even as they careen through the daily maelstroms surrounding Trump.