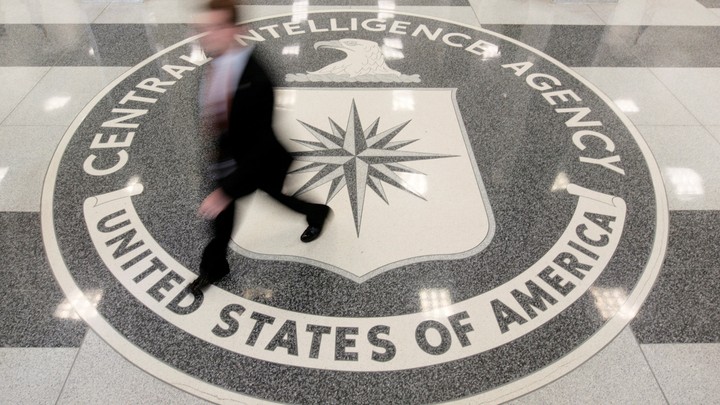 A key domino effect of Secretary of State Rex Tillerson's dismissal on Tuesday was the nomination of Deputy CIA Director Gina Haspel—a career officer who has been sharply criticized for the role she played in the CIA's now-banned torture programs and the tape recordings of which she helped to destroy. Haspel oversaw a CIA black site in Thailand where two terrorism suspects were tortured, and her name was on the cable that ordered the videotapes of their interrogations to be destroyed in 2005.
But Haspel will walk into her Senate confirmation hearings with one trait that could win over skeptical Democrats: She is not a Trump loyalist.
Democrats don't appear to be drawing a line in the sand on Haspel's impending confirmation hearing before the Senate Intelligence Committee. Democratic Senator Dianne Feinstein, for instance, does not appear to be ruling out Haspel's eventual appointment, despite having blocked a promotion for Haspel years ago over her role in the interrogation program and the destruction of the tapes.
"I look forward to speaking again with Gina Haspel about the role she would play and how she would run the CIA," the California senator, who sits on the Senate Intelligence Committee, said in a statement on Tuesday. "It's no secret I've had concerns in the past with her connection to the CIA torture program and have spent time with her discussing this. To the best of my knowledge she has been a good deputy director and I look forward to the opportunity to speak with her again."
Haspel, a career intelligence officer who joined the agency in 1985, served as CIA Director Mike Pompeo's deputy for just over a year before Pompeo was nominated by Trump to replace Tillerson as secretary of state. The dramatic cabinet shakeup was widely anticipated. Trump publicly criticized Tillerson last year over his desire to pursue peace talks with North Korea, and Tillerson has broken with the official White House line more than once on key diplomatic issues ranging from the Iran nuclear deal to Russia's election interference. Pompeo, meanwhile, has frequently defended Trump on issues ranging from North Korea and Charlottesville to his tweets and mental fitness.
In many ways, both Pompeo and Tillerson were the prototypical Trump appointees. Pompeo is considered a loyalist who has almost unfailingly supported and defended the president's policies, whereas Tillerson is an outsider with no prior experience in politics or diplomacy. It's notable, then, that a career official like Haspel has been tapped for the job. John Sipher, a former officer in the CIA's clandestine service, said he found it funny that the White House supported her nomination. "She's an insider, a part of the deep state," he joked. Inside the agency, Sipher said, Haspel has always been seen "as a normal professional who you'd expect to provide unbiased and reliable information."
While that reputation could help Haspel in her confirmation hearings, it may also create tension as she tries to establish clout with a president who values loyalty and tailored intelligence briefings. Haspel's nomination was not inevitable—reports surfaced earlier this year that the most likely replacement for Pompeo in the event of a big cabinet shakeup would be Republican Senator Tom Cotton, a vocal Trump defender whose potential nomination sparked panic among CIA veterans. "She is so, so much better than Tom Cotton," said Sipher.
Two former CIA officers who knew Haspel noted on Tuesday that she had experience working in Russia, whose intelligence services were accused by the CIA and other U.S. intelligence agencies last year of interfering in the 2016 election. "Over the course of her long and broad career she had a number of opportunities to see how Russian intelligence services operate," said Steve Hall, a former CIA chief of Russian operations who retired in 2015. "She'll go in with a very open eye with regard to the Russians." Sipher, who replaced Haspel as deputy director of the CIA's Russia Group, described their role as overseeing the agency's worldwide efforts to recruit Russian intelligence assets. "She knows very well what the Russians are up to and how their espionage agencies work," he said.
Not all of Haspel's former colleagues remember her fondly. Glenn Carle, a former undercover CIA operative who was involved in the interrogation of a suspected al-Qaeda detainee and has been highly critical of the agency's torture program, described her as "one of the architects, designers, implementers and one of the top two managers of the [Enhanced Interrogation Techniques program] and a true believer, by all accounts, in the 'Global War in Terror' paradigm."
The CIA has said that it was Haspel's boss,  Jose Rodriguez, who ordered the destruction of the interrogation tapes, and Hall recalled that "there was a lot of back and forth inside the agency" over what to do with the recordings. In the end, he said, "Gina did what she was told to do by her superiors and by agency lawyers." Still, Democratic Senator Ron Wyden said in a statement on Tuesday that Haspel's background "makes her unsuitable to serve as CIA director."
Other Senate Intelligence Committee members reacted more mildly, raising concerns over Haspel's background but indicating they would let her explain herself in a hearing. "Senator Harris takes her role in confirming a president's cabinet very seriously," said a spokesman for Democratic Senator Kamala Harris."She plans to critically evaluate Ms. Haspel's full record, including troubling press reports on her involvement with torture programs."
Republican Senator John McCain, an ardent opponent of torture, said in a statement that he expects Haspel "to explain the nature and extent of her involvement in the CIA's interrogation program during the confirmation process." He called that program "desperately misguided" and said that "any nominee for Director of the CIA must pledge without reservation to uphold" the U.S. ban on enhanced interrogation techniques. Trump has said that torture "absolutely works."
Sipher said he expected Haspel, as an insider with no political experience, "to provide unbiased and reliable information" to the president. If there is a downside, though, "it's that she might not have the clout to influence the White House," he said. "One thing about her and me—we're sort of novices when it comes to dealing with Washington, in terms of the bureaucratic partisan stuff." But Hall pointed out that Haspel is not a stranger to this administration: "She's had an excellent seat as deputy director as she watched Pompeo deal with Trump."
We want to hear what you think about this article. Submit a letter to the editor or write to letters@theatlantic.com.
Natasha Bertrand
is a former staff writer at
The Atlantic,
where she covered national security and the intelligence community.