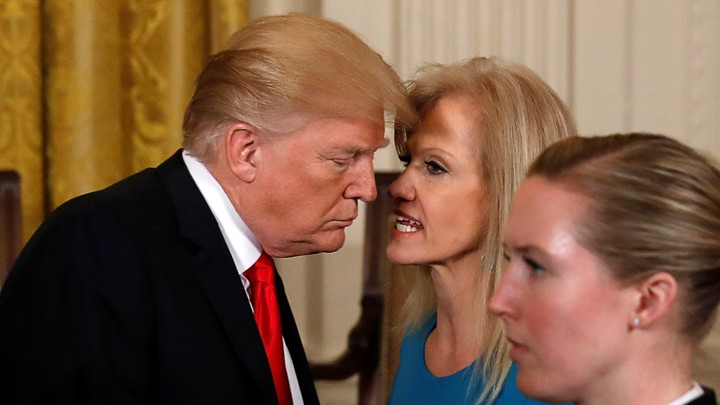 Kellyanne Conway is moving closer to accepting President Donald Trump's offer for her to succeed Hope Hicks as White House communications director, if only on an interim basis, according to multiple sources who have spoken with her.
"It's becoming increasingly difficult for her to say no," said one senior White House official. The official said that First Lady Melania Trump and Vice President Mike Pence's chief of staff have both encouraged her over the last few days to reconsider Trump's offer. Conway declined to speak on the record for this story.
When Hicks announced her resignation earlier this month, Conway said in a Fox News segment that she wasn't interested in the job. But Trump has continued to urge her to change her mind, as have many rank-and-file White House communications staffers, some of whom see Conway as a mentor. "He's basically told her she's no longer allowed to say no," joked another senior White House official. Like others who spoke for this story, these officials did so on condition of anonymity, in order to discuss private conversations.
In recent days, Conway and Trump have discussed a potential compromise: Conway would take over the post on an interim basis. Once a permanent replacement was found, she would then carve out her own role in the communications shop. Similar to Karen Hughes in the George W. Bush administration, she would serve as an executive of sorts, overseeing both the communications and press shops.
Part of Trump's insistence draws from conversations with Hicks, who, while supporting Conway for the role has, perhaps more crucially, urged him against selecting Mercedes Schlapp. Schlapp, currently the strategic communications director and an alum of Bush's White House, has the support of Chief of Staff John Kelly. Shortly after Hicks publicized her plans to leave, Kelly, in a one-on-one meeting with the president, floated Schlapp's name. Trump, according to two senior White House officials briefed on the meeting, seemed uninterested.
Nevertheless, Schlapp has continued to angle for the role, pitting herself against Tony Sayegh, who is currently assistant secretary for public affairs at the Treasury Department. Schlapp and Sayegh's jockeying has sowed deep divisions in the West Wing, with some members of the White House digital team threatening to leave their jobs if Sayegh is appointed. Sayegh, however, has his own allies: Many in the administration, including Ivanka Trump, saw him as crucial to the successful tax reform rollout. He's also close to Hicks, who multiple sources say has "never seen eye-to-eye" with Schlapp, offering him a valuable line to the president.
"Once Hope said she was leaving, Mercy smelled blood, and she started biting," one White House official told me, referring to Schlapp's "transparent campaign" for the post. "She picked a fight with the wrong person. Obviously, Hope is everyone's favorite, and people here are willing to ice out anyone who messes with her." (A source close to Schlapp countered, however, that she has "no issues with anyone at the top." "She's worked closely with everyone and is focused on bringing the team together," added a White House official close to her.)
Yet as Sayegh and Schlapp train their eyes on one another, Trump is continuing to pitch Conway. It's hard to refuse someone, one Trump campaign official says, who "very much believes that he can fill the job with anyone he wants."
We want to hear what you think about this article. Submit a letter to the editor or write to letters@theatlantic.com.
Elaina Plott
is a former staff writer at
The Atlantic,
where she covered the White House.