Conor Lamb Chips Away at Trump's Coalition
His strong showing in Pennsylvania suggests Republicans could face a stiffer challenge than they expected in at least some blue-collar districts where the president is relatively popular.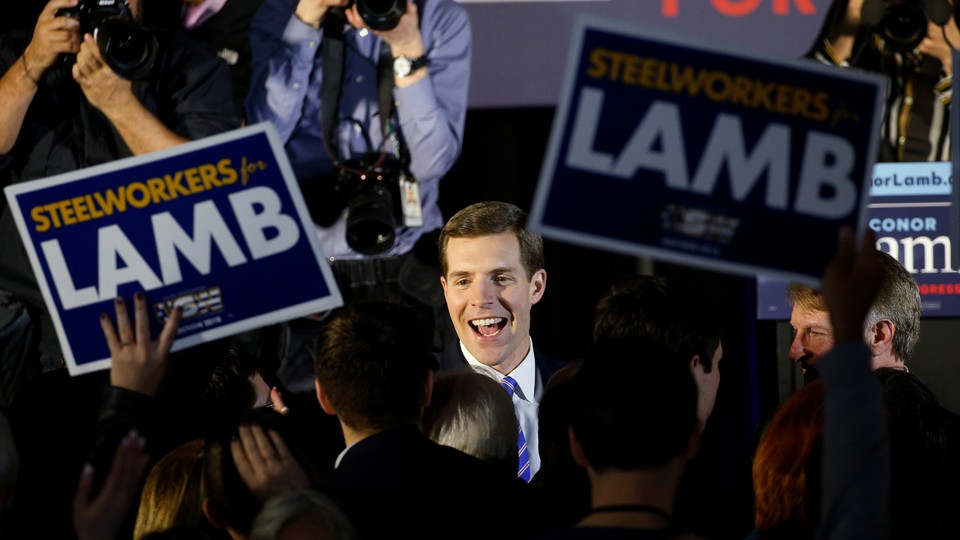 The Republicans' last sea wall against a Democratic wave in November visibly cracked, but did not entirely crumble, in Tuesday's special election for a House seat in Pennsylvania.
For all of the gains Democrats have posted in elections held since Donald Trump's victory in 2016, until this week they had failed to demonstrate progress on one critical front: regaining ground with the white working-class voters at the core of the president's coalition.
Democrat Conor Lamb's apparent victory—pending final counting—over Republican Rick Saccone in a preponderantly white, heavily blue-collar House district outside Pittsburgh showed that even those demographic defenses no longer look impregnable for the GOP. But the limits of his gains in the district's mostly blue-collar areas—Westmoreland and Washington counties—underscore how far Democrats still have to go with these voters, and how difficult a slog it could be.
The complex, narrowly divided outcome in Pennsylvania suggests that Republicans could face a stiffer challenge than they expected in at least some blue-collar and non-urban districts where Trump has remained relatively popular—places like upstate New York, downstate Illinois, and parts of Michigan and Iowa. But Lamb's apparent win—which turned on big margins in Allegheny, the district's county with the most college graduates—also suggests that the epicenter of Republican vulnerability will remain the suburban white-collar districts most visibly alienated from Trump.
Above all, Lamb's apparent win testified to how much energy opposition to Trump has ignited among Democrats everywhere. Lamb's strong showing continued the pattern evident in special elections and other scheduled contests since 2016: Democratic candidates are consistently coming much closer to matching Hillary Clinton's total number of votes in these jurisdictions than Republicans are to matching Trump's. (By one calculation, Lamb won about 80 percent as many votes as Clinton did in the district, while Saccone generated only about 53 percent as many as Trump.) That's consistent with the imbalances in partisan enthusiasm that usually trigger big midterm losses for a sitting president's party—especially when his approval rating is lagging, as Trump's is now.
Lamb's strong showing came on terrain that has grown extremely rocky for Democrats. Whites comprise nearly 94 percent of the district's total population—a share that's greater than all but six districts' nationwide. The district contains about as many college-educated whites as the national average, roughly one in three. But because the overall population is so preponderantly white, whites without a college degree still comprise roughly three-fifths of its population, many of them in small towns.
Not too long ago, so-called blue-dog Democrats held large numbers of House seats with this demographic profile. These Democrats typically combined cultural conservatism and hawkish foreign-policy views with defense of a robust government safety net—much the mix that Lamb presented. But in both the 2010 and 2014 midterm elections, a backlash against then-President Barack Obama triggered catastrophic losses among the blue dogs. Only two Democrats (Peter Welch in Vermont and Chellie Pingree in Maine) now hold seats where whites represent a larger share of the population than in the seat Lamb apparently carried. Even looking more broadly, Democrats before Tuesday held just seven of the 45 seats where whites constitute at least 90 percent of the population; Trump won 42 of those 45 districts in 2016.
Southwest Pennsylvania was an early center of the movement away from Democrats among blue-collar whites. Bill Clinton in 1992 and 1996 carried both Westmoreland and Washington, two preponderantly white counties in the district with relatively few college graduates. Al Gore in 2000 and John Kerry in 2004 each held Washington but lost Westmoreland. Obama and Hillary Clinton then lost both of them in 2008, 2012, and 2016. In fact, the GOP has won a higher share of the vote in Westmoreland than it did four years earlier in each presidential election since 1992, and it has improved in Washington all but once. Trump topped 60 percent in both.
"It's been a slow erosion, then a collapse, like a giant ice sheet calving off a glacier," Democratic consultant Paul Begala, who has worked in the area since the early 1990s, told me.
Lamb clawed back some of those losses, with Saccone carrying 57 percent in Westmoreland and 53 percent in Washington—majorities, but not blowouts. That suggests Lamb ran more competitively among blue-collar whites than Democrats did in earlier high-profile Trump-era contests, such as last year's governor's race in Virginia and special Senate election in Alabama. There, exit polls showed the GOP candidates carrying over 70 percent of whites without a college degree each time. Still, the results hardly signal a collapse in the GOP's blue-collar foundation.
Lamb's apparent victory came mostly because he carried nearly three-fifths of the vote in Allegheny County, the part of the district with the most college graduates and the strongest ties to a Pittsburgh economy that has been rejuvenated around education, medicine, and technology.
That pattern is a reminder that under any scenario, the Democrats' principal opportunity in House races this fall remains concentrated in well-educated, globally connected, information-economy districts around the major metropolitan areas— from New York and Los Angeles to Chicago, Philadelphia, Minneapolis, and Denver; and potentially Atlanta, Dallas, and Houston as well. Among the most unnerving signs for Republicans from Pennsylvania is that Saccone and the outside party groups that blanketed the district with ads failed to move many voters by touting the GOP tax bill, which Republicans have viewed as their best opportunity for recapturing straying suburbanites.
In all, Tuesday's results gave Republicans more reason for anxiety about their prospects of holding the House. But it also increased the odds that November's results could widen the already imposing gulf between the white-collar and metro areas recoiling from Trump and the blue-collar and non-metro areas mostly still standing by his side.