Congress's 'Baby Steps' on Guns
The omnibus spending bill includes the Fix NICS Act, more money for school safety, and a clarification on federal research. But the changes fall short of what gun-control advocates have demanded.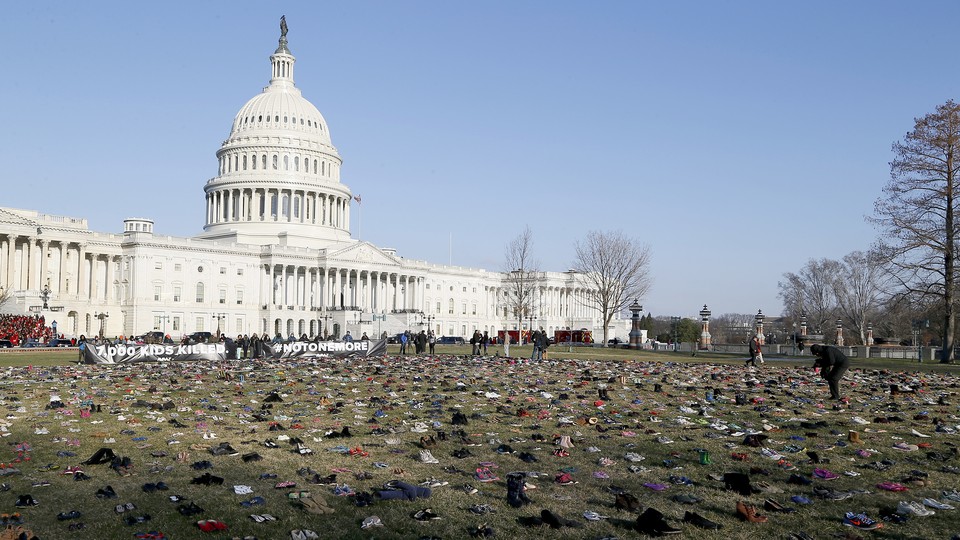 On Saturday, hundreds of thousands of people are expected to march on Washington, D.C., and other major American cities to demand legislative action to combat gun violence and mass shootings.
By the time they do, Congress will have acted, but just barely: Lawmakers are about to take their first, small steps toward tightening enforcement of the nation's gun laws and bolstering security at schools.
The enormous federal spending bill, unveiled late Wednesday and moving rapidly through the House and Senate, includes legislation known as the Fix NICS Act that uses a combination of incentives and punishments to prod federal agencies and the military to upload records into the background-check system for purchasing guns. Republicans insisted on including the bipartisan bill in the $1.3 trillion omnibus appropriations bill rather than accede to demands from Democrats and activists for a broader debate over gun-control measures.
A legislative report accompanying the bill also clarifies that a 22-year-old amendment widely criticized by gun-control advocates does not prohibit the CDC from conducting research on "the causes of gun violence." And following the school shootings in Parkland, Florida, and elsewhere, the spending bill includes a bipartisan measure injecting additional money into grant programs for improving security at schools—though it does not fund training for armed teachers, as President Trump had called for.
The three provisions drew a lukewarm response from gun-control advocates. On the one hand, they were encouraged that a Republican majority resolutely opposed to restrictions on gun access felt compelled to pass even a modest, bipartisan bill in that direction. But they worried that the move would sap momentum for more expansive changes they believe are necessary to actually prevent gun violence and mass shootings.
"Congress clearly feels the pressure from Americans demanding action, but these baby steps forward aren't enough," said John Feinblatt, president of Everytown for Gun Safety. "Congress needs to buck the NRA and go big on gun safety. If they don't, voters will throw them out."
The Fix NICS Act is a response to the November church massacre of more than two dozen people in Sutherland Springs, Texas, by a gunman, Devin Patrick Kelley, who had pleaded guilty to domestic violence in a military court martial. The Air Force soon acknowledged it had failed to add Kelley's conviction, which would have barred him from buying the guns he used, into the National Instant Check System.
None of the provisions in the spending bill are opposed by the National Rifle Association, and none add new restrictions for gun purchasing or close legal loopholes in the background-check system. The NRA endorsed the Fix NICS Act, which was written by GOP Senator John Cornyn of Texas and Democratic Senator Chris Murphy of Connecticut. But in a setback to the gun-lobbying group, the law will take effect without the simultaneous passage of its top legislative priority—a bill expanding state concealed-carry rights nationwide. The House had attached that measure to Fix NICS late last year, but it is not included in the spending bill and won't advance through the Senate.
The timing of the bill's enactment coinciding with Saturday's anti-gun-violence rally, March for Our Lives, is mostly coincidental; Congress was facing a Friday deadline to keep the government open, and Republicans wanted to pass the Fix NICS Act and other consensus bills without devoting floor time in the Senate for a debate. But advocates said the march would now serve as a reminder to lawmakers that their limited action was not enough.
"Some members of Congress will probably use these two pieces to take off some of the pressure they're now feeling—look, we did something!—when in reality, many of them are too beholden to the NRA and their own political calculations to take the bold actions necessary to save the lives of their constituents," said Igor Volsky, founder of Guns Down. The Fix NICS Act, he said, was "better than nothing," but lawmakers "won't be able to hide behind these small changes."
Advocates adopted a similar posture toward the change in the language on federally-funded research into gun violence, which was also a compromise. Democratic leaders had sought to repeal an amendment first enacted in 1996 that prohibits the CDC from conducting research that promotes gun control and is frequently cited as a ban on studies into any firearm-related issue. The provision, known as the Dickey Amendment, will survive, but Congress included the following clarification in a report accompanying the spending bill: "While appropriations language prohibits the CDC and other agencies from using appropriated funding to advocate or promote gun control, the Secretary of Health and Human Services has stated the CDC has the authority to conduct research on the causes of gun violence."
Whether that language will actually spur new studies at the CDC is unclear. HHS Secretary Alex Azar told a House committee in February that he supports research into preventing gun violence and that it's "a priority" for the department. Democrats followed that statement with a letter to Azar asking for more details on whether the government is planning a study into gun violence and specifics into what it would seek to find.
Andrew Zucker, a spokesman for Everytown, said the group was glad that its allies in Congress were fighting to spur federal research into the causes of gun violence and the efficacy of possible solutions. But he said the clarification on CDC research was nothing more than "a small, symbolic change."
"It's the weakest possible change that could have been made," Zucker said. And, he noted, the bill contains no new money for research as Democrats have called for. "If there's no funding, there's no research," Zucker lamented.
The underlying frustration for the gun-control movement is that although lawmakers may take credit for responding to the spate of mass shootings with action, they aren't changing or adding gun laws so much as they're restating the ones currently on the books. And they are doing so in ways that cooperate with the NRA rather than confront it. But to advocates who have grown accustomed to watching Congress reduce regulations on guns instead of tighten them, even that shift is a welcome one.