The High Cost of Unlicensed Bail Bonds
A civil-rights group says a bondsman in Baltimore is seeking to collect almost $900,000 despite operating illegally—a window into the challenges of bail reform.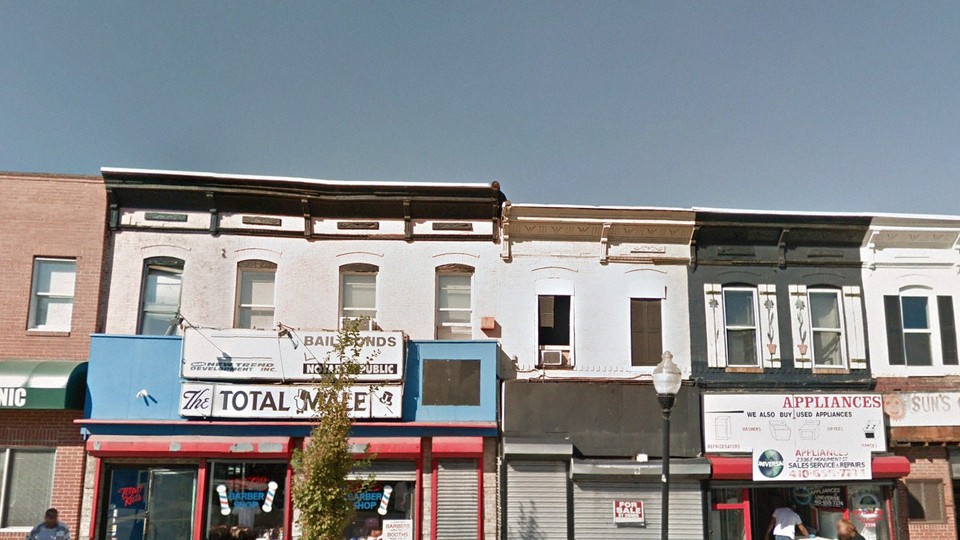 Early in February, a judge in Baltimore City District Court ruled that Tiffany Mack owed Baltimore's Discount Bail Bonds a little more than $7,000. That in itself wasn't unusual. Though the practice is under fire around the country, money bail remains a powerful force in many courts, making for a lucrative business for some bondsmen.
What was unusual about this particular case was that Baltimore's Discount Bail Bonds are not a licensed bail-bond company in Maryland. Nonetheless, the Lawyers' Committee for Civil Rights Under Law found that BDBB is seeking to recover almost $900,000 in 149 current cases in state courts. BDBB seeks amounts from defendants in those cases as small as $400 and as large as $22,500.
Bail is an important and controversial part of the criminal-justice system, determining whether people linger in jail for low-level offenses or can go home. Given the structure of the system, it's vulnerable to abuse, which is why licensure of bail bondsmen is more than just a bureaucratic hurdle. BDBB appears to be an unlicensed offshoot of another bail-bond company, 4 Aces, against which a state agency has initiated proceedings to revoke its license. Yet even as the state of Maryland moves to prevent 4 Aces from doing business, BDBB is using the power of the courts to collect money it earned while operating outside the law.
"There is a criminal-justice system operating and cycling individuals through that is not at all concerned with the damage it is doing to these individuals, their families, and their communities," says Myesha Braden, director of the Criminal Justice Project at the Lawyers' Committee. "That is ultimately what allows a situation like this to exist."
4 Aces did not respond to a request for comment. A call to the company led to a voicemail greeting from a man who identified himself as Mario Rawlings of Baltimore's Discount Bail Bonds.
Criminal-justice advocates have long criticized the bail system. When someone is arrested, a judge can set a bail amount, and if the suspect can produce that money, then they go free, with the cash as collateral. If they return for their next scheduled appearance, they get the money back. Not everyone can pay, though, which is where the bail bondsman comes in. A suspect pays the bondsman a portion, typically 10 percent, of the bail amount, or agrees to pay 10 percent on some installment plan. The bondsman then puts up bail to the court, and the suspect can go free. Unlike the suspect who puts up bail herself, however, the suspect who gets a bond gives up the 10 percent fee, even if charges are later dismissed.
In addition to the questionable premise that suspects who can put down cash are somehow less dangerous or more reliable than poor ones, this system reinforces and exacerbates inequities. The wealthier suspects stand to recoup their money, while the poorer ones who go to a bail bondsman don't, even if they are acquitted or charges are dropped. And since people of color are more likely to be arrested and to be poor, they are more likely to be hurt by this system, which effectively extracts wealth from the black community.
"More than $75 million in bail bond premiums were charged in cases that were resolved without any finding of wrongdoing," the Maryland Office of the Public Defender found in a 2016 report. It found that the 15 zip codes with the highest totals in bail bonds from 2011 to 2015 also had elevated poverty rates. In addition, "The mean bail amount for black defendants is 45 percent higher than the mean amount for white defendants."
Federal statistics show that the use of money bail increased significantly after 1990. But in recent years, there's been a backlash against bail, with advocates both in and out of government pushing for reforms. Newly elected Philadelphia District Attorney Larry Krasner, for example, has announced he would no longer seek cash bail for misdemeanors and some nonviolent felonies. Last year, Maryland's court of appeals overhauled bail rules in the state, resulting in a sharp drop in its use, and a push by the bond industry to have the state legislature overturn the courts failed. But that doesn't prevent cases like the BDBB one, and it may in fact make them more likely.
"It would appear this inherently predatory industry is skirting the rules to try to make money in a situation where a lot of reform practices are changing the nature of their industry," says Colin Starger, an associate professor of law who co-directs the University of Baltimore's Pretrial Justice Clinic.
Maryland grants special power to collect debts like bail bonds. A bail company can go to court to collect what it says is an unpaid debt, and can obtain a "body attachment"—in effect, an arrest order for the person who owes the money. They can then be thrown into jail, which reform advocates have argued simply represents a modern form of debtor's prison. Yet while the Maryland Insurance Administration regulates bail bonds, the state court system handles bail suits. As a result, bail-bond companies can sue to collect debts even when, as appears to be the case with BDBB, they aren't licensed.
A bail bond is a little like an emergency surgery. When you're in need of one, there's a good chance you don't have the time or capacity to spend a lot of time looking around. Many providers set up shop near courthouses for easy access to customers. Bail-bond companies in Baltimore also advertise aggressively; at some bars in the city there are pint glasses emblazoned with the logos of providers.
The Lawyers' Committee earlier this month wrote a letter to Maryland judges asking them to dismiss all pending cases involving BDBB, and to prohibit enforcement of existing judgments. Braden said the court relied on February 16, saying it did not believe it had the authority to dismiss all the cases, and would consider them on a per-case basis. Braden said the Lawyers' Committee disagrees, and will litigate cases if necessary. But on a broader level, Braden doesn't think the decision should rest in the courts, either.
"We shouldn't have to do this, because the MIA should have done something," Braden said.
The MIA is involved—to a point. 4 Aces is currently licensed, but the MIA began proceedings to revoke 4 Aces' license in October 2017. Among the MIA's allegations against 4 Aces is that it was operating under unlicensed names and using unlicensed people to broker bonds. BDBB appears to be one of those unlicensed names. Not only did a call to 4 Aces lead to voicemail box for BDBB, but a letter from 4 Aces' attorney, entered in court records, also said that BDBB is a trade name for the company. The letter was to inform the company that the attorney was withdrawing from representing the company because of the enforcement action and its failure to produce witnesses at hearings. (The law firm also did not respond to a request for comment.)
Nonetheless, the Lawyers' Committee alleges, 4 Aces is continuing to use the courts to collect on contracts issued under the name BDBB. "We are in receipt of the letter and are reviewing it," an MIA spokeswoman said via email. 4 Aces has a checkered past, even before the recent MIA license action. In 2011, then-4 Aces owner Milton Tillman Jr. was convicted of unlawfully operating a bail business without being licensed by the state. He was barred from operating a bail operation without prior consent because of prior criminal convictions. His son, Milton "Moe" Tillman III, pleaded guilty to hiding taxable income, but took over the company.
It's impossible to know how common the BDBB situation is—after all, the nature of the problem is that the company is allegedly operating without a license. But Veryl Pow, a fellow at the Lawyers' Committee who researched the case, says it shows that abstract legislative reforms to bail are insufficient, and that advocates will need to delve more into the ways bondsmen do their work in practice.
"Bail reform can't be attacked monolithically," Pow says. "Without following the money and really challenging the source of revenue, we are going to constantly come up against this hurdle."