Trump Likely Can't Avoid Talking to Mueller
Some of the president's advisers want him to answer questions in writing, like Ronald Reagan did during Iran-Contra—but don't count on the special counsel agreeing to it.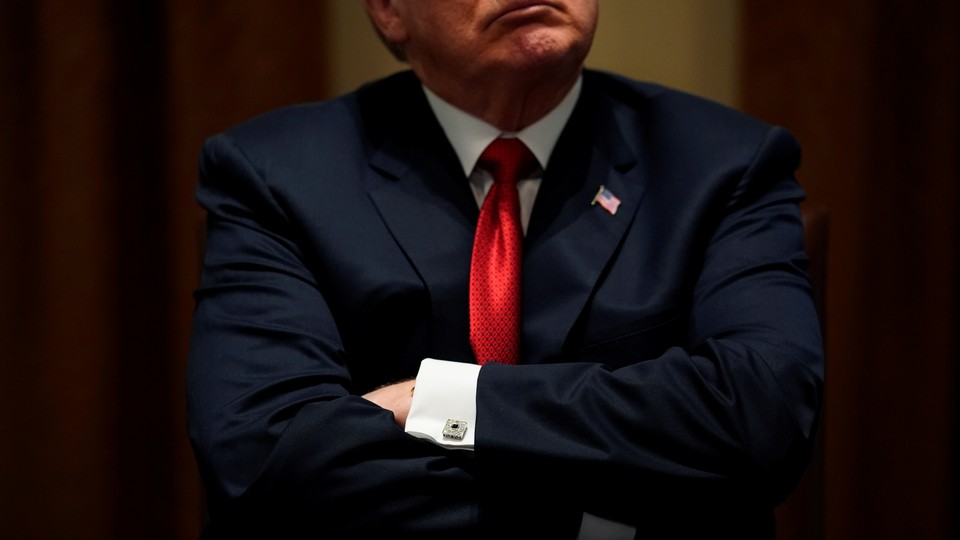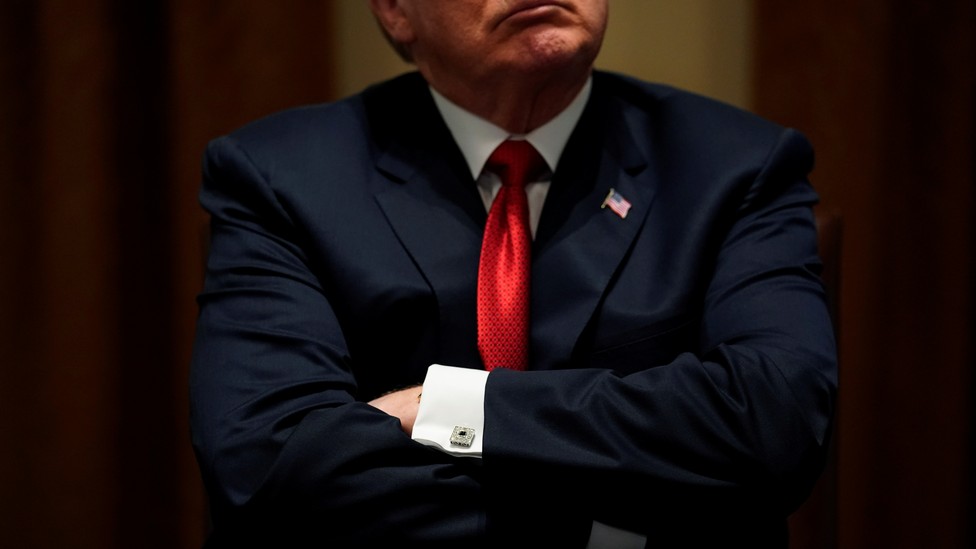 Earlier this week, after weeks of rumblings about Donald Trump speaking to Special Counsel Robert Mueller, The New York Times reported that the president's lawyers are urging him not to testify to Mueller. "His lawyers are concerned that the president, who has a history of making false statements and contradicting himself, could be charged with lying to investigators," the Times reported.
That's a remarkable stance for a couple reasons. One is that Trump himself has said he wants to testify. "I'm looking forward to it, actually," he said last month. Another is that the president's own lawyers apparently don't trust his ability to be honest in an interview. (Even if not testifying to a grand jury or under oath, people being interviewed by the special-counsel probe are legally required to tell the truth.)
But it should have been clear from the start that the White House stance was a negotiating tactic, not a final word. As former acting Solicitor General Neal Katyal told the Times, "The upshot of the Nixon tapes case was that any president is going to have an extremely hard time resisting a request from a law enforcement officer." After trying to withhold White House tapes from the Watergate special prosecutor, President Nixon was slapped down by the Supreme Court, and soon after resigned. Since then, presidents who face outside investigations have sought to cooperate, but to do so as much on their own terms as possible. It's better to negotiate for a partial loaf than to go to the courts and receive not so much as a slice.
Politico reports Wednesday that some outside Trump advisers are suggesting he try to strike a deal with Mueller to offer testimony, but in a setting more advantageous to him than a grand jury or conference room:
[Roger] Stone and at least two other people who regularly speak to Trump—Newsmax publisher Chris Ruddy and former House Speaker Newt Gingrich—are instead advising that the president offer Mueller a compromise of responding to questions in writing only. That's the same deal President Ronald Reagan struck during the Iran-Contra investigation in 1987, multiple Trump allies noted in interviews.
Politico says the White House is also considering this strategy. (It's fascinating that Stone, a likely subject of Mueller's interest for his conversations with a Russian hacker known as "Guccifer 2.0," is also advising the president on strategy.)
Mueller may be likely to grant Trump leeway he wouldn't grant to other witnesses. (Many of his tactics have been seen as unusually hardnosed, including a raid on an apartment belonging to former Trump campaign chair Paul Manafort.)
"You wish to be accommodating generally and sensitive, of course, to the presidency. There is no job like this," John Q. Barrett, a law professor at St. John's and former associate counsel on the Iran-Contra investigation, told me in January. "You don't want to waste his time, you don't want to distract him. Presuming to ask the president for anything is a big step, but the need for law enforcement does require it."
Bill Clinton, for example, was deposed in January 1998 at his lawyer's offices in D.C., and was later allowed to testify to a grand jury from the White House via closed-circuit TV, rather than attend in person.
While Mueller has kept his cards close to his vest, there are reasons to doubt he might agree to a Reagan-like deal. Although Iran-Contra independent counsel Lawrence Walsh allowed Reagan to answer questions in writing, that was in large part because aides had testified that the president was mostly unaware of illegal activity, and Walsh "concluded that President Reagan's conduct fell well short of criminality which could be successfully prosecuted," according to his final report.
"The focus of the investigation was not criminal conduct by President Reagan," Barrett said. In this case, however, Trump is very much a focus—from his campaign's relationships with Russia to his own financial dealings to, perhaps most prominently, whether he obstructed justice.
"The president's conduct is a subject of this investigation," Barrett said. "My guess is Mueller would not be satisfied with written interrogatory."
Even written questions are a major event for a president; Reagan took weeks to prepare answers for Walsh. But the recent history of differences between Trump and his attorneys might also give Mueller reason to question whether testimony prepared by Trump's team would be accurate. In December, Trump tweeted that he had fired National-Security Adviser Michael Flynn because Flynn lied to the FBI—contradicting Trump's previously stated rationale, and offering the first indication that Trump knew Flynn had lied to the FBI when he fired him, which might prove Trump had obstructed justice in asking Comey to go easy on Flynn. (Flynn has since pleaded guilty and is cooperating with Mueller.) Trump attorney John Dowd then claimed he, not the president, had written the tweet.
The Times report says that there is a split within the White House between Dowd, Trump's personal lawyer, and Ty Cobb, who the White House hired to work on the special-counsel case. Dowd favors a harder line and doesn't want Trump to speak with Mueller. Cobb, however, has long been more optimistic, promising the probe would be over by Thanksgiving or Christmas of last year, and preferring cooperation with Mueller. One question here is whether Dowd's stance is related to his broader role as Trump's personal lawyer. The president has expressed anger at the idea that Mueller might poke into his personal finances before the presidency.
The attorneys are not the only ones to worry about what Trump might say in an interview. Other Trump allies have warned that Mueller might be specifically aiming to trick the president into perjuring himself, a notion veteran prosecutors dismiss. As I reported in January, having examined some of Trump's many depositions in legal cases, the president has a tendency not to prepare for such interviews, which gives lawyers agita. But as to whether Trump might lie, his under-oath demeanor is calmer, more conciliatory, and more honest than his blustery and often brazenly dishonest public persona.