What Went Wrong in the Fatal South Carolina Train Wreck?
Three familiar bogeymen have emerged: Amtrak, crumbling infrastructure, and the lack of Positive Train Control.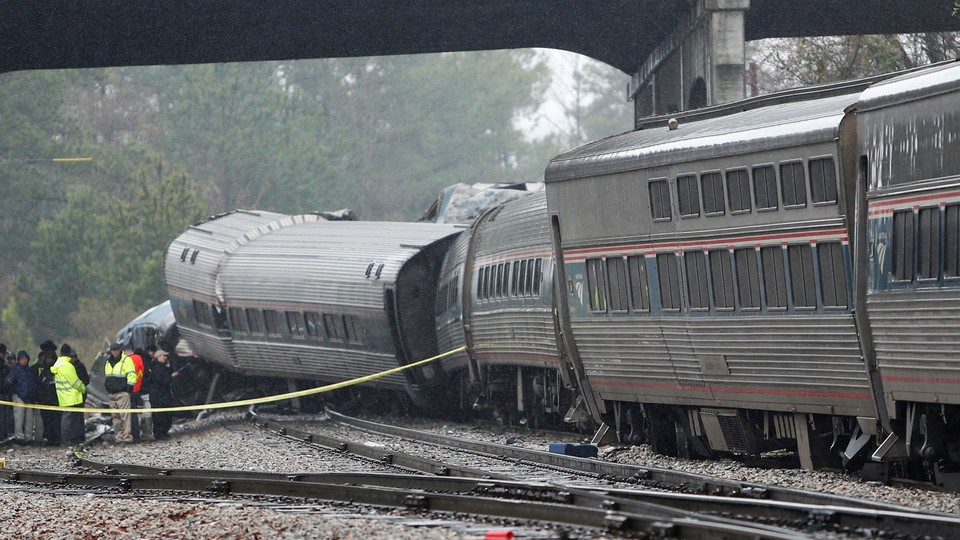 It has been an awful two months for rail travel in America, and for Amtrak in particular. In late December, an Amtrak train derailed near Tacoma, Washington, killing three people. Last week, a train carrying Republican lawmakers struck a truck near Charlottesville, Virginia, killing the driver. Then, on Sunday, an Amtrak train struck a parked passenger train just south of Columbia, South Carolina, killing the engineer and conductor.
These incidents together killed more people aboard passenger trains than die in such crashes most years—the notable recent exception being the high-profile wreck of another Amtrak train in Philadelphia in 2015, killing eight people. The depressing frequency of crashes recently means that the public is primed with ready explanations when the next train wrecks: It's Amtrak's fault. It's proof of the decline of American infrastructure. It's another example of the dire need for Positive Train Control.
The proper target of blame for the latest crash is unclear, though what's known so far points away from Amtrak errors leading to the crash. Decaying infrastructure also seems like a red herring. On the third count, however, although the lack of Positive Train Control did not cause the crash, it appears to be the latest example where fast adoption of the technology could have prevented needless loss of life.
More details about the cause of the crash will come out soon, and the NTSB is expected to deliver a briefing on Monday afternoon. The passenger train's forward-facing video recorder has been sent to Washington for analysis, though neither train's data recorder had been found as of Sunday. The NTSB's final determination of probable cause is likely to take months.
Amtrak, the government-created and -subsidized passenger-rail corporation, has long been a target of abuse from politicians and the public alike, who make often contradictory demands that the railroad provide better, faster service (and reliable wifi to boot), but do so while spending less money. Amtrak seems to always be operating near the limits of its budget, but in the last fiscal year it set records for ridership, revenue, and earnings—though that still left it in the red.
Amtrak has also been blasted by regulators for its safety record. After an NTSB investigation into a 2016 derailment that killed two railroad employees on the ground, NTSB Chair Robert Sumwalt offered blistering criticism. "Amtrak's safety culture is failing, and is primed to fail again, until and unless Amtrak changes the way it practices safety management," he said in November. Add to that the Amtrak 188 crash in Philadelphia and the derailment of Amtrak 501 near Tacoma, in which some reports have raised questions as to whether Amtrak staff was adequately trained on a stretch of rail before the fatal wreck on a maiden run, and Amtrak's public reputation has taken a beating.
Does that fit the facts in the South Carolina crash? It's too soon to know for sure, but there are signs it doesn't. Amtrak 91 was traveling south in Cayce, South Carolina, when a switch diverted it to a siding to the west of the main line, where it slammed into a parked CSX freight train Sunday. Amtrak owns some of the rail on which it runs trains, but on the vast majority of its routes, including this South Carolina stretch, it uses rail owned by other companies—in this case, CSX. That means CSX has primary responsibility for safety and operations. Amtrak CEO Richard Anderson said that signals on the corridor were not functioning properly, so CSX was manually dispatching trains along the route.
In a briefing Sunday, Sumwalt said that the CSX train had delivered automobiles to the east side of the north-south track, then backed north up the main line, and finally moved on to the siding to the west of the track. When the Amtrak train came later, it should have continued south along the mainline, but a switch at the junction of the mainline and the siding was moved to direct any train coming south onto the siding. The switch was locked into place with a padlock, Sumwalt said, which is standard procedure when a switch is moved. The engineer in the locomotive would have been unable to override the switch, and it's not yet known if he or she braked before hitting the parked passenger train.
CSX did not respond to specific questions about the accident. "Our sincere condolences go out to the families of the two individuals who passed away following the tragic events that took place in Cayce, South Carolina, early Sunday morning," the company said in a statement. "CSX hosts more passenger trains on its network than any other major railroad in the United States, and passenger rail remains one of the safest ways to travel."
Based on what's known so far, it appears that the switch should have been returned to position directing trains down the main line, but instead remained locked into the siding position. "Key to this investigation is learning why that switch was lined that way," Sumwalt said.
If that's true, then degrading national infrastructure isn't to blame, either. President Trump has recently been especially outspoken about the need for repairing U.S. infrastructure, though he has been vague about his proposal to do so. In the late 19th century, train wrecks were often seen as a necessary price to pay for the important role played by rail in expanding the country's might and wealth. Today, the insistent repetition of train crashes seems to crystallize a sense of national decline.
It's true that many crucial U.S. systems are in poor shape; the American Society of Civil Engineers gave U.S. infrastructure a D+ in it 2017 annual report card. The railroad system, however, earned a much better B grade. U.S. rail infrastructure does have major challenges. What is referred to as "high-speed rail" in the United States is far below the standard for fast service in other parts of the developed world. While the Tacoma train was billed as "high-speed rail," it derailed while going about 50 miles per hour above the speed limit of 30 in a curve—which could have been eliminated with more spending to reroute the rails straight. Grade crossings like the one where the train hit the truck near Charlottesville remain extremely dangerous, and many are poorly marked.
The bigger problem is not maintaining the existing infrastructure but one major improvement to what is already there: PTC. That's a technological failsafe system that's designed to avoid collisions, prevent excessive speed, and make up for other human errors. As is by now familiar, Congress in 2008 mandated that every railroad have PTC in place by the end of 2015, but under pressure from operators, who said they could not meet the deadline and threatened to shut service down, the deadline was extended to the end of 2018. In the case of Amtrak 188, PTC was in place on the southbound side of tracks, but not the northbound track where the train wrecked. Amtrak 501 was traveling along track that was equipped with PTC, but the system was not yet operational.
All indications are that PTC was not in effect in South Carolina. "Fully operational Positive Train Control could have avoided this accident," Sumwalt said. The absence of PTC didn't cause the crash, but it could have prevented it.
Federal rules mandate that the railroad that owns track, in this case CSX, is responsible for implementing PTC. As of the latest available mandated report, two-thirds of Amtrak's trackage has PTC in place, but only 45 percent of CSX's rails have operating PTC. CSX's September 2017 quarterly report indicates which parts of track are PTC-equipped, but in accordance with federal law allowing redaction of trade secrets, that information is not available in public disclosures.
CSX has its own safety troubles. Federal regulators have criticized the railroad's safety record at various times in the past, and both the Government Accountability Office and Federal Railroad Administration are reportedly investigating CSX. At 13.867 accidents and incidents per million train miles, CSX also has a higher accident rate than its three biggest competitors.
If Amtrak ends up taking much of the public blame for the accident, it won't be the first time that's happened. In a 2004 investigation, Walt Bogdanich of The New York Times found that major rail corporations often shielded themselves from liability for accidents, leaving Amtrak to pay out—even when the host railroad was to blame. In two separate 2002 crashes, including one that killed four people, investigators found that poor maintenance of tracks by CSX had caused the incidents, but Amtrak was left to cover millions in dollars in claims, in part with taxpayer money.