What It Takes to Actually Convict Police of Misconduct
Officers involved in fatal incidents keep getting acquitted, but a team of Baltimore cops who stole from suspects and taxpayers alike during a years-long criminal spree are facing serious jail time.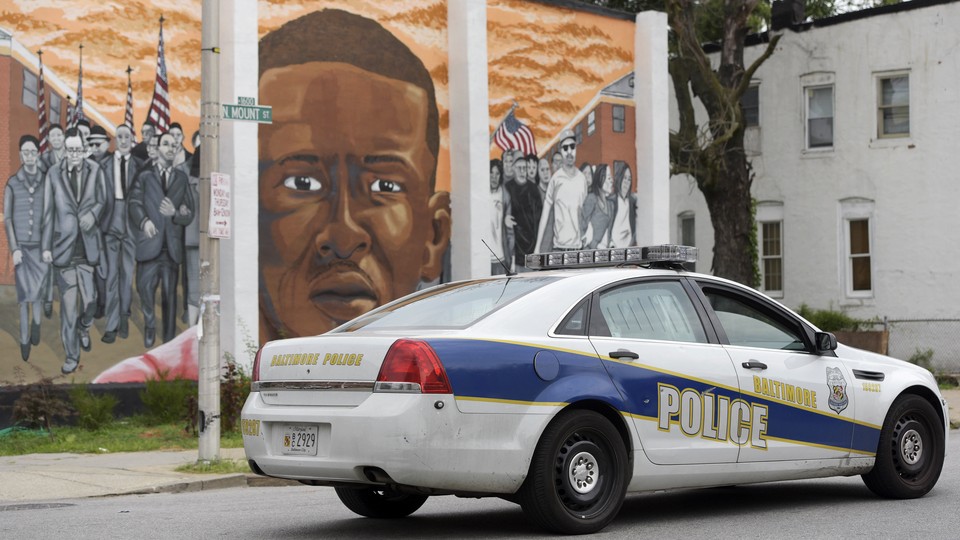 Something amazing happened over the course of a recent trial in Baltimore: Witnesses laid out the way that the city's Gun Trace Task Force acted as a de facto criminal gang, but with the advantages of a police badge and the power of the state. Officers assigned to the unit robbed hundreds of thousands of dollars from drug dealers, pocketing the money. They targeted cars for searches based on makes and models, and stopped adult black men just for carrying backpacks. They drove at groups of men and detained anyone who ran. They bilked taxpayers by charging for fraudulent overtime.
On Monday, something even more amazing happened. Two officers were convicted of racketeering and robbery charges in federal court. They joined six others who had already pleaded guilty. Stories of police misconduct have become bracingly common in recent years, but convictions have remained rare. The failure to convict any Baltimore officer in the 2015 death of Freddie Gray is the obvious contrast, but similar cases all over the country, from Tamir Rice to Eric Garner to Daniel Shaver, have also ended without convictions.
What lessons do the convictions in Baltimore teach about policing the police? The glaring answer is that the American justice system sometimes puts property ahead of humanity. Steal a black life and you can get off in court; steal a couple hundred grand and the long arm of the law will come for you. It's hard to argue with this explanation, but there are more complex takeaways as well.
One difference is that in the case of the Gun Trace Task Force, there was no plausible way for the defendants to argue that what they were doing was part of police work. When people are killed in incidents with officers, officers are rarely charged. When they are charged, they are rarely convicted. Juries and judges tend to grant police wide leeway in their actions, wary of second-guessing split-second decisions made while (ostensibly) guaranteeing public safety. If an officer says that he believed his life was in danger when he shot a suspect, prosecutors and courts have often been loath to conclude otherwise—even when many other people see a clear injustice. Police who are hauled up in court are also often able to claim they were following departmental mores. In the Gray case, for example, officers acknowledged not strapping Gray into a police van, but successfully convinced the court that this was standard operating procedure.
By contrast, it's tough to construe taking fat stacks of cash out of safes and divvying them up (or in the case of one officer who pleaded guilty and testified against his colleagues, dumping it in the woods out of a guilty conscience) as somehow doing one's job.
The prosecutor's work was made easier by the six officers who pleaded guilty, but those pleas are also a sign of the strength of the case against them. Detectives Daniel Hersl and Marcus Taylor, who were convicted Monday, will face up to 60 years in prison. The other six face maximum sentences ranging from 20 to 40 years.
Even though the Gun Trace Task Force convictions represent a victory for police accountability where the Gray convictions ended in failure, there is a connection between the two cases. Gray's death, and the massive, stunning Department of Justice report that followed it, illuminated a pattern of egregious civil-rights violations by the Baltimore Police Department. The Gun Trace Task Force case does the same, showing how the group targeted black men in particular and violated constitutional processes for detention and arrest. The history of rough rides in Baltimore and the task-force racket both stem from the same lack of accountability, lawlessness, and systemic racism, and they both result in the same broken relationship between police and people that plagues Baltimore, as well as many other cities.
Monday's convictions don't produce justice for Gray, but they do strike at some of the same root problems. Notably, the convictions came out of a federal prosecution, in contrast to the Gray case, which was handled by the city prosecutor. "Beyond the guilty verdict and prior guilty pleas in this case, it's time to talk about what comes next for the city of Baltimore," Sherrilyn Ifill, president of the NAACP Legal Defense and Educational Fund, said in a statement. "This corruption went on unabated for nearly 10 years and was only brought to light as a result of a federal investigation."
From the Justice Department report to the Gun Trace Task Force convictions, the federal government has proved an important force in police reform. But under Attorney General Jeff Sessions, the department has switched its focus, pulling back from accountability efforts and offering local law enforcement a more sympathetic hand. That probably isn't a good omen for future cases. If the police in the United States are to be reformed, the question of what crimes produce convictions is important, but so is the question of who is prosecuting the cases.