What Does It Take to Get Fired in the Trump White House?
Trying to clean up the Rob Porter mess, a spokesman says the administration could have reacted better, but can't explain how—or what led to the staff secretary's departure.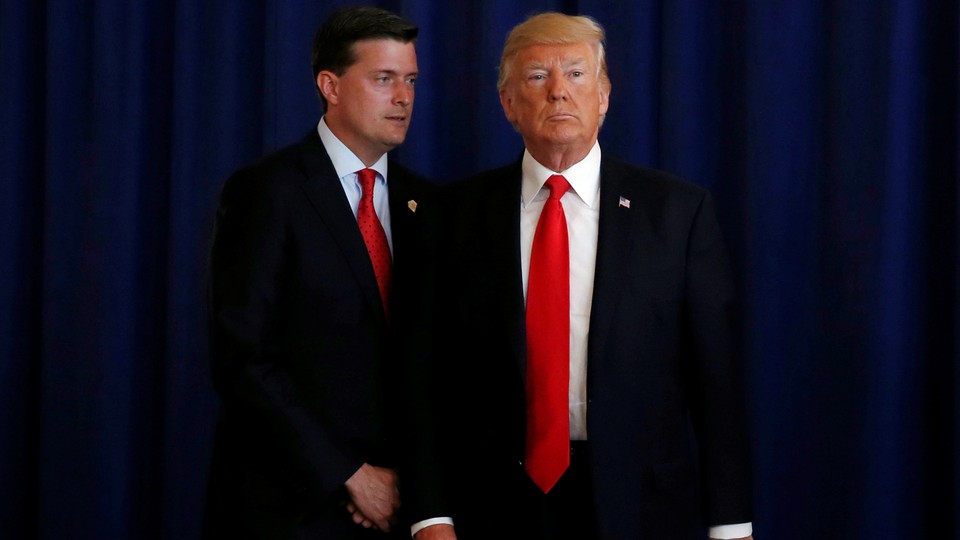 Deputy White House Press Secretary Raj Shah had an impossible job in Thursday's press briefing: Go to the lectern and explain what happened with the resignation of Staff Secretary Rob Porter. Sure enough, Shah struggled.
In a rare step for this administration, Shah acknowledged errors in the White House's approach—"We all could have done better over the last few days in dealing with this situation"—but he wouldn't say what those missteps were, and he left only more questions about what the White House knew and what led to Porter's exit.
Fundamentally, the question remains what top staffers, and especially Chief of Staff John Kelly, knew about allegations of physical and verbal abuse made by two of Porter's ex-wives; what changed between Tuesday, when the White House made supportive statements, and Wednesday, when Porter resigned; and what standard the White House uses in hiring.
Here's a brief timeline of the Porter story. On Monday and Tuesday, the Daily Mail published interviews with both ex-wives detailing stories of choking and punching. Tuesday night, Kelly issued a statement calling Porter "a man of true integrity and honor and I can't say enough good things about him. He is a friend, a confidante, and a trusted professional. I am proud to serve alongside him." Wednesday morning, The Intercept published photos of Colbie Holderness, Porter's first wife, taken after he had allegedly assaulted her. During the day, Porter resigned, though his departure date was unclear. (Shah said Porter's last day was Wednesday, though he returned to the White House to clean out his desk Thursday.) Wednesday night, Kelly partially walked back his comments. "I was shocked by the new allegations released today against Rob Porter. There is no place for domestic violence in our society," he said, while adding, "I stand by my previous comments of the Rob Porter that I have come to know since becoming Chief of Staff, and believe every individual deserves the right to defend their reputation."
Various outlets have reported that Kelly and other staffers were aware of at least some of the allegations against Porter. Both ex-wives have said they told the FBI about them as part of his security-clearance process (Porter was working on an interim clearance), and Kelly is said to have known about a 2010 protective order against Porter. Shah wouldn't say what Kelly knew when. When asked what had changed between Tuesday and Wednesday, Shah said, "The reports had additional allegations, they had more information." Later in the briefing, pressed on what changed for Kelly, Shah seemed to suggest the photos made the difference. "I know he hadn't seen images prior to his statement, the statement on Tuesday night," Shah said.
But that explanation creates its own problems. Does that mean the White House only believes allegations from women who can present photos to substantiate them? After all, both women had told the FBI about the abuse. This is dangerous territory for the White House, which has flatly stated that multiple reports of sexual assault against the president are untrue, as are the president's own boasts about it in a video.
Shah insisted the photos were not the only factor. "We do take allegations of misconduct, of domestic violence, other issues like that very seriously," Shah said. "In this instance, in the case of Rob Porter, we relied on the background check investigative process. That process hadn't been completed. We're relying on the information that we had." At another moment in the briefing, he said, "You've got to take allegations seriously, you've got to take denials seriously."
This is the legal standard for a background check. But there's no reason the White House has to adhere to the same standard that any allegation must be proven beyond a reasonable doubt, or that any denial bears the same weight as the allegation, in making decisions about the employment of its staff. The question is what caliber of person should be working at the highest reaches of government. (There's also a cognitive dissonance between the White House saying the FBI must be allowed to complete the process at the same time that the president attacks the FBI, having fired its director over another investigation.)
My colleague David Frum notes that Trump has shown no hesitations about hiring accused domestic abusers in the past, to say nothing of an allegation against him. Shah also insisted that Porter had resigned, and not been pressured to leave. He wouldn't answer on what might have happened had Porter not resigned.
Reporters were also curious whether personal relationships clouded the White House's judgment—including a reported romantic relationship between Porter and Communications Director Hope Hicks. Shah said that staffers were surprised about the difference between the allegations against Porter and the man they knew, and said Hicks had recused herself from some matters.
The problem is one of credibility: Does anyone believe that the White House, despite knowing about the allegations, would have gotten rid of Porter if not for the publication of the photographs? Or what if the Daily Mail had never published the allegations? There's a parallel at play with former National-Security Adviser Michael Flynn. In January 2017, he lied to Vice President Mike Pence and, separately, to FBI agents about his conversations with then-Russian Ambassador Sergey Kislyak. But even after the White House became aware that Flynn had lied to Pence (it's unclear when they learned he'd lied to the FBI), he wasn't forced to resign until February 13, after The Washington Post reported on it. In the Porter case, outlets including Axios reported that Kelly was urging Porter to tough it out as late as Tuesday night.
Would Porter still have a job at the White House if The Intercept hadn't published the photos? Nothing that Shah said Thursday suggests otherwise. Reporters in the briefing room seemed to smell blood in the water Thursday, demanding to know if there would be more resignations in coming days. Even if Porter is the only staffer to leave, it's clear there will be more questions, since Thursday's briefing did little to clarify a messy situation.