The Congressman Who Infuriates the President
The House Intelligence Committee's top Democrat Adam Schiff talks about the Nunes memo, the minority response, and Trump's insults.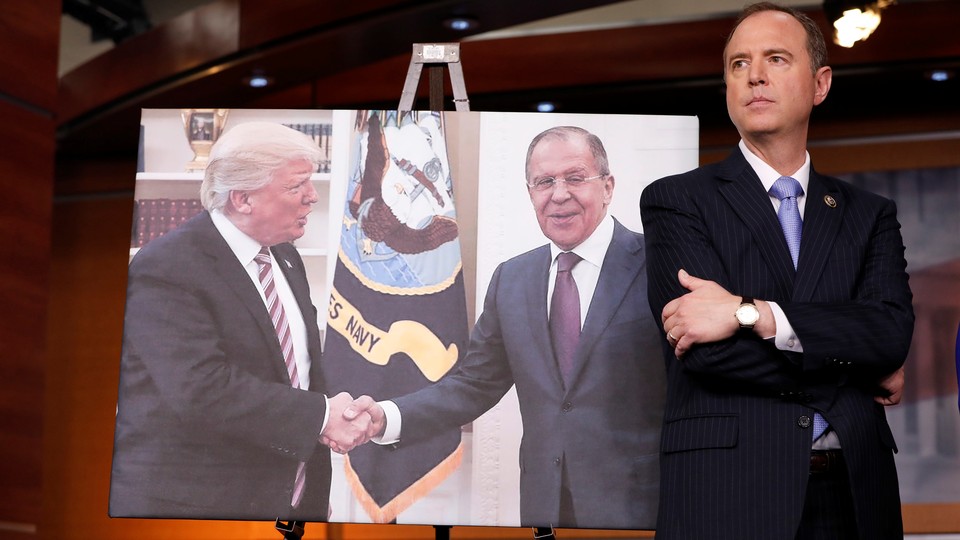 Adam Schiff, the ranking member on the House Intelligence Committee, says the president has been "watching too much Fox News in the morning."
In an interview on Tuesday, the California Democrat who represents a chunk of Los Angeles County told me that Trump's early-morning tweet on Monday, in which he called Schiff a "liar" and a "leaker," was predictable given Donald Trump Jr.'s contentious interview with the committee last year, and the current controversy over a declassified Republican House memo accusing the FBI of bias in its investigation of the Trump campaign, and the as-yet-unreleased Democratic rebuttal.
"This effort to tar me as a leaker began with the president's son, after he refused to answer questions about his conversations with his father that led to the creation of that false statement about the Trump Tower meeting," Schiff said, referring to a misleading statement Trump drafted on his son's behalf last July. The statement concerned a meeting Trump Jr., Paul Manafort, and Jared Kushner had attended with Russian lobbyists one year earlier, which Trump Jr. set up believing he would be obtaining incriminating information on his father's then-presidential rival Hillary Clinton.
"It has been our practice to not disclose testimony, but to reveal when witnesses refuse to answer questions," Schiff said. "We don't allow witnesses to say publicly that they're cooperating, when they have actually refused to answer our questions."
In an interview last December, Trump Jr. declined to answer the committee's questions about a phone conversation he had with his father in July 2017 about the June 2016 Trump Tower meeting. An attorney had been present on that call, too, Trump Jr. said, so he was shielded by attorney-client privilege.
Democrats were incredulous—that's not how attorney-client privilege works, they argued.
"So we called him out on that," Schiff said. "And obviously that was threatening to the White House. They've been attacking me ever since."
There was another, more immediate trigger for Trump's early-morning tweet,  Schiff said: the House Intelligence Committee's impending vote on whether to release the Democrats' 10-page response to chairman Devin Nunes's accusations of surveillance abuses carried out by the Justice Department.
The committee voted to release the rebuttal on Monday and sent it to the White House to review and ultimately declassify.
"The president is unhappy about being in the position of having to declassify our rebuttal to the Nunes memo, which he thinks is vindication for him, because it will reveal how flawed the Nunes memo is," Schiff told me. A spokesperson for Nunes did not immediately reply to requests for comment.
A GOP aide who requested anonymity to speak freely about the investigation said he doesn't think Trump "has ever faced an adversary quite like Schiff, and it's freaking him out."
"First off, he's a skilled prosecutor with an acid tongue, and a command of all the facts including the most deeply held classified information," the aide told me. "Second, he's not in leadership and therefore doesn't have to consider being at the negotiating table like [Chuck] Schumer or [Nancy] Pelosi do. Third, he's got a squeaky clean record (wouldn't have ascended to that position if he didn't) and comes from a district where when Trump lashes out at him, it only makes him more powerful and popular."
Speculation swirled on Monday night about whether Trump would actually declassify a document written primarily by Schiff and his staff that could undermine Nunes, whom the president called a national hero in a separate tweet on Monday. The White House has said that it will consult with the FBI and DOJ about any recommended redactions to the rebuttal memo's content—a process Schiff said the Democrats will hopefully be able to monitor.
"We've asked the DOJ and FBI to report to us any redactions they're recommending to the White House so we can separate legitimate redactions, if any, from any political ones," Schiff said. "So hopefully we'll have visibility into that."
The Nunes memo landed either with a thud or a bang when it was released last Friday, depending on who you ask. Nunes's supporters said it showed the FBI had misled the Foreign Intelligence Surveillance Court when applying for an order to monitor Carter Page's communications; his critics said the memo cherry-picked testimony from the FBI's deputy director and failed to show that the Justice Department or FBI had done anything wrong. Democrats also pointed to a line in the memo acknowledging that the investigation began with Trump adviser George Papadopoulos in July 2016, months before the FBI asked to monitor Page.
One of Nunes's main complaints with the FBI's FISA application—that it included the research of former British intelligence agent Christopher Steele, but did not reveal that Democrats had funded his investigation into Trump's Russia ties—quickly fell apart. Nunes conceded in an interview with Fox News over the weekend that the FBI had included "a footnote" on the application that described political funding of the Steele dossier.
Nunes said his examination of the Justice Department and FBI was only "phase one" of his investigation into the Steele dossier's circulation in high-level government circles during the 2016 election. Phase two, he said, involves the State Department, and more memos are coming.
Schiff disagreed with that characterization; phase one of Nunes's investigation, he said, was his late-night trip to the White House last March to obtain classified information from a source he has to this day declined to identify. Shortly afterwards, Nunes claimed that Obama administration officials had improperly "unmasked" the identities of Trump transition officials in communications intercepted by U.S. intelligence. Nunes's announcement followed the president's claim that Trump Tower had been illegally surveilled by the Obama administration. Republicans on the committee later said there was no evidence of illegal behavior in the unmasking, and the FBI said there was no evidence Trump Tower had been wiretapped.
"This looks a lot like the Midnight Run Redux," Schiff said. Asked whether he thought it was appropriate for Nunes, a former member of the Trump transition team, to maintain relevant jurisdiction over an investigation that could implicate the Trump campaign, Schiff said it was "clearly not the case" that Nunes has demonstrated a level of independence from the White House.
"He never stopped being a member of the Trump transition team," Schiff said. One lingering question is whether Nunes coordinated with the White House in any way while investigating the Justice Department and FBI. Schiff pointed to the transcript of the committee's Monday night hearing on whether to release the Democrats' rebuttal.
"Nunes was asked repeatedly during the hearing whether he or his staff coordinated with the White House," Schiff said. "He refused to answer. At the end of the hearing, he issued a one-sentence statement that said the White House had not been involved in 'drafting the memo.' That statement looked like it was written by the lawyer for the committee."
Republican Representative Lee Zeldin accused Schiff on Monday of deliberately "loading up" the Democrats' rebuttal memo with "sources and methods" that Schiff knew "shouldn't be released." But Schiff argued that, unlike Republicans, Democrats gave the rebuttal memo to the Justice Department and FBI first so that they could issue redactions if necessary.
"We're taking the responsible step that the majority didn't," Schiff said.
Asked whether the minority plans to respond to every memo Nunes puts out, Schiff said the Democrats "have to set the record straight."
"A lot of people have wondered whether there was a need to respond to the Nunes memo at all since it was such a dud," Schiff said. "But, as long as they continue to make these representations to undermine the DOJ and the FBI, we have to respond. We have to set the record straight."
In the meantime, the committee will continue to interview relevant witnesses in the Russia investigation, Schiff said, even as the Republicans move "at a slow pace" and accept "I won't answer that question" as "an adequate response" from interviewees.
"They seem very complacent with witnesses," Schiff said. "Corey Lewandowski, for example, made no claim of privilege, no claim that the White House had places restrictions on his testimony, and yet the majority was willing to give him a pass at least temporarily."
Hope Hicks, the White House communications director, is on the Democrats' witness wishlist, Schiff said, along with "dozens of witnesses we've been pleading with the majority to bring in for questioning."
Steve Bannon, who was at one point among the president's closest advisers, said through his lawyers on Monday that he would not return to the committee on Tuesday for a second interview. Bannon's unwillingness to discuss his time in the White House sparked a rare moment of bipartisan cooperation on the committee, when the majority and minority agreed to subpoena him and effectively force him to answer their questions.
The committee has given Bannon another week to comply with their subpoena, but if he fails to appear, Schiff told me, the recourse could be to hold him in contempt of Congress "and enforce compliance."
"That may very well be necessary," Schiff said.