The Sharp Rise and Sudden Departure of Hope Hicks
The communication director's surprise resignation comes amid harsh scrutiny, and deprives the president of one of his closest and longest-serving aides.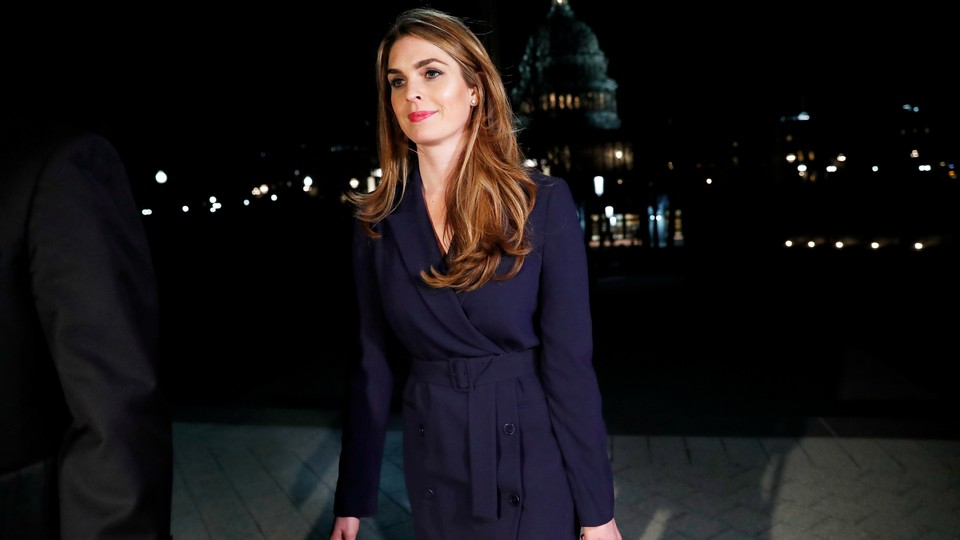 White House Communications Director Hope Hicks, one of President Trump's closest and longest-serving aides, is resigning, she announced Wednesday. The news was first reported by The New York Times.
The departure comes as a surprise. While there has been a great deal of turnover at the White House, and in the communications director's job in particular, Hicks had not been among the most anticipated departures. The reasons for her departure are unclear, although her decision to announce it the day after bruising testimony to the House Intelligence Committee, which is investigating Russian interference in the 2016 election, is sure to raise eyebrows. The Times said Hicks had been considering an exit for some time, and knew there was no easy time to leave.
"Hope is outstanding and has done great work for the last three years," Trump said in a statement. "She is as smart and thoughtful as they come, a truly great person. I will miss having her by my side but when she approached me about pursuing other opportunities, I totally understood. I am sure we will work together again in the future."
Her departure leaves Trump without one of his closest aides at a perilous time in his presidency, a peril Hicks is herself wrapped up in. Special Counsel Robert Mueller is said to be focused on the White House's reaction to news of a June 2016 Trump Tower meeting that took place after Donald Trump Jr. was promised derogatory information on Hillary Clinton from Russian sources. The initial White House response, which Hicks reportedly was integral to, denied the true purpose of the meeting.  During Hicks's testimony to the House Intelligence Committee on Tuesday, she acknowledged telling "white lies" in the conduct of her job.
Hicks's sudden resignation caps one of the more remarkable careers to emerge from the Trump phenomenon. A former model, Hicks had a few years in public relations under her belt when she joined the Trump campaign, but no political experience. She told New York that Trump summoned her in January 2015. "Mr. Trump looked at me and said, 'I'm thinking about running for president, and you're going to be my press secretary,'" she said. "I think it's 'the year of the outsider.' It helps to have people with outsider perspective." Because of her glamour and youth, she quickly became an object of fascination for the political press—but unlike her boss, Hicks shunned the spotlight, seldom speaking on the record.
After Trump's upset victory in 2016, the most visible positions in the White House communications apparatus went to older and more experienced operators. Sean Spicer was named press secretary; Jason Miller was put forward for communications director, though he soon withdrew. Hicks remained a trusted aide to Trump, often sitting in on interviews.
The communications-director job, meanwhile, began to seem cursed. Spicer served as acting director until Mike Dubke took the job in March 2017, but Dubke lasted less than three months, which was still longer than the next communications director, Anthony Scaramucci, who made it only 10 days.
In the aftermath of Scaramucci's flame-out in summer of 2017, Hicks was named communications director, the youngest person to ever fill that role. By then, she had acquired a reputation as a Trump whisperer, a rare individual who could respond to the president's whims and retain his trust.
Hicks's talent for staying out of the spotlight seems to have served her well as communications director, and the new White House press secretary, Sarah Sanders, proved a more adept player than Spicer had been. But the chaos of the Trump White House leaves no one immune. Earlier this month, news reports revealed that two ex-wives had accused then-White House staff secretary Rob Porter of domestic abuse. The White House initially took a strong stand in favor of Porter, but then, after photos showing a black eye Porter allegedly gave ex-wife Colbie Holderness, forced him out. The incident was damaging to the entire White House and especially Chief of Staff John Kelly, but it also brought unwelcome attention to Hicks, who was reportedly romantically involved with Porter.
Hicks's testimony on Tuesday also brought controversy. She sat before the House Intelligence Committee for almost nine hours on Tuesday, where she reportedly answered questions about the campaign, but declined to speak about the presidential transition or her time in the White House, citing a vague claim of executive privilege. (It's unclear whether President Trump made the claim or might make it; former White House Chief Strategist Steve Bannon took a similar approach when he spoke to the committee.) Hicks did, however, admit to sometimes bending the truth in her job—something that most spokespeople do from time to time, but none wants to admit on the record.
The House committee is not the only investigative body interested in Hicks. Mueller reportedly interviewed her in December. She was with Trump on a trip to Europe in July 2017, when The New York Times broke the news of the Trump Tower meeting.
By some accounts, President Trump personally dictated a statement about the meeting, issued on behalf of his son, that turned out to be false. Within days, Donald Trump Jr. had backtracked, leaving a range of dubious explanations. According to the Times, Mark Corrallo, who briefly served as spokesman for Trump's legal team, was disturbed about remarks Hicks made on a conference call aboard the plane.
"Mr. Corallo planned to tell investigators that Ms. Hicks said during the call that emails written by Donald Trump Jr. before the Trump Tower meeting—in which the younger Mr. Trump said he was eager to receive political dirt about Mrs. Clinton from the Russians—'will never get out,'" the paper reported. "That left Mr. Corallo with concerns that Ms. Hicks could be contemplating obstructing justice, the people said."
With Hicks's impending departure, there are few players left from Trump's campaign. Corey Lewandowski was discarded long ago, and so was Paul Manafort. Steve Bannon was forced out in August 2017. Early endorser Chris Christie is no longer close to Trump; the president blasted Attorney General Jeff Sessions, another early backer, in a tweet Wednesday morning. But Hicks belongs to an even smaller, shrinking circle of people personally close to the president. Keith Schiller, Trump's long-time bodyguard, left the White House in September. Perhaps the only remaining members of that group are Trump's daughter Ivanka and her husband, Jared Kushner. Even they seem on shaky ground, as Kushner's security clearance was restricted last week and his adviser and spokesman Josh Raffel also announced plans to leave.
It's typical for presidential staff who came from a campaign to turn over, especially in the second year, and be replaced by career government workers, though Trump has chewed through aides much faster than his predecessors. Yet Trump is also famously solitary, fond of routine, and slow to make personal connections with people. He has bridled against Kelly's  strictures, for example. Hicks had a clear talent for knowing how to manage her boss, and her departure leaves the president perhaps at his most isolated yet.
As for Hicks, it's unclear what she might do next. At 29, she has most of her career ahead of her. She has the cachet of a powerful position, even in a deeply unpopular and scandal-ridden administration. She told New York in spring 2016 that when she took the job, her mother told her it would make good fodder for a memoir. "She said it would be like Primary Colors, and I told her, 'You don't even know.'" There are a lot of people who would read a juicy tell-all from Hicks's pen.