Trump's Top Intelligence Officials Contradict Him on Russian Meddling
The intelligence community has a stark warning about Russia's intentions to interfere in the 2018 elections.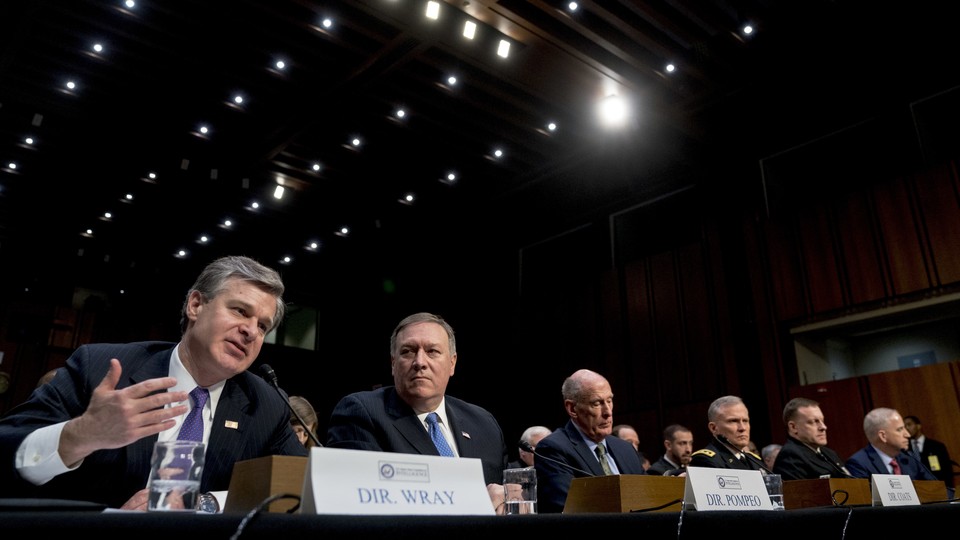 The country's leading intelligence officials said Tuesday that Russia intends to  interfere in the upcoming midterm elections. But they wouldn't discuss in an open setting what the U.S. intelligence community is doing to stop it—or how it could be combatted without the support of the White House.
"There should be no doubt that Russia perceives its past efforts as successful and views the 2018 U.S. midterm elections as a potential target for Russian influence operations," Dan Coats, the Director of National Intelligence, said during the Senate Intelligence Committee's annual worldwide-threats hearing on Tuesday.
"We have seen Russian activity and intentions to have an impact on the next election cycle," CIA Director Mike Pompeo said later. Other top intelligence officials, including the FBI Director Chris Wray, agreed.
The director of the National Security Agency, Mike Rogers, emphasized that steps should be taken "to ensure the American people that their vote is sanctioned and not manipulated in any way," and Coats advocated for as much transparency as possible.
"We need to inform the American public that this is real … and that we are not going to allow some Russian to tell us how we're going to vote," Coats said. "There needs to be a national cry for that."
That national cry, however, won't begin with the intelligence community and is unlikely to emanate from the White House. According to Wray, Trump has shown little if any interest in disrupting Russian election interference in 2018 and beyond. His administration declined to implement new sanctions on Russia earlier this month that were aimed at punishing Moscow for its meddling in 2016 and deterring Putin from trying again.
Trump signed a new sanctions bill into law last summer only reluctantly, calling the legislation "seriously flawed" and  complaining that it "encroaches on the executive branch's authority to negotiate." He's called the Russia investigation a "Democrat hoax" even as his own appointees—including Secretary of State Rex Tillerson, who warned just last week that the U.S. is ill-prepared to deal with future attacks by Russia on our elections—have continued to raise alarms about Moscow's ongoing interference.
General Michael Hayden, the former head of both the CIA and NSA, said it makes "all the difference in the world" whether or not the president shows interest in, and a commitment to, deterring the Russian interference.
John Sipher, a former chief of station for the CIA who served for 28 years in Russia, Europe, and Asia, told me that the intelligence community will continue to be focused on Russia's threat "no matter what the White House says or doesn't say." Ultimately, though, it will be up to Trump to implement meaningful changes.
"The IC is not the most important in this case," Sipher said, referring to the intelligence community. "They may uncover what the Russians are up to but they can't really defend against it or take actions to deter it, unless the President supports a covert action effort to screw with the Russians, like with a cyber attack."
"Tightening up our social media, protecting voter-registration systems and procedures—those things are beyond the ability or mandate of the IC," Sipher said. "And I don't think we have done nearly enough to deter or defend against Russian attacks.
Russia's brazen campaign to influence the 2016 presidential election—at Putin's instruction, according to an Intelligence Community Assessment published in January 2017—has been well documented. Just last week, Jeanette Manfra, the head of cybersecurity at the Department of Homeland Security, reiterated in an interview with NBC News that the Russians had targeted 21 states' voter-registration rolls during the 2016 election—and had managed to "successfully penetrate" a small number of them. Other reports, including one by Bloomberg last summer, put the number of state election systems targeted by the Russians at 39.
Bill Priestap, the head of the FBI's counterintelligence division, told the Senate Intelligence Committee in an open hearing last July that Moscow could use stolen voter data "in a variety of ways."
"I can't go into all of them here," he added, referring to the hearing's open setting. But he emphasized that while Russia had conducted operations targeting US elections "for years," the "scale and aggressiveness" of the 2016 interference campaign stood out.
How much the Russians infiltrated the state election systems and what they did, or plan to do, with voters' information remains largely unknown,  and is still an extremely delicate issue for the Department of Homeland Security.
Mark Warner, the vice chairman of the Senate Intelligence Committee, complained last year about the DHS's slowness to alert state election officials that their infrastructure had been compromised.
"It's unacceptable that it took almost a year after the election to notify states that their elections systems were targeted," Warner said in a statement last September, shortly after DHS informed officials in the 21 affected states that Russian hackers had targeted their systems in 2016. Manfra, the head of cybersecurity, had informed the Senate Intelligence Committee months earlier that 21 states had been targeted, but had declined to reveal which ones.
Now, DHS has been taking steps to work with states that include "risk and vulnerability assessments, offer cyber-hygiene scans, provide real-time threat-intel feeds, issue security clearances to state officials, partner on incident-response planning, and deliver cybersecurity training," Manfra said last week. But Trump's reluctance to prioritize efforts to counter Russia remains "a big problem," Sipher said.
"It will require a serious public-private partnership, and a whole of government approach that looks at it as a national-security threat," he noted. "In this sense, the president's lack of seriousness or unwillingness to make this a national effort is a big problem."