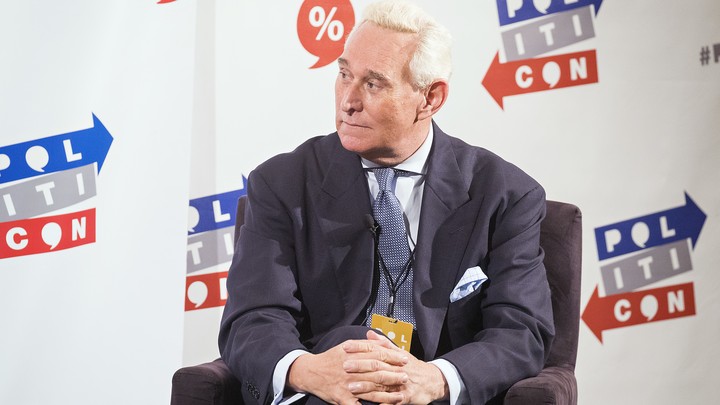 Today in 5 Lines
Private Twitter messages obtained by The Atlantic show that Roger Stone, a longtime confidante and informal adviser to President Trump, corresponded with WikiLeaks during the 2016 presidential campaign. Trump hired former digital adviser Brad Parscale to run his 2020 reelection campaign. Trump son-in-law and adviser Jared Kushner was reportedly informed on Friday that his security clearance would be downgraded. During an appearance before the House Intelligence Committee, White House Communications Director Hope Hicks refused to answer questions about the presidential transition or the Trump White House. House Speaker Paul Ryan signaled he won't support new gun-control measures, telling reporters, "We shouldn't be banning guns for law-abiding citizens."
---
Today on The Atlantic
Follow stories throughout the day with our Politics & Policy portal.
---
Snapshot
---
What We're Reading
Day Four: Here's everything you need to know about why teachers across the state of West Virginia have been on strike since last Thursday. (Hallie Detrick, Fortune)
'I Don't Take the Easy Road': In the wake of the Parkland shooting, Republican Representative Brian Mast of Florida, dubbed the ultimate "good guy with a gun" by gun-rights supporters, began advocating for gun control. (Paul Kane, The Washington Post)
Worrisome Trade: North Korea has been shipping supplies to Syria that could be used to produce chemical weapons, according to a new United Nations report. (Michael Schwirtz, The New York Times)
Return of the Mooch: Despite his controversial public comments and subsequent dismissal from Trump's White House, former communications director Anthony Scaramucci is garnering enthusiastic support from the Orthodox Jewish community. (Katie Glueck, McClatchy)
The Great Disappearing Act: Joseph Mifsud, the professor at the center of the Trump-Russia probe, has vanished. BuzzFeed's Alberto Nardelli chronicles the strange circumstances leading up to his disappearance.
---
Visualized
The Trouble With Exit Polls: Since taking office, Donald Trump seems to have lost ground with college-educated white voters. But a New York Times analysis shows that he never won them in the first place. (Nate Cohn)
---
Question of the Week
On Monday, the White House announced that President Trump will host French President Emmanuel Macron in April for the first state visit of his administration. While Trump has hosted many foreign leaders in the past, this is the first visit that will consist of a ceremonial welcome and a state dinner.
This week, we want to know: If you were president, which world leader would you invite to the White House for a formal visit—and why?
Share your response here, and we'll feature a few in Friday's Politics & Policy Daily.
-Written by Lena Felton (@lenakfelton) and Taylor Hosking (@Taylor__Hosking)
We want to hear what you think about this article. Submit a letter to the editor or write to letters@theatlantic.com.
Lena Felton
is a former editorial fellow at
The Atlantic
.