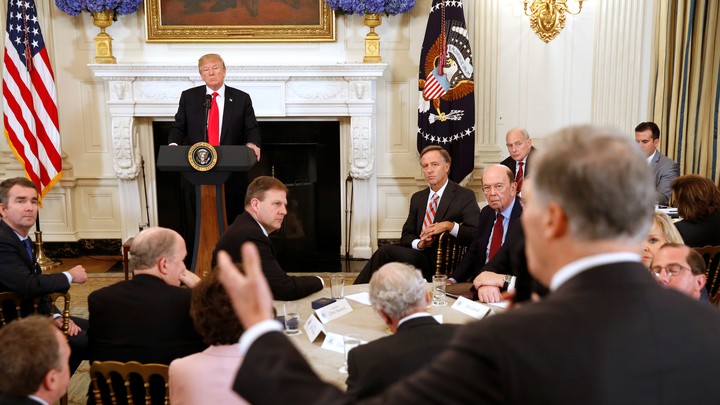 Today in 5 Lines
During a meeting with the nation's governors on gun safety, President Trump discussed reopening mental-health institutions and said that he would have intervened in the deadly school shooting in Parkland, Florida, even if he was unarmed. First Lady Melania Trump said she was "heartened" by student activists following the shooting. In his first public statement, the former sheriff's deputy, criticized for not entering the high school to stop the shooting, defended his actions. The Supreme Court declined to hear the Trump administration's appeal of a federal judge's ruling ordering the government to allow DACA recipients to renew their protected status. The Trump organization said it donated profits from foreign government spending at its hotels to the U.S. Treasury, but declined to say how much.
---
Today on The Atlantic
Follow stories throughout the day with our Politics & Policy portal.
---
Snapshot
---
What We're Reading
The Source of the NRA's Strength: It's no wonder the National Rifle Association wields so much power in Washington: "Its millions of members are motivated by ideology, not money, and they vote in droves," writes Jay Cost. (National Review)
How Long Can Kelly Hang On?: Last year, Democrats and Republicans alike pinned their hopes on John Kelly, expecting that the retired four-star Marine general would bring order to the White House. But several months into the job, he's losing support. (Matt Flegenheimer, The New York Times)
What's the EPA Hiding?: The Environmental Protection Agency has kept details of Administrator Scott Pruitt's travels, meetings, and policy decisions largely under wraps, prompting a cascade of open-records lawsuits from open government groups and environmentalists, among others. (Emily Holden, Politico)
About MS-13: The Trump administration paints the Salvadoran-American gang as its ultimate enemy, but its policies will likely only strengthen the gang's grip on immigrant communities. (Dara Lind, Vox)
---
Visualized
On the Record: Here's what Ivanka Trump thinks of her father's idea to arm teachers in schools. (NBC)
---
Question of the Week
On Monday, the White House announced that President Trump will host French President Emmanuel Macron in April for the first state visit of his administration. While Trump has hosted many foreign leaders in the past, this is the first visit that will consist of a ceremonial welcome and a state dinner.
This week, we want to know: If you were president, which world leader would you invite to the White House for a formal visit—and why?
Share your response here, and we'll feature a few in Friday's Politics & Policy Daily.
-Written by Lena Felton (@lenakfelton) and Taylor Hosking (@Taylor__Hosking)
We want to hear what you think about this article. Submit a letter to the editor or write to letters@theatlantic.com.
Lena Felton
is a former editorial fellow at
The Atlantic
.