The Atlantic Politics & Policy Daily: Florida Shooting Survivors Descend on the State Capitol
Students who survived the Parkland, Florida, shooting met with top state leaders to lobby for gun control.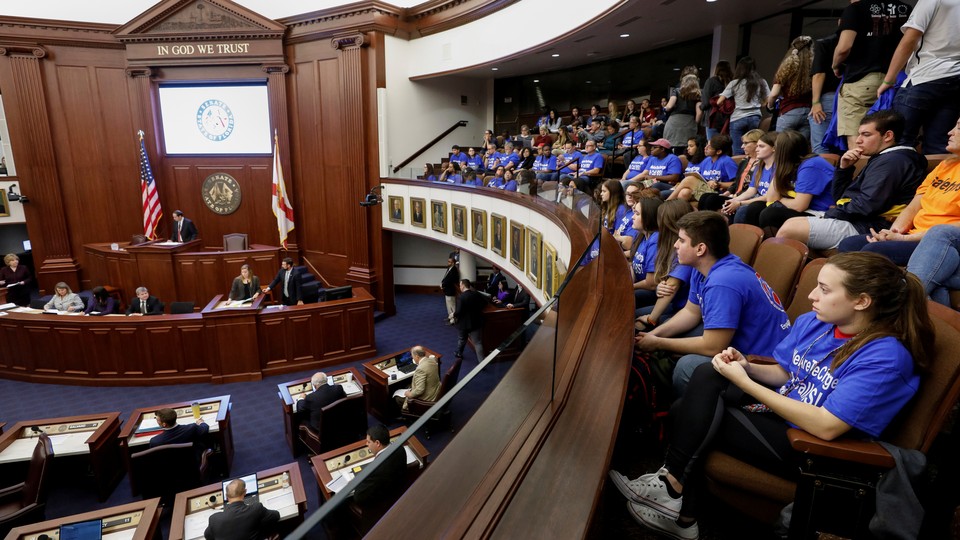 Today in 5 Lines
Billy Graham, the world-renowned evangelical preacher, died at the age of 99. Students who survived the Parkland, Florida, shooting met with top leaders in the state Capitol to lobby for gun control. President Trump also invited a group of students, parents, and teachers to a "listening session" about gun violence at the White House. Special Counsel Robert Mueller is reportedly investigating whether former Trump campaign chair Paul Manafort promised a banker a job in the White House in return for home loans. During a meeting at the Kennedy Space Center, Vice President Mike Pence announced candidates for the reinstated National Space Council, and pushed for collaboration between commercial space companies and the government.
---
Today on The Atlantic
The Great Uniter: Billy Graham's passing marks the end of an era for evangelicalism. Emma Green asks: "Will his legacy of bipartisan, ecumenical outreach be carried forward?"

'It's Still Grayish': A talented young coder living in Silicon Valley speaks with Alexis C. Madrigal about the one thing standing in the way of his success: his immigration status.

Down With the Statues: North Carolina is dismissing charges against several activists who tore down a Confederate statue in Durham last summer, a move that could set an important political precedent. (David A. Graham)
Follow stories throughout the day with our Politics & Policy portal.
---
Snapshot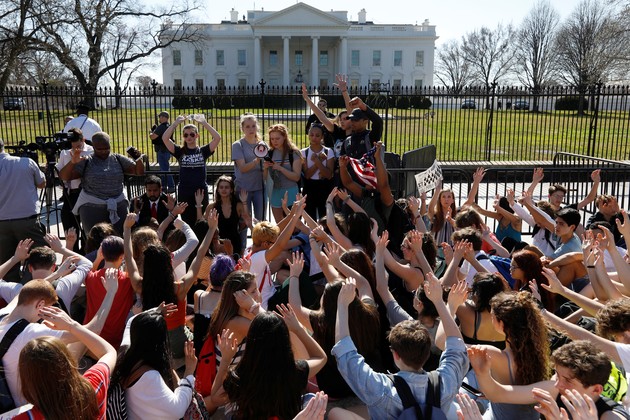 ---
What We're Reading
'WE ARE KIDS': An aide to Florida state Representative Shawn Harrison has been fired after he called students advocating for gun reform "crisis actors." (Alex Leary and Kirby Wilson, Tampa Bay Times)
Drawing Along Party Lines: Looking at Pennsylvania's new congressional-district map, one thing is clear: It's impossible to scrub politics from map-making. (Josh Kraushaar, National Journal)
America's Prized Products: As the Trump administration considers imposing new limits on imported steel and aluminum, trade partners are weighing retaliatory tariffs on home-grown products like Kentucky bourbon and Wisconsin cheese. (Scott Horsley, NPR)
It's Not Russia: Rich Lowry argues that "the Russian bot hysteria" obscures the fact that Americans hold fundamentally divergent beliefs—ones that run far deeper than Facebook posts. (National Review)
Quash the Rebellion: Veterans Affairs Secretary David Shulkin told Politico that the White House gave him permission to investigate what he calls "subversion" at his agency. (Arthur Allen)
---
Visualized
Gun-Regulations Guide: See how strictly your state regulates guns in comparison to the rest of the country. (Leslie Shapiro, Sahil Chinoy, and Aaron Williams, The Washington Post)
Remembering the Reverend: Look back on Billy Graham's life in photographs. (Time)
---
Question of the Week
On Tuesday, President Trump ordered Attorney General Jeff Sessions to propose regulations that would ban bump stocks, accessories that increase the firing rates of semi-automatic weapons. In the wake of the mass shooting at a high school in Parkland, Florida, some have argued for a reinstatement of the nationwide ban on assault weapons, while others have suggested that the solution lies in improving access to mental-health care.
Do you want to see specific reforms from lawmakers to address mass shootings in the U.S.? If so, what reforms?
Share your response here, and we'll feature a few in Friday's Politics & Policy Daily.
-Written by Lena Felton (@lenakfelton)