The Atlantic Politics & Policy Daily: Without a Hope
Hope Hicks said she's resigning as White House communications director.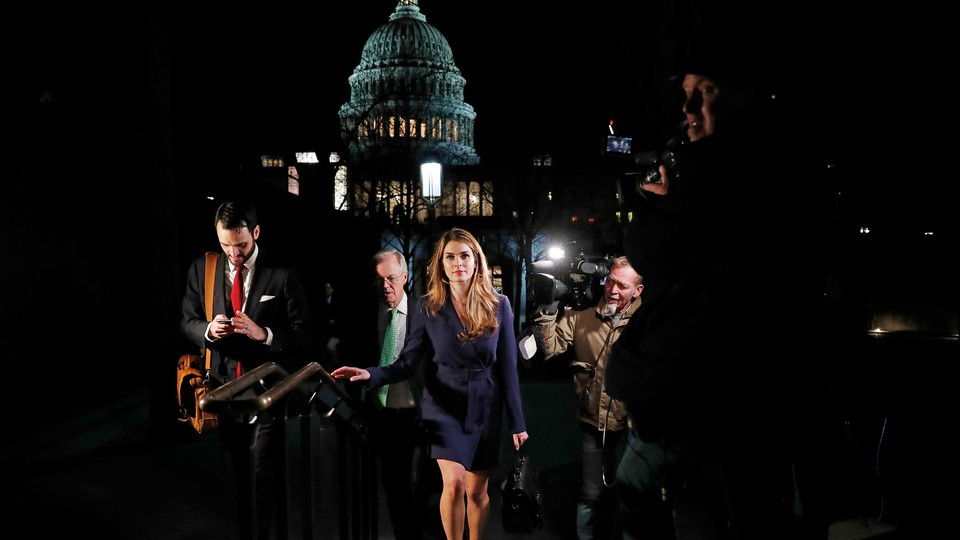 Today in 5 Lines
During a meeting with lawmakers, President Trump accused some Republicans of being "petrified of the NRA" and said that authorities should "take the guns first, go through due process second." Hope Hicks said she's resigning as White House communications director. Attorney General Jeff Sessions pushed back after Trump rebuked him on Twitter for calling on the inspector general to review accusations of government surveillance abuses. Dick's Sporting Goods, a major gun retailer, said it will stop selling all assault-style rifles in stores. Trump, along with Speaker Paul Ryan and Majority Leader Mitch McConnell, spoke at a private memorial for the late Reverend Billy Graham at the U.S. Capitol Rotunda.
---
Today on The Atlantic
Hard to Predict: The narrative that the Republican tax cut would boost wages and flatten stock prices is already unraveling, writes Derek Thompson.

'There's Always At Least One Kid in Tears': Across the country, more and more schools are taking part in mandatory active-shooter drills. Here's how the drills are affecting students. (James Hamblin)

Frustrated by the False Choice: A new subset of students are banding together across the country to address climate change: college Republicans. (Robinson Meyer)
Follow stories throughout the day with our Politics & Policy portal.
---
Snapshot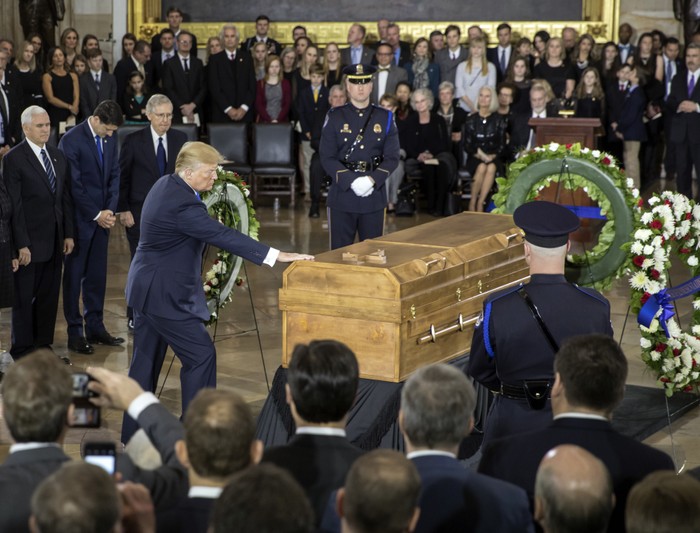 ---
What We're Reading
Coal Country Divided: Don Blankenship went to prison after an explosion at one of his company's coal mines killed 29 men. Now, he's running for Senate. (Trip Gabriel, The New York Times)
'We Should Not Stumble Into War': While Americans are paying attention to Donald Trump's latest tweets, the U.S. is facing the possibility of a large-scale military clash in Syria. (David French, National Review)
A Comeback for Steve Bannon?: In an interview with GQ, the former White House chief strategist compares the Times Up movement to the Tea Party, and describes his current plans to "weaponize ideas." (Ben Schreckinger)
America Has Unlimited Money: Republicans criticize safety-net programs for increasing the federal deficit. But subscribers to the Modern Monetary Theory argue that deficits don't matter because the government can print as much money as it likes. (Tom Streithorst, Vice)
Can't Take It Back: Various arms of U.S. government can recall faulty toasters, cars, drugs, and cosmetics. But no government entity can keep defective guns off the market. (Michael Smith and Polly Mosendz, Bloomberg)
---
Visualized
A New Partisan Divide: A recent poll shows the growing divide between Democrats and Republicans on the value of teaching black history in schools. (Michael Tesler, The Washington Post)
---
Question of the Week
On Monday, the White House announced that President Trump will host French President Emmanuel Macron in April for the first state visit of his administration. While Trump has hosted many foreign leaders in the past, this is the first visit that will consist of a ceremonial welcome and a state dinner.
This week, we want to know: If you were president, which world leader would you invite to the White House for a formal visit—and why?
Share your response here, and we'll feature a few in Friday's Politics & Policy Daily.
-Written by Elaine Godfrey  (@elainejgodfrey)