The Atlantic Politics & Policy Daily: The Wray We Were
FBI Director Chris Wray said President Trump has not "specifically directed" the intelligence community's efforts to counter future Russian meddling.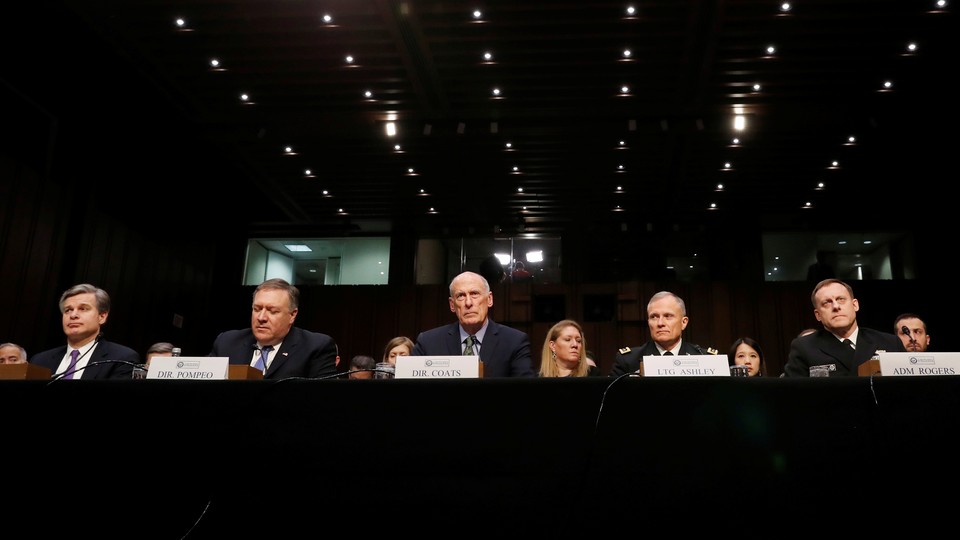 Today in 5 Lines
During a Senate Intelligence Committee hearing on global threats facing the United States, Director of National Intelligence Dan Coats said he expects Russia will try to disrupt the upcoming midterm elections. FBI Director Chris Wray said President Trump has not "specifically directed" the intelligence community's efforts to counter future Russian meddling. Wray also told lawmakers that the bureau provided the White House with information about former staff secretary Rob Porter twice last year, contradicting White House testimony that the process of looking into Porter's background "hadn't been completed." Porter resigned last week amid allegations of verbal and physical abuse by two ex-wives. Israeli police recommended that Prime Minister Benjamin Netanyahu be indicted on charges of bribery, fraud, and breach of trust.
---
Today on The Atlantic
Follow stories throughout the day with our Politics & Policy portal.
---
Snapshot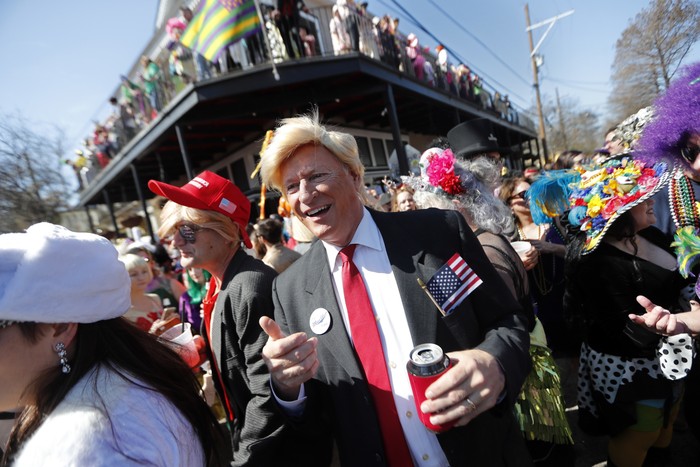 ---
What We're Reading
Blue Apron, From the Government?: The Trump administration is proposing a change to the Supplemental Nutrition Assistance Program. Under the proposal, half of all benefits would come in the form of a monthly package containing preselected items. (NPR)
Meet the Valve Turners: A group of five activists are doing everything they can to fight global warming. "I'm just more afraid of climate change than I am of prison," one said. (Michelle Nijhuis, The New York Times)
When the Center Gets Radical: Shadi Hamid argues that America needs more ideologues and fewer partisans in its current polarized political climate. (The Wall Street Journal)
Landlord President: More than 160 tenants of Trump properties pay the Trump Organization millions in rent every year, creating a massive potential conflict of interest. (Dan Alexander, Forbes)
Lady Linton: In a new profile, Louise Linton, the wife of Treasury Secretary Steven Mnuchin, explains her recent Instagram meltdown and describes life in the public eye. (Carrie Battan, Elle)
---
Visualized
'Guns Found Here': Roughly 8,000 firearms are being tracked every day by the National Tracing Center in Martinsburg, West Virginia. This short documentary shows how the tracing process works. (MEL Films)
---
Question of the Week
On Monday, the Senate opened up debate on immigration. Among other things, lawmakers are trying to reach an agreement on so-called "Dreamers," undocumented immigrants who were brought to the U.S. as children. The White House recently released an immigration framework that included a path to citizenship for 1.8 million young undocumented immigrants in exchange for more border security, ending the diversity lottery program, and limiting family-based migration. Trump called it a compromise, but the deal was rejected by Democrats and some Republicans who oppose cuts to legal immigration.
This week, we want to know: What does a compromise on immigration look like to you?
Share your response here, and we'll feature a few in Friday's Politics & Policy Daily.