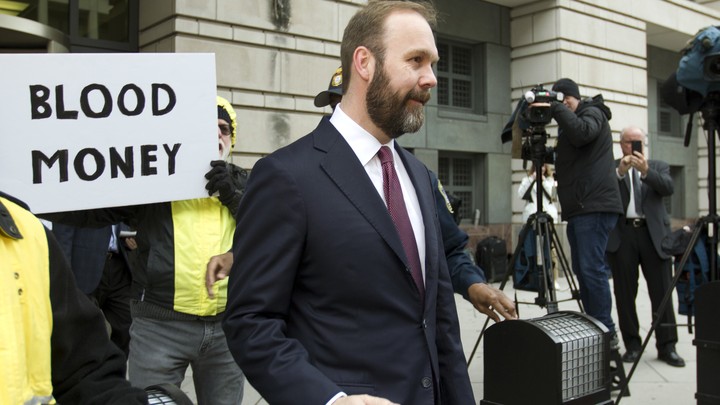 Today in 5 Lines
Rick Gates, a former Trump campaign aide, pleaded guilty to conspiracy and making false statements, and agreed to cooperate with Special Counsel Robert Mueller's investigation into Russian interference in the election. Mueller also issued new charges against former Trump campaign manager Paul Manafort, alleging he secretly paid former European politicians to lobby on behalf of Ukraine. During a speech at the Conservative Political Action Conference, President Trump criticized the armed officer who failed to stop the gunman in last week's mass shooting at a Florida high school, and doubled down on his suggestion to arm teachers. Florida Governor Rick Scott proposed raising the age limit for purchasing a firearm to 21 years old, breaking with the NRA's stance on the issue. The Trump administration imposed its largest package of sanctions ever against North Korea.
---
Today on The Atlantic
Bring Back Asylums?: This week, President Trump proposed reopening mental asylums as a solution to America's gun-violence problem. It's not the worst idea. (Olga Khazan)

Rubio's Lonely Fight: Both defenders and opponents of the NRA are incensed by the Florida senator's views on gun rights, but Marco Rubio's willingness to compromise might be what American politics needs in the future. (Reihan Salam)

'So What? Maybe It Is a Concentration Camp': Donald Trump is embracing former Arizona sheriff Joe Arpaio's punitive approach to immigration—and trying to implement it on a national scale. (Jeremy Raff)
Follow stories throughout the day with our Politics & Policy portal.
---
Snapshot
---
What We're Reading
Words of Advice: Parkland students are organizing a rally to protest gun violence on March 24 in Washington, D.C. Here are five things they must do for the march to have a lasting impact. (Jennifer Rubin, The Washington Post)
'I'm Completely Disgusted': The Broward County Sheriff's Office revealed a series of failures by the department in preventing the fatal shooting at a high school in Parkland, Florida. (Miami Herald)
'I Hear You': Donald Trump's use of notes during a school-safety listening session highlight the president's struggle with his role as empathizer-in-chief. (Julie Hirschfeld Davis, The New York Times)
Enough: In light of new conspiracy theories suggesting a connection between George Soros and the Parkland shooting, Kevin D. Williamson argues that the conservative movement "has become infected with Trump's dishonesty." (National Review)
Tension at CPAC: A panel on immigration at the Conservative Political Action Conference went off the rails when audience members drowned out panelists' presentation with "boos, laughter, and stories of 'obvious illegal immigrants defecating in the woods.'" (Alice Ollstein, Talking Points Memo)
---
Visualized
Hypocritical Hippies: In this video, David Frum argues that the gun lobby is rejecting a basic bargain: Rights come with responsibilities. (The Atlantic)
Coming Up Short: Food aid doesn't cover the price of food in 99 percent of U.S. counties. What's the gap in your county? (Kriston Capps and Juan Pablo Garnham, CityLab)
---
Question of the Week
On Tuesday, President Trump ordered Attorney General Jeff Sessions to propose regulations that would ban bump stocks, accessories that increase the firing rates of semi-automatic weapons. In the wake of the mass shooting at a high school in Parkland, Florida, some have argued for a reinstatement of the nationwide ban on assault weapons, while others have suggested that the solution lies in improving access to mental-health care.
This week, we asked whether you want to see specific reforms to address mass shootings in the U.S.
An overwhelming majority of you wrote in support of reinstating a ban on semi-automatic weapons, strengthening background checks, and raising the minimum age of firearm purchase. Tom M. also suggested that lawmakers "ban high capacity magazines and limit to 10 rounds max." George Guzman echoed this: "I'm a gun owner. I have a shotgun for hunting and a handgun for home protection." He added: "I'd like to see a ban on assault rifles and high-capacity magazines along with any mechanism that assists with rapid fire/machine gun like abilities."
Finally, Eric Ferschtman proposed taking a closer look at the facts: "Let's alter or eliminate altogether the Dickey Amendment, which has effectively banned the CDC from researching the links between mental health and gun violence. Undergirding the conversation with real data seems like a common-sense place to start."
Thanks for reading, and stay tuned for next week's Question of the Week!
-Written by Elaine Godfrey (@elainejgodfrey)
We want to hear what you think about this article. Submit a letter to the editor or write to letters@theatlantic.com.
Elaine Godfrey
is a staff writer at
The Atlantic
, where she covers politics.