The Atlantic Politics & Policy Daily: Off Brand
Associate Attorney General Rachel Brand reportedly plans to step down from her role at the Justice Department.
Today in 5 Lines
President Trump said the departure of staff secretary Rob Porter—who resigned following reports that he had abused two of his ex-wives—was "very sad," adding that he hopes Porter "will have a wonderful career." Associate Attorney General Rachel Brand reportedly plans to step down from her role at the Justice Department. Trump signed a sweeping spending bill, reopening the federal government hours after it was shut down. Democratic Representative Rick Nolan of Minnesota announced he will not seek reelection. The 2018 Winter Olympics Opening Ceremony will air at 8 p.m. ET on NBC.
---
Today on The Atlantic
Resistance in Crisis: Party leaders vowed last year to oppose President Trump and his policy proposals at every turn. Today, that resistance is waning. (Will Stancil)

What's Next for Trump?: Now that the Republican Party's readily attainable goals have been achieved, the president has the opportunity to push his populist agenda. (Reihan Salam)

The Church-Rebuilding Business: A provision in the budget bill would require FEMA, the Federal Emergency Management Agency, to treat religious organizations like any other nonprofit. This is how it would work. (Emma Green)
Follow stories throughout the day with our Politics & Policy portal.
---
Snapshot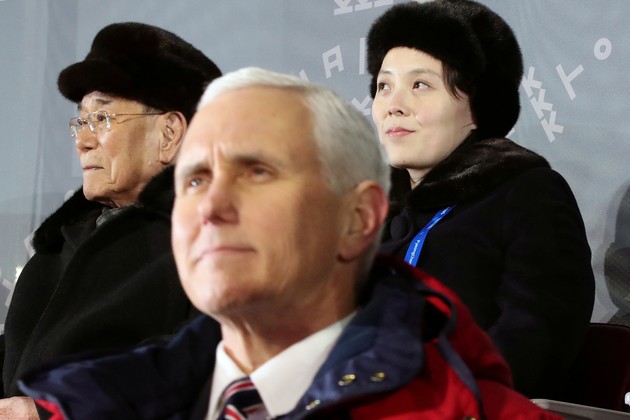 ---
What We're Reading
You Shall Not Pass: The Washington Post reports that dozens of people in the Trump White House don't yet have permanent security clearances to handle sensitive information. (Josh Dawsey, Matt Zapotosky, and Devlin Barrett)
Negotiating With Russia: The U.S. intelligence community has reportedly been conducting "a top-secret operation to recover stolen classified U.S. government documents from Russian operatives." (James Risen, The Intercept)
Your Move, Congress: Four immigration experts met for two hours to come to a compromise on immigration. Here's what they came up with. (Julia Preston, Politico)
Welcome to Bay View: In this Michigan town, only practicing Christians are permitted to buy houses. (Rose Hackman, The Guardian)
'We All Live on Campus Now': The "identity based 'social-justice'" movement born at America's most elite universities is bleeding into society at large, argues Andrew Sullivan. (New York)
Be Better: Democrats' lead going into the midterms is shrinking, argues David French. Here's why. (National Review)
---
Visualized
The Running List: Since Harvey Weinstein resigned from his company amid sexual-assault allegations, 68 other men have been accused of sexual misconduct. (Sarah Almukhtar, Michael Gold, and Larry Buchanan, The New York Times)
---
Question of the Week
In The Atlantic's March issue, Jonathan Rauch and Ben Wittes argue that "the best hope of defending the country from Trump's Republican enablers, and of saving the Republican Party from itself" is for all voters—Republicans and Democrats alike—to vote against Republican candidates at every opportunity, "until the party either rights itself or implodes."
This week, we asked if you believe the GOP needs to be defended from Donald Trump, and how you feel about this proposed strategy. The response was pretty mixed.
Many of you agreed with Wittes and Rauch. But DC Jones thinks it's an oversimplified solution. "One can both object to Trump and vehemently oppose the thought of electing more Democrats due to the party's increasingly left-wing positioning," he writes. "In the long run, policy is more important than personality (even Trump's!), so those who come to share Rauch and Wittes' views should probably think carefully about the potential consequences."
For others, the solution isn't to blow up the party, it's to offer voters another option. "The system is binary," writes Susan, "and it needs a third party or more. I truly believe that an independent president and a truly independent majority in Congress and the House is the only way forward. Too far to the left or right can only lead to further divisions in the country."
Finally, Josh agrees that the party needs to be defended from Trump's tone and style, but he argues that this is a "bonkers" strategy. "If your local House/Senate/governor's race has an honorable, intelligent, compassionate Republican running, then by all means vote for them! The GOP's tone/style was changed from within by Trump, and it can be changed from within back to an honorable group of men and women who have the country's best interests at heart."
Thanks for reading, and stay tuned for next week's Question of the Week!
-Written by Elaine Godfrey (@elainejgodfrey)