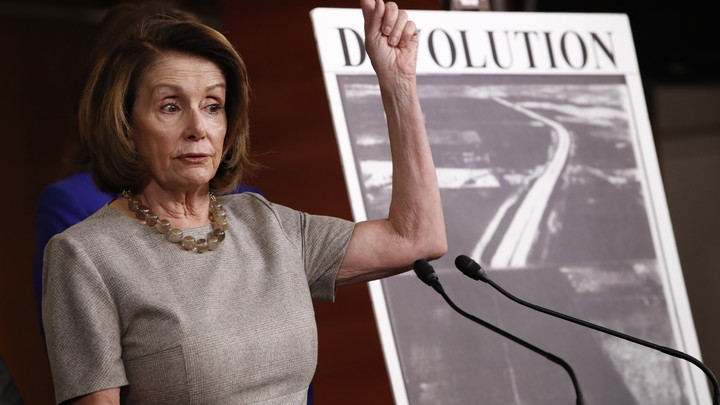 Today in 5 Lines
The House and Senate are expected to vote on a massive budget deal that will prevent another government shutdown and increase federal spending by about $300 billion. House Minority Leader Nancy Pelosi said she will not vote for the bill because it doesn't address the so-called "dreamers," undocumented immigrants brought to the U.S. as children, but it's not clear how many Democrats will follow her lead. The White House said President Trump "was surprised" by the reports that former staff secretary Rob Porter abused two of his ex-wives. Chief of Staff John Kelly reportedly knew that Porter had issues preventing him from receiving full security clearance. Trump met with former Secretary of State Henry Kissinger to discuss foreign policy.
---
Today on The Atlantic
Turning on Trump: New poll results show that President Trump's support among white, working-class women in the Midwest is waning. (Ronald Brownstein)

'Somebody Was Asleep at the Switch': Here's how a Nazi got on the ballot in an Illinois congressional race. (Elaine Godfrey)

The White House's Domestic-Abuse Problem: It's no surprise that none of President Trump's staff found the domestic-abuse allegations against Rob Porter disqualifying, since several members of the team have faced similar claims. (David Frum)
Follow stories throughout the day with our Politics & Policy portal.
---
Snapshot
---
What We're Reading
What Debt?: The Republican Party used to demand massive spending cuts, and adamantly oppose raising the debt ceiling. They seem to have changed their tune. (Damian Paletta and Erica Werner, The Washington Post)
'Välkommen, Senator McConnell': The GOP's current economic policies are making the United States more like Sweden, writes Kevin D. Williamson. (National Review)
'From Fallujah to FBI Investigation': California Representative Duncan Hunter is an ex-Marine who served three tours in Afghanistan and Iraq. Now the lawmaker's colleagues worry he's "on the brink of personal and political ruin." (Rachael Bade and John Bresnahan, Politico)
A Bigger Battleground: As part of their plan to retake the House, Democrats are now targeting more than 100 Republican-held congressional districts in the November midterms. (Alex Seitz-Wald, NBC News)
TTYL, HFC: If the budget deal announced by the Senate on Wednesday passes, it could be the end of the House Freedom Caucus. (Stan Collender, Forbes)
---
Visualized
'We're Entering a Missile Renaissance: Only five countries can hit any place on earth with a missile. That could soon change. (Sergio Pecanha and Keith Collins, The New York Times)
---
Question of the Week
In The Atlantic's March issue, Jonathan Rauch and Ben Wittes argue that "the best hope of defending the country from Trump's Republican enablers, and of saving the Republican Party from itself" is for all voters—Republicans and Democrats alike—to vote against Republican candidates at every opportunity, "until the party either rights itself or implodes."
Do you believe the GOP needs to be defended from Donald Trump? If so, do you agree with this strategy?
Share your response here, and we'll feature a few in Friday's Politics & Policy Daily.
-Written by Elaine Godfrey (@elainejgodfrey)
We want to hear what you think about this article. Submit a letter to the editor or write to letters@theatlantic.com.
Elaine Godfrey
is a staff writer at
The Atlantic
, where she covers politics.