The Atlantic Politics & Policy Daily: Much Ado About Nunes Thing
President Trump is reportedly expected to approve the release of a controversial memo, which alleges surveillance abuses by the FBI.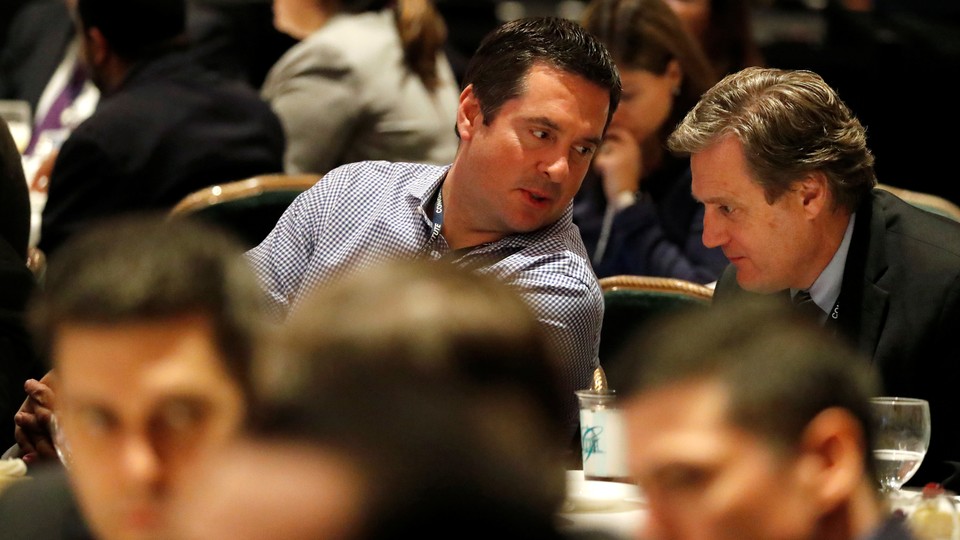 Today in 5 Lines
President Trump is reportedly expected to approve the release of a controversial memo, which alleges surveillance abuses by the FBI. CNN reports that alterations have been made to the document in response to concerns from the intelligence community, including FBI Director Christopher Wray. During his address at the GOP retreat in White Sulphur Springs, West Virginia, Trump advised lawmakers to "give a little" on immigration. Two students were wounded in a shooting at Salvador Castro Middle School in Los Angeles. Mitt Romney, the former Massachusetts governor and 2012 nominee for the presidency, said he'll announce whether he'll enter the race for U.S. Senate in Utah on February 15.
---
Today on The Atlantic
'What Amazon Does to Poor Cities': The company's expansion has created thousands of new jobs. But new jobs aren't always good jobs. (Alana Semuels)

What Do Kids Know About Slavery?: A new study shows that slavery is being mistaught—and often sentimentalized—in schools. (Melinda D. Anderson)

'The Smearing of Nikki Haley': Michael Wolff's insinuation that Nikki Haley had an affair with President Trump should serve as an important reminder: "Women, still, have relatively few ways to ascend; there are so many ways, though—still—for them to be brought down again." (Megan Garber)
Follow stories throughout the day with our Politics & Policy portal.
---
Snapshot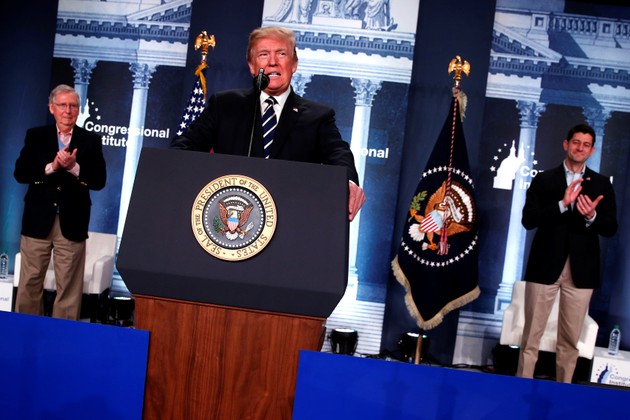 ---
What We're Reading
Casting Doubt: President Trump is reportedly telling his aides that the memo alleging FBI abuses of surveillance laws will help him discredit the Russia investigation. (CNN)
A Bipartisan Plan: F. H. Buckley argues that it should be easy for lawmakers to agree on President Trump's immigration plan; after all, it offers something for everyone. (New York Post)
Pence's Election Blueprint: Vice President Mike Pence is going into the midterms with a clear strategy—and he predicts that his party will win even more seats in the House as a result. (Jake Sherman and Anna Palmer, Politico)
Zombie Campaigns: A new report finds that former lawmakers have been "hoarding unspent campaign donations for years and using them to finance their lifestyle, advance their new careers and pay family members." (Tampa Bay Times)
An Unhealthy Commute: New York City's failing subway system has complicated morning commutes for millions of people, but no group has been more hurt than home-health workers. (Winnie Hu, The New York Times)
---
Visualized
The Many Sides of Trump: From unifier and optimist to boasting bully, the president has displayed a wide array of personalities during his first year. (Karen Yourish and Denise Lu, The New York Times)
---
Question of the Week
On Tuesday, President Trump delivered his first State of the Union address. He pitched an immigration framework that would provide a path to citizenship for 1.8 million young undocumented immigrants in exchange for funding for the border wall and cuts to legal immigration. He also touted job growth, asked for an infrastructure bill from Congress, and took a hard line against America's adversaries.
What is your sense of the state of the union? What areas do you think Congress should focus on in the next year?
Share your response here, and we'll feature a few in Friday's Politics & Policy Daily.
---
Most Popular on The Atlantic
-Written by Elaine Godfrey (@elainejgodfrey)