The Atlantic Politics & Policy Daily: 'It Is a Horrible Day For Us'
Broward County Superintendent Robert Runcie said there are "numerous fatalities" after a gunman opened fired at a high school in Parkland, Florida.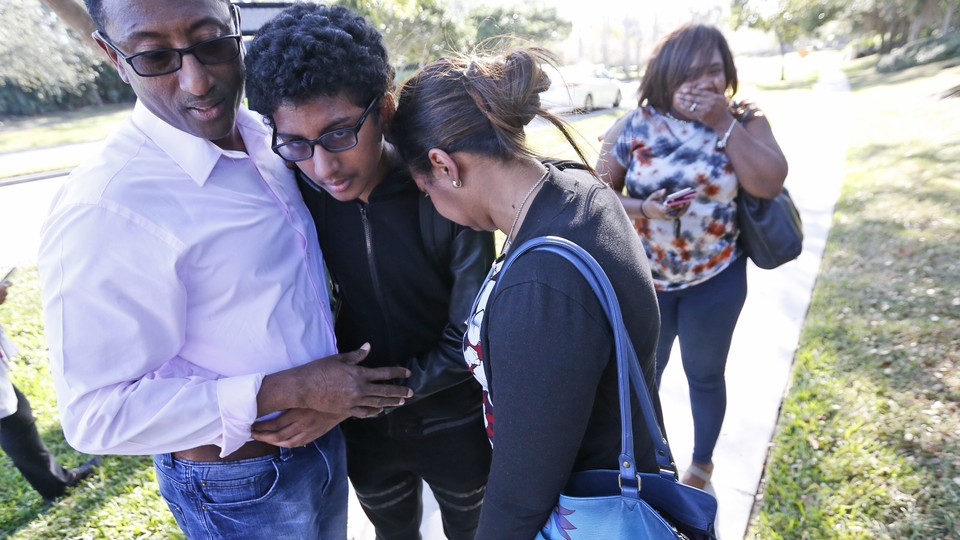 Today in 5 Lines
Broward County Superintendent Robert Runcie said there are "numerous fatalities" after a gunman opened fired at a high school in Parkland, Florida, adding "It is a horrible day for us." President Trump spoke with Florida Governor Rick Scott about the shooting and offered condolences to the families of the victims. Trump addressed former Staff Secretary Rob Porter's domestic-violence accusations, telling reporters he's "totally opposed to domestic violence of any kind." Republican Representative Trey Gowdy said his House Oversight Committee is investigating the White House's handling of Porter's employment. Senate moderates are expected to unveil a bipartisan proposal on immigration Wednesday evening.
---
Today on The Atlantic
Follow stories throughout the day with our Politics & Policy portal.
---
Snapshot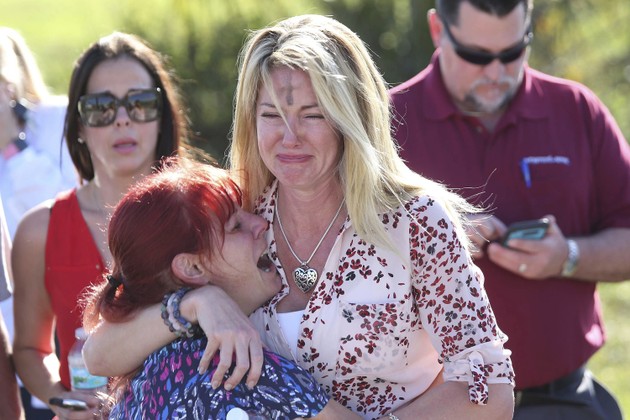 ---
What We're Reading
This Isn't Normal: Why is the American media constantly calling out President Trump for being unconventional when his presidency has been relatively normal? (Ben Shapiro, Townhall)
Flying First Class: Following reports that he flies first class on the government's dime, Environmental Protection Agency Administrator Scott Pruitt told the New Hampshire Union Leader that he does so because of security concerns. (Michael Cousineau)
Who's the Next John Kelly?: The chief of staff's future in the White House has been called into question, and the search for his replacement has reportedly become "a death match." (Gabriel Sherman, Vanity Fair)
Leave Bari Alone: Cathy Young argues that the Twitter mobbing of New York Times columnist Bari Weiss shows that language policing can do more harm than potentially insensitive comments. (The Forward)
'I Don't Want to Believe It's Happening': The State Department is reportedly promoting significantly fewer people into senior Foreign Service positions. (Franco Ordoñez, McClatchy)
'Personal Travel Concierge': Veterans Affairs Secretary David J. Shulkin's chief of staff "doctored an email and made false statements to create a pretext for taxpayers to cover expenses for the secretary's wife on a 10-day trip to Europe last summer," according to a report by the agency's inspector general. (Lisa Rein, The Washington Post)
---
Visualized
Love Bigly: This generator uses Trump phrases to write Valentine's Day cards. (Brenna Williams and AJ Willingham, CNN)
Funding a Solution: Here's how a police chief, a governor, and a sociologist would spend $100 billion to fight the opioid crisis. (Josh Katz, The New York Times)
---
Question of the Week
On Monday, the Senate opened up debate on immigration. Among other things, lawmakers are trying to reach an agreement on so-called "Dreamers," undocumented immigrants who were brought to the U.S. as children. The White House recently released an immigration framework that included a path to citizenship for 1.8 million young undocumented immigrants in exchange for more border security, ending the diversity lottery program, and limiting family-based migration. Trump called it a compromise, but the deal was rejected by Democrats and some Republicans who oppose cuts to legal immigration.
This week, we want to know: What does a compromise on immigration look like to you?
Share your response here, and we'll feature a few in Friday's Politics & Policy Daily.