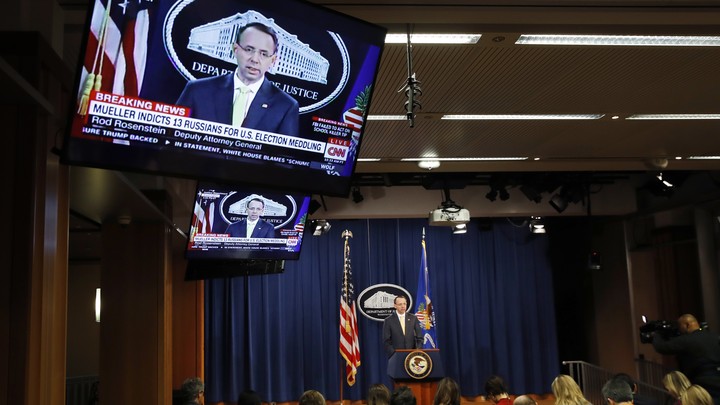 Today in 5 Lines
Deputy Attorney General Rod Rosenstein announced that Special Counsel Robert Mueller had indicted 13 Russian nationals and three Russian entities for allegedly interfering in the 2016 presidential election. During a press conference, Rosenstein emphasized that "there is no allegation in this indictment that any American was a knowing participant" in the scheme, and that "there is no allegation in the indictment that the charge conduct altered the outcome of the 2016 election." President Trump responded on Twitter, saying that "the results of the election were not impacted. The Trump campaign did nothing wrong - no collusion!" Attorney General Jeff Sessions ordered a review of FBI and Justice Department protocol after FBI Director Christopher Wray said the bureau failed to follow-up on a tip it received about Florida shooting suspect Nikolas Cruz in January. And former Republican presidential nominee Mitt Romney formally announced that he's running for Senate in Utah.
---
Today on The Atlantic
Read the Indictment: Here's the full text of Special Counsel Robert Mueller's indictment of 13 Russian nationals. (Priscilla Alvarez and Taylor Hosking)

What Does It Mean?: The indictment helps flesh out the details of Russian meddling in the 2016 presidential election. (Natasha Bertrand)

So You Think Someone Is Mentally Ill: After Wednesday's mass shooting, many Republicans, including President Trump, stressed the need to address mental-health issues. But identifying mental illness is difficult—and so is helping someone get treatment. (Olga Khazan)
Follow stories throughout the day with our Politics & Policy portal.
---
Snapshot
---
What We're Reading
Who Is Richard Pinedo?: Special Counsel Robert Mueller's team reached a plea deal with a California man accused of committing identity fraud as part of the probe into Russian interference in the U.S. election. (Dylan Scott, Vox)
'We Know What Will Happen Next': Mass shootings in the United States have become so familiar they seem to be following "the same sad script." (Nestor Ramos, The Boston Globe)
Playboy President?: An account of an alleged affair between Donald Trump and a former Playmate of the Year details the complex system Trump and his allies used to keep his infidelity out of the press. (Ronan Farrow, The New Yorker)
What Pro-Life Women Want: Some women don't want the "right to choose." Rachel Lu explains why. (The Week)
Check Your Facts: In the aftermath of the deadly shooting at a Florida high school, dozens of advocates, politicians, and news outlets called it the 18th school shooting in the U.S. in 2018. That statistic is wrong. (John Woodrow Cox and Steve Rich,The Washington Post)
---
Visualized
The Problem With #MeToo: In this short video, The Atlantic's Caitlin Flanagan argues that the movement is at risk of undermining its own goals.
---
Question of the Week
On Monday, the Senate opened up debate on immigration. Among other things, lawmakers were trying to reach an agreement on so-called "Dreamers," undocumented immigrants who were brought to the U.S. as children. On Thursday, negotiations ended with four immigration proposals failing to advance in the Senate. This week, we asked: What does a compromise on immigration look like to you?
A few of you said that President Trump's plan—which includes a path to citizenship for 1.8 million young undocumented immigrants in exchange for bolstering border security, ending the diversity lottery program, and limiting family-based migration—was the best compromise.
Jane proposed "a path to citizenship with an end to the [visa] lottery." She would also advise lawmakers to "agree to spend a big bundle of money on the wall knowing that future legislators can reverse that decision. Kick the family-based migration issue down the road pending constitutional questions."
And Sharon wrote in to say that she would be willing to support enhanced border security in exchange for a path to citizenship for Dreamers, "but not a physical wall at an unrealistic cost." She added: "We simply can't afford that. Take the $30 million projected for [Trump's proposed military] parade and put it toward border security. Compromise on reducing the diversity lottery program (reduce availability) and go ahead and reduce family-based migration but not eliminate it. Compromise on both sides."
Thanks for reading, and stay tuned for next week's Question of the Week!
-Written by Elaine Godfrey (@elainejgodfrey)
We want to hear what you think about this article. Submit a letter to the editor or write to letters@theatlantic.com.
Elaine Godfrey
is a staff writer at
The Atlantic
, where she covers politics.