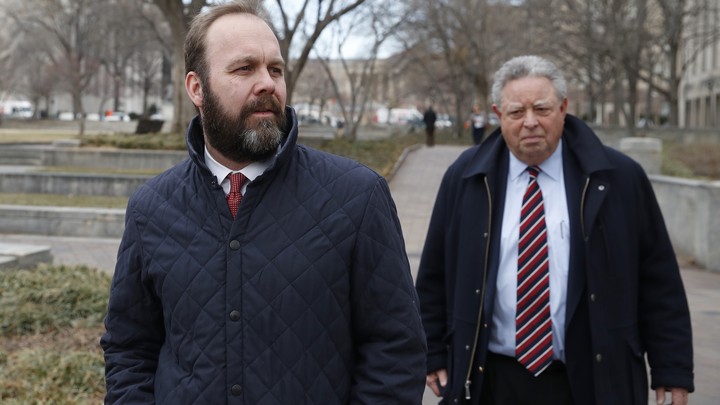 Today in 5 Lines
Special Counsel Robert Mueller filed new fraud and money-laundering charges against former Trump campaign chairman Paul Manafort and his associate Rick Gates. During a roundtable with state and local officials, President Trump defended the National Rifle Association and expanded on his proposal to arm teachers. In a speech at the Conservative Political Action Conference, NRA Executive Vice President Wayne LaPierre said "opportunists" exploited last week's mass shooting in Parkland, Florida, "for political gain." The Pentagon is reportedly considering options that would allow Trump to replace National-Security Adviser H.R. McMaster. And a St. Louis grand jury indicted Missouri Governor Eric Greitens on one count of invasion of privacy.
---
Today on The Atlantic
Follow stories throughout the day with our Politics & Policy portal.
---
Snapshot
---
What We're Reading
ICYMI: Here are the six most newsworthy statements Senator Marco Rubio made during the CNN town hall on Wednesday. (Daniella Diaz, CNN)
America's Poison: Andrew Sullivan argues that the opioid epidemic is a product of American culture—and unless we resolve deeper social, cultural, and psychological problems, we won't be able to stop it. (New York)
A Fact of the Matter: In the wake of the Parkland shooting, President Trump suggested arming teachers. Doing so would come at a steep price. (Philip Bump, The Washington Post)
'The Frat House of Representatives': Judging from the "reel of nonstop unethical—and, in some cases, potentially illegal—behavior" on display in the House this past year, Congress's ethical standards seem to have fallen. (John Bresnahan and Rachael Bade, Politico)
---
Visualized
Ranked: These are the 50 most powerful people in Trump's Washington. (GQ)
---
Question of the Week
On Tuesday, President Trump ordered Attorney General Jeff Sessions to propose regulations that would ban bump stocks, accessories that increase the firing rates of semi-automatic weapons. In the wake of the mass shooting at a high school in Parkland, Florida, some have argued for a reinstatement of the nationwide ban on assault weapons, while others have suggested that the solution lies in improving access to mental-health care.
Do you want to see specific reforms from lawmakers to address mass shootings in the U.S.? If so, what reforms?
Share your response here, and we'll feature a few in Friday's Politics & Policy Daily.
-Written by Elaine Godfrey (@elainejgodfrey), Taylor Hosking (@Taylor__Hosking), and Lena Felton (@lenakfelton)
We want to hear what you think about this article. Submit a letter to the editor or write to letters@theatlantic.com.
Elaine Godfrey
is a staff writer at
The Atlantic
, where she covers politics.
Lena Felton
is a former editorial fellow at
The Atlantic
.