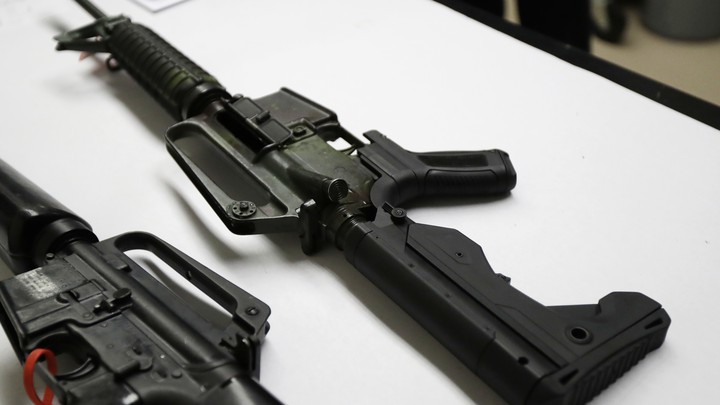 Today in 5 Lines
President Trump directed Attorney General Jeff sessions to propose regulations that would ban bump stocks, accessories that increase the firing rates of semi-automatic weapons. Earlier in the day, Trump denied allegations that he had forcibly kissed a young woman in Trump Tower in 2006. Attorney Alex van der Zwaan pleaded guilty to lying to federal authorities investigating Russian meddling in the 2016 presidential election. The Trump administration proposed new rules that would make it easier for consumers to buy cheaper health insurance. And Republican officials in Pennsylvania said they will sue to block a new congressional-district map released on Monday.
---
Today on The Atlantic
'We All Want to Do What's Right': Texas Representative Joe Barton, who survived last summer's mass shooting at a congressional baseball practice, says Republicans are just as upset as Democrats about the Parkland shooting. (Elaina Plott)

What Will It Take?: Implementing legislative restrictions on guns will require an enormous amount of political mobilization. But it's not impossible. (Julian E. Zelizer)

Toxic: House Intelligence Committee Chairman Devin Nunes has created something much worse than weak oversight: fake oversight. (Amy Zegart)
Follow stories throughout the day with our Politics & Policy portal.
---
Snapshot
---
What We're Reading
The Beginning of #NeverAgain: Here's how a group of students in Parkland, Florida, started a new activist movement, just four days after the fatal mass shooting at their school. (Emily Witt, The New Yorker)
Humoring Children: In the wake of the shooting in Florida, high-schoolers urged lawmakers to implement stricter gun regulations. Ben Shapiro argues that young people aren't equipped to make gun policy. (National Review)
Trump's Fixer: Donald Trump's longtime lawyer, Michael Cohen, reportedly stifled damaging stories about Trump using "intimidation tactics, hush money and the nation's leading tabloid news business, American Media Inc." (The New York Times)
'Slow-Motion Trainwreck': Some Democrats are worried that they've gotten so caught up in anti-Trump messaging that they aren't effectively making the case for their own party. (Heather Caygle, Politico)
The Plot Thickens: Federal law enforcement have reportedly identified more than $40 million in "suspicious" financial transactions associated with companies controlled by Donald Trump's former campaign manager Paul Manafort. (Jason Leopold, Anthony Cormier, and Tanya Kozyreva, BuzzFeed)
---
Visualized
How They Got Their Guns: See how the perpetrators of recent mass shootings obtained their firearms. (The New York Times)
---
Question of the Week
On Tuesday, President Trump ordered Attorney General Jeff Sessions to propose regulations that would ban bump stocks, accessories that increase the firing rates of semi-automatic weapons. In the wake of the mass shooting at a high school in Parkland, Florida, some have argued for a reinstatement of the nationwide ban on assault weapons, while others have suggested that the solution lies in improving access to mental-health care.
Do you want to see specific reforms from lawmakers to address mass shootings in the U.S.? If so, what reforms?
Share your response here, and we'll feature a few in Friday's Politics & Policy Daily.
-Written by Elaine Godfrey (@elainejgodfrey)
We want to hear what you think about this article. Submit a letter to the editor or write to letters@theatlantic.com.
Elaine Godfrey
is a staff writer at
The Atlantic
, where she covers politics.