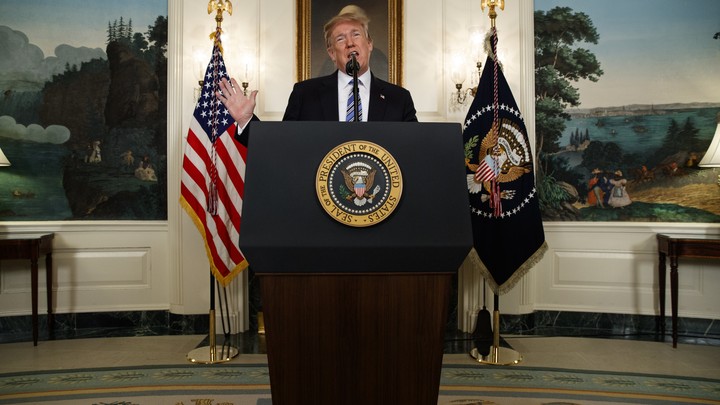 Today in 5 Lines
In the aftermath of the high school shooting in Parkland, Florida, President Trump stressed the need to address mental-health issues, but did not touch on gun laws. Nikolas Cruz, the 19-year-old charged with killing 17 people at the school, made his first appearance in court. The FBI was warned about the alleged shooter in September. The Senate failed to advance a bipartisan immigration deal. During a closed-door meeting with the House Intelligence Committee, former White House chief strategist Steve Bannon refused to answer some of the panel's questions related to his time at the White House.
---
Today on The Atlantic
Follow stories throughout the day with our Politics & Policy portal.
---
Snapshot
---
What We're Reading
The Responsibility of a Free People: Gun legislation won't stop mass shootings like the one in Florida, argues David French. Instead, people should rise to the occasion. (National Review)
Hmmm: President Trump's inaugural committee reportedly paid nearly $26 million to a company founded by a friend of Melania Trump while donating less than expected to charity. (Maggie Haberman and Kenneth P. Vogel, The New York Times)
Trump's Forgotten Men: The president still hasn't delivered on his pledges to improve infrastructure or trade deals, yet his working-class supporters remain "stubbornly, heartbreakingly hopeful that he will eventually keep his promises to them." (Molly Ball, Time)
Things Are Heating Up: An increasingly nervous GOP is trying to field new 2018 candidates in three states. (Scott Wong and Lisa Hagen, The Hill)
---
Visualized
The Numbers: This list takes stock of the victims, sites, killers, and weapons from every mass shooting in the United States in recent history. (Bonnie Berkowitz, Denise Lu, and Chris Alcantara, The Washington Post)
---
Question of the Week
On Monday, the Senate opened up debate on immigration. Among other things, lawmakers are trying to reach an agreement on so-called "Dreamers," undocumented immigrants who were brought to the U.S. as children. On Thursday, two immigration proposals—a bipartisan agreement and an amendment backed by the White House—failed on the Senate floor.
This week, we want to know: What does a compromise on immigration look like to you?
Share your response here, and we'll feature a few in Friday's Politics & Policy Daily.
-Written by Elaine Godfrey (@elainejgodfrey)
We want to hear what you think about this article. Submit a letter to the editor or write to letters@theatlantic.com.
Elaine Godfrey
is a staff writer at
The Atlantic
, where she covers politics.