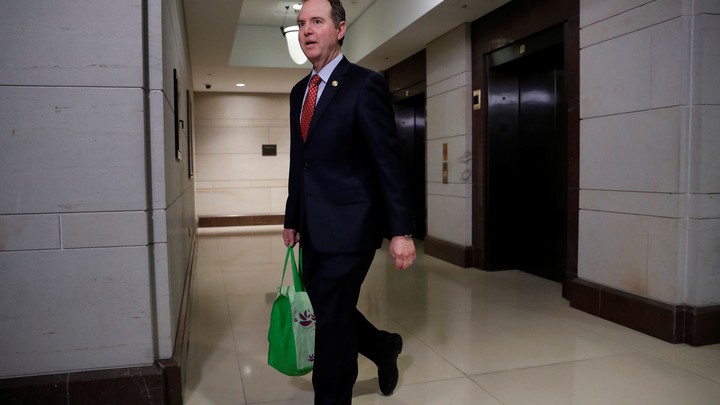 Today in 5 Lines
President Trump accused Representative Adam Schiff, the ranking member on the House Intelligence Committee, of leaking confidential information. The committee is expected to vote Monday night to release the Democrats' rebuttal to a controversial Republican memo alleging FBI surveillance abuses. Senators John McCain and Chris Coons formally introduced a new bipartisan immigration plan that would protect young undocumented immigrants. The Supreme Court declined a request from the Pennsylvania GOP to block a lower court ruling requiring the state to redraw its congressional lines. And the Dow dropped more than 1,000 points.
---
Today on The Atlantic
Boycott the GOP: In order for conservatives to save the Republican Party from itself, argue Jonathan Rauch and Benjamin Wittes, they need to vote for a straight Democratic ticket.

What to Call the Trump Era: James Fallows offers four terms that may capture this political moment.

The End of the Social Safety Net?: Republicans want to use the 1996 Temporary Assistance for Needy Families Program as a model for reforming welfare, but the program hasn't helped lift people out of poverty. (Vann R. Newkirk II)
Follow stories throughout the day with our Politics & Policy portal.
---
Snapshot
---
What We're Reading
'The Other Whisper Network': After years of fearing retribution from men for speaking out about sexual misconduct, women have started fearing a new kind of retribution—this time from other women. (Katie Roiphe, Harper's)
How the FBI Reacted: When President Trump fired FBI Director James Comey, the White House said the agency's employees were grateful for the decision. Messages from FBI leadership suggest otherwise. (Lawfare)
Trump Is Right: Highlighting the problems at the FBI doesn't mean President Trump is at war with the bureau, argues Mollie Hemingway. Rather, criticism is necessary to hold law enforcement accountable. (The Federalist)
State of Resistance: California may be known for its liberal politics, but upcoming races will feature candidates who are even more progressive than current lawmakers. (Scott Wilson, The Washington Post)
The Only Republican on the Ballot: An outspoken Holocaust denier, activist anti-Semite, and white supremacist is running for an Illinois congressional seat. And he's poised to get the Republican nomination. (Lynn Sweet and Frank Main, Chicago Sun Times)
---
Visualized
Side by Side: Take a look at how Donald Trump's immigration proposal compares with other plans. (Danielle Kurtzleben, NPR)
---
Question of the Week
In The Atlantic's March issue, Jonathan Rauch and Ben Wittes argue that "the best hope of defending the country from Trump's Republican enablers, and of saving the Republican Party from itself" is for all voters—Republicans and Democrats alike—to vote against Republican candidates at every opportunity, "until the party either rights itself or implodes."
Do you believe the GOP needs to be defended from Donald Trump? If so, do you agree with this strategy?
Share your response here, and we'll feature a few in Friday's Politics & Policy Daily.
-Written by Elaine Godfrey (@elainejgodfrey)
We want to hear what you think about this article. Submit a letter to the editor or write to letters@theatlantic.com.
Elaine Godfrey
is a staff writer at
The Atlantic
, where she covers politics.