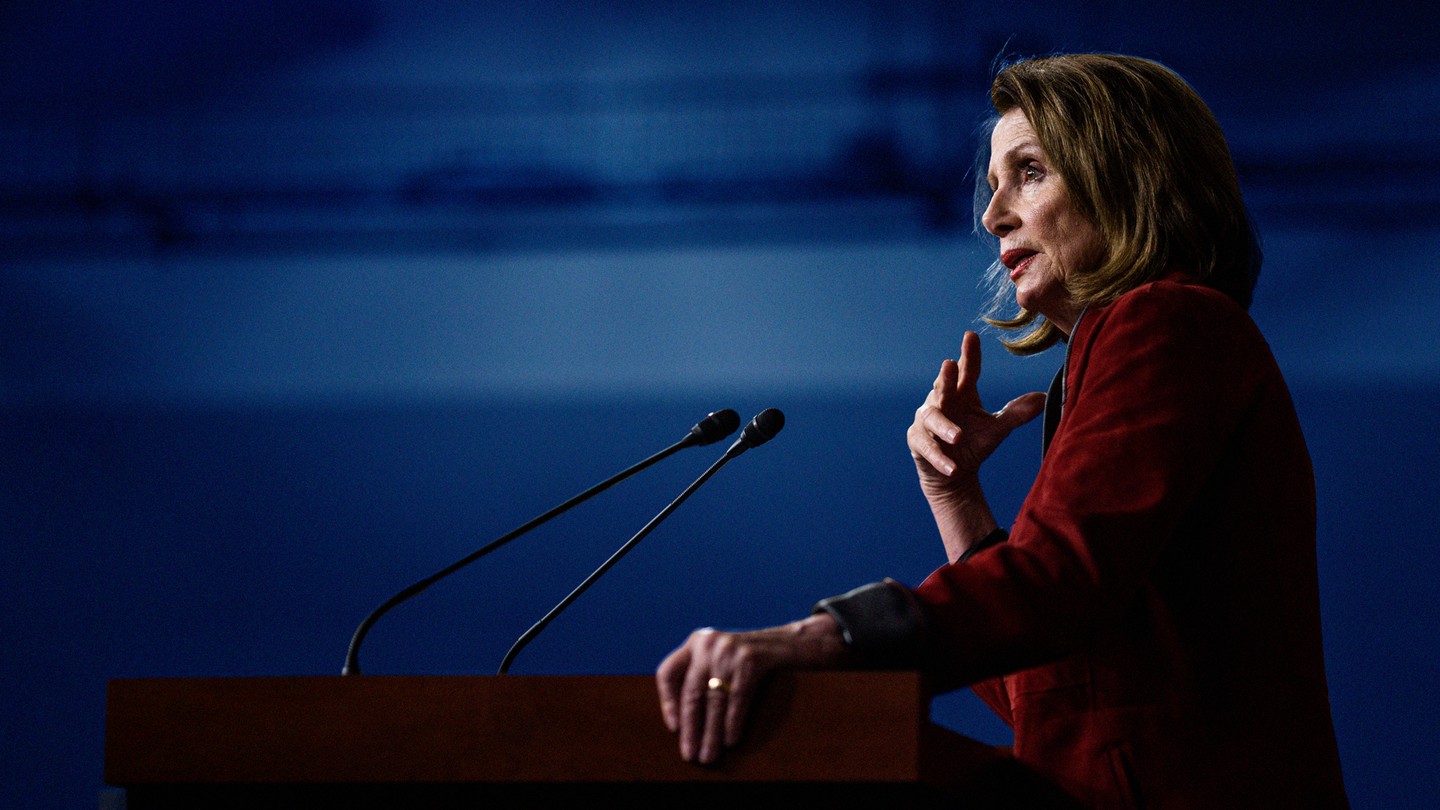 The Once and Future Speaker?
Is Nancy Pelosi's leadership the key to Democrats regaining the House, or the thing that will hold them back?
Here," Nancy Pelosi likes to say, "the currency of the realm is the vote."
With a majority of the votes in Congress, you have power. Without them, you have nothing. Pelosi, the House minority leader, knows it as well as anyone in Washington. She had the votes to make history in 2007 when she became speaker of the House, not only becoming the first woman to hold that title but in the process, rising higher in U.S. electoral politics—and closer in the line of presidential succession—than any woman before or since. Four years later, the votes were gone, washed away in a Republican wave that relegated Democrats back to the minority. Now, with Democrats poised to make a run at recapturing the House majority this fall, Pelosi has a chance to set another mark: the first person to reclaim the speaker's gavel in more than 60 years and the first ever to do so after so long an interval.
But a small group of restive Democrats is gunning for Pelosi. They're maneuvering in public, and recruiting support behind the scenes, to force her departure. They want to set off a generational shift for Democrats that they believe is long overdue. And their efforts—joined to the familiar attacks from Republicans, who have made them the linchpin of their bid to retain the House—are calling Pelosi's political future into question just as she sits on the cusp of regaining power.
Pelosi, who turns 78 in March, does not talk about the possibility of becoming speaker again. She has said that if Hillary Clinton had won the presidency, she was prepared to retire—knowing both that the legislative legacy she shared with Barack Obama would be safe and that a woman would have not just a seat at the leadership table, but the most powerful one. And there are a few Democrats who believe she will step down after the November elections regardless of the outcome. "I would expect that we would have, win or lose, new leadership by January 1, 2019," Representative Bill Pascrell of New Jersey, a Democrat who's been both for and against Pelosi's leadership over the years, told me. "She would love nothing more than to win, and then she'll get out."
But her allies and opponents alike generally presume that she wants a second shot at making history. They see her battling President Trump and congressional Republicans with the same verve, legislative savvy, and fund-raising prowess that carried the Democrats back to power, and her into the speaker's office, once before. Anyone doubting Pelosi's energy need only have witnessed her eight-hour speech in support of "Dreamer" immigrants last week—an address that smashed a 109-year-old House record, demonstrated her resolve to an anxious party base, and proved that well into her eighth decade, she could stand and talk longer than any filibustering senator and do it in four-inch heels. "I would have gone to the bathroom well before then, let me tell you," quipped Speaker Paul Ryan.
She maintained remarkable unity among her Democratic ranks during the first year of Trump's presidency, losing not a single vote to either of the two major GOP policy initiatives—repealing the Affordable Care Act and rewriting the tax code. She remains a fund-raising juggernaut for the Democratic Party, a role that carries even more importance with the departures of Obama and Clinton.
Yet whether Pelosi gets another shot depends not only on the will of voters this November, nor on her own desire to extend her political career. Her fate will rest with a Democratic caucus that is already substantially different than the group that first elected Pelosi as its leader 15 years ago. Its membership is more diverse and more in tune with Pelosi's own progressive politics. But each election brings a new batch of Democrats a generation or more younger than the trio of septuagenarians who have led the caucus for more than a decade. They are more apt to doubt the leadership's strategy, to push for a more dynamic policy agenda, and to voice frustration when Pelosi's tactical maneuvering runs into a dead end—as it did when, despite the attention her eight-hour floor speech received, Democrats could not secure protections for Dreamers in the budget deal.
A party whose message speaks to technologies and economies and social norms of the future, and whose core constituency is younger and ever more diverse, is still led by politicians reared in an America unrecognizable to most voters today. After nominating the 69-year-old Clinton in 2016, Democrats could enter 2020 with a pair of early Baby Boomers, Joe Biden and Bernie Sanders, jockeying for the right to take on the 74-year-old Trump.
But none of them have held quite so tight a grip on the reins of power as the eldest of them all, the once—and perhaps future—speaker of the House. And as the party grapples yet again with the merits of change versus experience, Pelosi's fate this year could point the way toward Democrats' bigger decisions to come. Many of these new members in her caucus are yearning for change at the top, fearing that the same woman who charted the Democrats' comeback 12 years ago is—fairly or unfairly—the leader now standing in the way of their return to power.
"That's the harsh reality of 2018," said Representative Seth Moulton of Massachusetts, one of a group of vocal Pelosi critics in the Democratic caucus. "It's going to be harder to win in 2018 if we don't have new leadership."
Americans may like a good comeback story, but they rarely recycle their national leaders. Only once in the country's history have voters returned to the White House a president whom they had previously booted out of office: Grover Cleveland, who won his second term in 1892 after losing his initial bid for reelection in 1888. In the House of Representatives, where the leaders are chosen by the members themselves, speakers rotated in and out several times in the 19th century. But parties have lately shown much less loyalty to their leaders. When a party loses its majority, its leader is usually soon shown the door. No one has reclaimed the speakership after losing it in more than 60 years, since Sam Rayburn began his third and final stint atop the House in 1955.
Pelosi, however, has had unusual staying power. First elected by her colleagues in 2002, she has already served as party leader longer than any Democrat or Republican in the last 40 years. After Democrats lost the House in 2010, Pelosi easily beat back a challenge from Representative Heath Shuler, a more conservative Blue Dog and former football star from North Carolina. She faced stiffer competition in the weeks after Clinton's loss in 2016, when Representative Tim Ryan of Ohio argued that heading into 2018, Democrats needed a new quarterback who could better connect with the white voters who backed Trump in the Rust Belt and the Midwest. Recognizing the threat, Pelosi issued a series of proposals aimed at elevating junior members and opening up more senior posts atop committees and in the leadership. She won again handily, but Ryan captured nearly a third of the vote in the secret-ballot election, significantly improving upon Shuler's tally.
Pelosi's talents as a legislative leader and political inside player are undisputed. Ed Markey, the liberal Massachusetts congressman-turned-senator, once described her as "San Francisco on the outside, Baltimore on the inside"—a reference to Pelosi's upbringing in a Democratic family that included two Baltimore mayors (her father and her brother). After moving to California, she worked up the party ranks as a fundraiser, heading the state party and serving as a national finance chairwoman before making her first run for the House in 1986. When she became speaker 20 years later, she quickly consolidated power, outflanking committee chairmen like John Dingell of Michigan and Charlie Rangel of New York, who had served in the House for decades before she arrived.
The litany of major legislation Pelosi ushered through the House during the first two years of Obama's presidency seems all the more impressive in light of the years of congressional gridlock that have followed: a $787 billion economic stimulus package, the Dodd-Frank Wall Street reform bill, credit-card and student-loan reform, a cap-and-trade climate-change bill that died in the Senate, and of course, the Affordable Care Act.
"When we were in the majority, I don't remember Nancy ever losing," said Representative Gerry Connolly, a Virginia Democrat who has worked in and around Congress since the 1970s. "She knows how to count votes. She knows both gentle persuasion and tough persuasion. Those are skills you need in a leader. She's formidable and not to be underestimated."
Pelosi's skills have even earned the grudging respect of the same Republicans who demonized her on the campaign trail, only to watch a succession of their own leaders struggle to match her record. "Paul Ryan needs to take some lessons from Nancy Pelosi and learn what it means to have a majority," conservative Representative Raúl Labrador of Idaho complained after Republicans initially failed to pass a health-care bill last year.
Pelosi is far more pragmatic than her critics on the right care to admit, a style born out of political necessity and a focus on getting results. When she presided over large Democratic majorities as speaker, her caucus ranged from hardline liberals itching to impeach George W. Bush and Dick Cheney to a handful of Southern conservatives who, by Obama's second term, had turned into Republicans.
Code Pink activists protested outside her home when she refused to support cutting off funding for the Iraq war despite the Democrats' campaign pledge to bring American troops home. She brushed off demands that the House consider articles of impeachment against Bush and Cheney, a preview of her more recent opposition to efforts by Democratic Representative Al Green of Texas to force a debate on impeaching Trump.
None of Pelosi's victories, though, were as hard-won as, or have been as fiercely protected since, the 2010 passage of the Affordable Care Act. By the time it came up for a final vote—after Scott Brown's surprise Senate win in Massachusetts had nearly killed the effort altogether—Pelosi had already sold her progressive members on compromise after compromise. A single-payer plan was long gone. She had given in on the public option. And in a last concession to a group of holdouts, she allowed the inclusion of language ensuring that the law would not direct federal funds to abortion.
Women's groups were up in arms. During a meeting in her office, recalled John Lawrence, her chief of staff at the time, Pelosi leaned on her reputation as one of the Democratic Party's most ardent supporters of abortion rights, reminding the groups that concessions would have to be made to secure the essential votes of some pro-life Democrats. "This is a health-care bill. This is not an abortion bill," she told the activists.
Nearly eight years later, the ACA remains the law of the land. Nearly all of its core architects are gone—the president who signed it, the majority leader, Harry Reid, who steered it through the Senate, each of the committee chairmen who took a hand in writing the landmark bill. Pelosi, however, has stayed.
I'm worth the trouble, quite frankly," Pelosi told reporters last June, a day after progressive activists had poured their hearts, their souls, and millions of dollars into a special House election in Georgia—and lost. It was a rare personal acknowledgement of the uncomfortable flip side of her record as Democratic leader: If Pelosi's considerable talents and accomplishments are undeniable, so is her enduring unpopularity.
Pelosi has been a favorite piñata for Republicans from the moment she stepped onto the national stage. The formula of tying just about any Democratic congressional candidate to Pelosi's record, words, or merely an unflattering image of her face may be stale, but that Republicans keep coming back to it election after election is evidence that it's effective. Pelosi's Democratic critics quickly blamed Jon Ossoff's defeat in Georgia on that tried-and-true tactic. "Nancy Pelosi is not the only reason that Ossoff lost. But she certainly is one of the reasons," Representative Filemon Vela of Texas said at the time.
And like an army gift-wrapping its battle plans and air-dropping them over enemy lines, Republicans have told Democrats exactly what's coming this fall. Their ads against Conor Lamb, the candidate running in the next hotly contested House special election in Pennsylvania in March, have starred Pelosi—despite the fact that Lamb has vowed not to vote for her. "She's our secret weapon," Trump let slip during a speech in Ohio, drawing knowing laughter from the crowd. "I just hope they don't change her. There are a lot of people that want to run her out."
Pelosi's allies see a barely-concealed sexism in the Republican strategy, and they argue that it's no more or less effective than any effort to demonize a political leader. As far back as 1980, Republicans ran ads targeting then-Speaker Tip O'Neill. Democrats did the same to Newt Gingrich, and they're likely to try to take aim this fall at Paul Ryan and Mitch McConnell, who polls show are just as widely reviled as Pelosi, if not more.
To a greater degree than presidential candidates, congressional leaders have their public image defined by their political opponents. Their job is less to inspire than to govern, to translate lofty promises into tough compromises. There are no gauzy ad campaigns on their behalf to counter the attack ads or tout their personal accomplishments; voters outside San Francisco rarely see Pelosi in soft focus, as a mother of five and a grandmother of six. "Maybe she should have launched a more aggressive personal public relations campaign to create an image," Lawrence said. "But I don't really think that's important to her."
In private, Pelosi tends to shrug off the attacks. She'll flick at her shoulder as if swatting away a fly. "I've never seen her upset by it," Lawrence told me. "She's been in this business since she was in sundresses in grammar school. She understands the nature of this business. She's very unsentimental about the business of politics."
Publicly, however, Pelosi revels in the GOP's obsession with her, arguing it's a testament to her effectiveness. During the press conference after Ossoff's loss last June, she proudly noted that Republicans had spent $100 million to attack her over the years while Ryan had been the beneficiary of a similar amount of money when he was the GOP's vice presidential nominee in 2012. As speaker now, his national approval ratings are no better than Pelosi's. When a reporter asked Pelosi why she should keep her job, she was ready to make her own defense. "You want me to sing my praises?" she replied with a smile. "Well, I'm a master legislator. I am a strategic, politically astute leader."
But if the topic shifts to her age and longevity at the top, Pelosi bristles. When Luke Russert, then of NBC News, asked at a press conference in 2012 if it was time for her to make way for the next generation of Democrats, she called the question "offensive" as a group of fellow Democratic women laughed and shook their heads behind her. To Pelosi, the question was impossible to divorce from her gender. While it's true that all three senior members of the House Democratic leadership team—Pelosi, Minority Whip Steny Hoyer, and Assistant Leader James Clyburn—are in their late 70s, only one of them waited until her youngest child was nearly done with school to run for Congress. "You've got to take off about 14 years for me," Pelosi told Russert, "because I was home raising a family, getting the best experience in diplomacy, interpersonal skills."
T
he problem for Pelosi is not that Republicans believe her image is irretrievably damaged; it's that a sizable number of House Democrats do, too. "It's not fair to Leader Pelosi," Moulton told me. "She doesn't deserve the criticism that she's received from the Republicans. Much of it is manufactured by the right."
"But nonetheless," he concluded, "it's effective."
There has been an undercurrent of Democratic discontent with Pelosi for years. When the party was in the majority, it generally came from Blue Dogs, who fretted that her liberal image was toxic in their conservative districts. Others chafed at her centralized leadership style. Now, however, the opposition is more generational, coming from a cadre of more vocal members—Ryan, Moulton, Vela, and Kathleen Rice of New York, among others—who are younger and in most cases newer to Congress and looking to advance.
In interviews over the last several weeks, they acknowledged Pelosi's strengths and accomplishments, conceding that she was not wholly to blame for the constant barrage of GOP attacks against her. But, these Democrats say, Pelosi sometimes makes it too easy for Republicans by bungling the party's message or by making an offhand remark that goes awry. They winced when, during an appearance in November on Meet the Press, she referred to Representative John Conyers as "an icon" while the party was trying to get the long-serving Michigan Democrat to resign following allegations of sexual harassment. Rice said Pelosi's comments "ceded the moral high ground" and set women and the Democratic Party back "decades."
More recently, Republicans have mocked Pelosi's arguably over-the-top rhetoric about their new tax law, which she compared to "Armageddon" in the days before it passed Congress. When Pelosi dismissed as "crumbs" the $1,000-plus bonuses and tax cuts going to the middle class, the GOP quickly put the comment in ads characterizing her as out-of-touch with working people.
"Great leaders know when it's time to step aside, and I obviously have been calling for her leadership team to step aside," Rice told me. "I think it would be advantageous to us if that were made clear before the election."
Pelosi, she told me, "has her reasons for staying, but at some point, it's up to the caucus to decide."
Privately, however, Pelosi's critics in the caucus are far less diplomatic.
"For us to go into this election with her as our leader is absolute insanity," one House Democrat told me on the condition of anonymity to speak candidly about Pelosi. "No one in their right mind would think this is a good idea. I just think she is putting her own personal interests in front of the caucus's. And if we don't win the House back, it is going to be because of her. These districts are hard enough to overcome, and to overcome with an anchor around our neck is political malpractice."
In an effort to force the issue, this member of Congress is personally advising Democratic candidates to say that they won't vote for Pelosi as speaker. If enough potential majority-makers rule out supporting her in the crucial first vote on the House floor, she would effectively have no path back to the speaker's chair.
So far, however, just two Democratic candidates in competitive districts have done so: Lamb in Pennsylvania, and Paul Davis, a former gubernatorial nominee who is running for an open seat in Kansas.
Among more junior House Democrats, there is frustration not only with Pelosi but with the entire senior leadership team, including Hoyer, 78, and Clyburn, 77, who have blocked the paths of younger, ambitious members for more than a decade. Some of them are pushing for the party to join Republicans in adopting term limits for top committee slots, a sore spot for veterans in the Congressional Black Caucus for whom the color-blind seniority system was once the only assured way to accumulate power in Congress.
Pelosi's allies tend to dismiss her internal critics as a small-but-vocal chorus of attention-seekers. But in the fall, a member of her leadership team broke ranks: Representative Linda Sanchez of California, who as vice chairwoman of the caucus is the fifth-ranking House Democrat. In an appearance on C-SPAN, she called for each of the top three—Pelosi, Hoyer, and Clyburn—to transition out. "They are all of the same generation, and, again, their contributions to the Congress and the caucus are substantial," Sanchez said. "But I think there comes a time when you need to pass that torch. And I think it's time."
Then there is the freighted question of who might replace Pelosi whenever she does step aside.
Hoyer, her former rival, has long wanted a shot at the top spot, and he has given no indication of having given up on that goal. He is well-regarded across the caucus and has defeated challengers before, but he's a year older than Pelosi, more moderate politically, and would be an odd choice for a party that has grown more diverse and moved farther to the left in the last decade. In the event that Pelosi steps down, Democrats close to Hoyer view him as someone with the necessary experience to serve as a bridge to the next generation of party leaders, according to a Democrat familiar with those conversations. Whether the caucus would go along with that kind of transitional plan, however, is unclear.
In recent years, Democrats who were once seen as potential heirs to Pelosi have come and gone, no longer willing to wait for the leader's spot to open up. Chris Van Hollen of Maryland grabbed an open Senate seat. Xavier Becerra jumped at the chance to be California's attorney general—a post that could position him for a future run for governor or the Senate. And Steve Israel of New York left elected office altogether to become a novelist.
The top contenders now figure to include Sanchez and Representative Joseph Crowley of New York, a Queens powerbroker who is chairman of the caucus. Both have made no secret of their desire to move up, and Crowley briefly considered challenging Pelosi in 2016. The same goes for Ryan and Moulton, who have also not ruled out long-shot bids for president in 2020. Representative Adam Schiff of California is another possibility, having used his post as the top Democrat on the House Intelligence Committee to become the party's leading voice on the Russia investigation and a fixture on cable news—and drawing Trump's ire in the process. Schiff also owes his newfound prominence almost entirely to Pelosi, who as party leader had sole discretion to elevate him on the committee.
"The caucus wants change," a House Democratic leadership aide told me, speaking on the condition of anonymity to discuss the sensitive topic of Pelosi's eventual exit. "That's why it's bubbled up. This is very clear."
The aide predicted Pelosi would not become speaker again if the party only won a narrow majority. Democrats, the aide argued, would need to pick up at least 40 seats—16 more than they need for a majority—for Pelosi to have the 218 votes she'll need on the floor to reclaim the speakership.
Democrats are divided as to when the conversation about the future should take place. The group that includes Moulton and Rice wants Pelosi to make her intentions clear now, in the hopes that her impending departure will take a line of attack away from Republicans. "I think that would be a tremendous example of selfless leadership for the party and the country," Moulton told me.
It's also wishful thinking. "Who leads Democrats after the next election is up to the caucus," Pelosi spokesman Drew Hammill told me when I asked whether she would declare her intentions sooner. Pelosi's office declined to make her available for an interview about her own future at a time when her goal is the broader campaign for a Democratic majority in the House. "Her focus is on winning the House back," Hammill said. "After that, it's up to her colleagues."
Nor is there an internal drumbeat for her to go. Based on interviews with a cross-section of the caucus, a much larger group of House Democrats believe it's foolhardy for the party to engage in a circular firing squad in the run up to the election. "Nancy Pelosi will not be the issue in 2018," said Representative Hakeem Jeffries of New York, a Democrat who Pelosi nominated to a senior elected communications post last year. "Donald Trump will be the issue. Paul Ryan will be the issue. Mitch McConnell will be the issue. The reckless Republican Congress will be the issue."
"We have an opportunity to take the House back, but we have to proceed in a unified, surgical fashion with everyone focused on the singular goal of winning the majority," he told me. "The worst thing we as Democrats could do is engage in a family feud and somehow manage to snatch defeat out of the jaws of victory."
There's never really a good time for internal feuding in politics, and the more restless Democrats in the House caucus worry that waiting until November to resolve the Pelosi question will be too late. One reason why no dethroned speaker has reclaimed the office in decades is that when voters turn out one party for another, it's usually in search of change, not restoration. Clinton learned that the hard way twice in eight years—first when Democrats rejected her for Obama in 2008, and then again when a decisive number of Obama voters cast their lot with Trump.
It's a lesson not only for Pelosi but also for Biden, who is weighing a bid to be the first ex-vice president, after Richard Nixon, to win the presidency after his party was turned out of the White House. Change is a powerful argument for politicians young and old alike, but it's an easier sell when the faces at the top aren't so darn familiar.
By all accounts, Pelosi was as surprised as anybody when Donald Trump won in 2016, denying Clinton the presidency and keeping the electoral glass ceiling right where Pelosi had left it in 2010. She told The New York Times last fall that she might have retired had Clinton won the presidency. But there's a healthy amount of skepticism that she actually would have left, and she told virtually no one else at the time. "There was no plan of any kind," a person close to Pelosi told me.
Nor was there likely ever to be a plan. When it comes to her future, Pelosi has always kept her decisions closely held. Current and former aides say she has little interest in the palace intrigue that the Beltway press is fond of writing about, and which she, according to one of them, refers to as "navel-gazing." "That's your problem to worry about," she'll tell her staff.
Pelosi decided almost immediately that Trump's victory necessitated her staying on, both to protect the ACA and to lead Democrats during a time of turmoil. The party would be without Obama or Clinton, and though Chuck Schumer had years of experience developing strategy and message, he would be leading the Senate caucus for the first time. "You needed some experience," an adviser recalled.
The Trump-Schumer dynamic is one of the most closely-scrutinized in Washington—two New Yorkers with big egos and a love of the spotlight, who see themselves as dealmakers. And because of the Senate's 60-vote threshold for legislation, Schumer is the more powerful Democrat at the moment.
But House Republicans have struggled to keep their members unified, and when they have lacked the votes to pass spending bills, Pelosi and the Democrats have found leverage. In September, she and Schumer—or "Chuck and Nancy," as the president called them—persuaded Trump to side with them on a short-term extension of government funding and the debt ceiling over the 18-month duration that Ryan and McConnell were seeking. "Here, the currency of the realm is the vote," Pelosi crowed at the time, explaining how they had managed to get their way. "You have the votes? No discussion necessary. You don't have the votes? Three months." It was the high point of her year, a brief moment that carried the promise of future bipartisan action on immigration and other issues.
If Pelosi has proven a useful foil for Republicans, so has Trump proven advantageous to her. Accounts of their interactions have frequently made it into news stories, often in ways that strengthen Pelosi's standing among her members.
During the president's first meeting with congressional leaders after taking office, it was Pelosi who spoke up to correct him when he falsely claimed that he would have won the popular vote had it not been for millions of fraudulent ballots. "Mr. President, that's not true," she responded.
Later in the year, she described a White House meeting in which several male Cabinet officers and Republican lawmakers began talking over her. "Does anyone listen when a woman speaks around here?" Pelosi asked the group.
And in September, when Trump tweeted words of reassurance to young immigrants who would be at risk for deportation once he ended the Deferred Action for Childhood Arrivals program, Pelosi told her members—and then confirmed to reporters—that the post came at her explicit request. "I was reporting it to my colleagues: I said, 'This is what the president asked me to do,' and boom, boom, boom, the tweet appeared," Pelosi recalled during a press conference. "So that was good."
Taken together, the anecdotes show Pelosi as she undoubtedly wants to be seen: unafraid to confront Trump and his overwhelmingly male inner circle to their faces, yet also able to coax the president into sending a message he might not otherwise have sent. While Trump has needled Schumer as "Crying Chuck" on Twitter, he has, until recently, been relatively tame toward Pelosi—a curious decision given how much venom Republicans usually direct her way around campaign time.
"I don't think he's figured her out, and that's a good thing," a person close to Pelosi told me.
On her end, it's a tricky balance to strike. She can't appear too chummy with a man many of her members consider a racist autocrat who should be impeached. When Pelosi and Schumer thought they had an agreement with Trump to enact the Dream Act in exchange for stiffer border security—a pact he quickly backed away from—immigrant activists shouted her down during a press conference in California. On the other hand, if Democrats want anything out of Trump while he's president, they're going to have to negotiate with him.
Projecting power, however, is not the same as having it. Pelosi's eight-hour speech on the Dreamers may have proven her endurance, but it did not win any additional concessions from Republicans nor yield a deal on immigration. In fact, the performance made it seem as if Pelosi was fighting harder than she actually was. When the House voted later in the week on the bipartisan Senate budget deal that lacked a fix for DACA, 73 Democrats broke with Pelosi to ensure its passage—a result that likely would not have occurred had she made an all-out effort to keep her caucus in line.
Despite the defeat, it was the kind of challenge Pelosi has embraced before, and appears to be relishing once again. "I love the fray," she told reporters last year. She knows how the dynamic would shift if Democrats won the majority. She'd have the votes—the currency of the realm. That is, if her party is willing to give her that gavel once more.