Why Romney Is Running for Senate
The former Republican presidential nominee extolled his adoptive state's values as a better option for his party, and his country, as he announced his bid for Senate.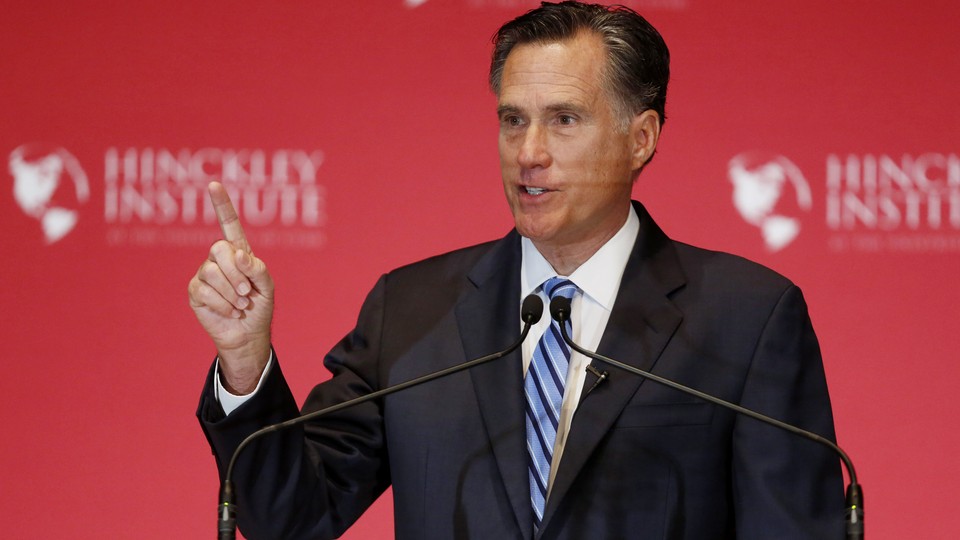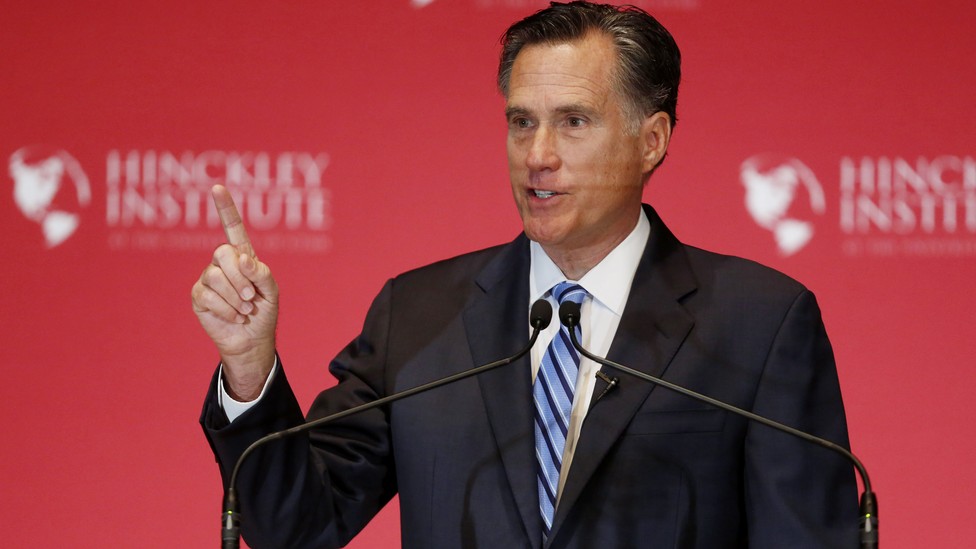 Mitt Romney launched his long-anticipated campaign on Friday, tweeting, "I am running for United States Senate to serve the people of Utah and bring Utah's values to Washington."
Over recent weeks, much of the national pundit chatter has focused on whether he will be returning to the political arena as a friend or foe to Donald Trump. But in interviews this week, advisers and allies close to the candidate told me he will seek to avoid direct combat with the president this year, and emerge instead as a full-throated pitchman for his adoptive home state—making the case that Utah's distinctive brand of conservatism could offer a better way forward for the GOP and the nation.
"Utah has a lot to teach the politicians in Washington," Romney said in his announcement video, presenting the Beehive State as a model for emulation. He cited its balanced budget, export-based economy, and openness to immigration. "And on Utah's capitol hill," he pointedly added, "people treat one another with respect."
"I think it will be very much a Utah-centric campaign," said Derek Miller, a longtime Romney ally and the CEO of Utah's World Trade Center. "[Romney] wants the country to look at Utah as an example. Why are things going so well here? … What lessons are there to learn, and how do you take them back to the nation's capital?"
Romney has previewed this message himself in a handful of public appearances this year, extolling Utah's pro-business ethos, robust civil society, and pragmatic policymaking. In a speech to the Salt Lake City Chamber of Commerce last month, Romney raved about "how much Utah has to teach the nation"—flipping through slides as he detailed the state's booming economy, its efforts to curb carbon emissions, and its success in navigating issues like immigration that continue to divide and perplex Washington, D.C.
All of this might sound like pandering from a carpetbagger looking to curry favor with would-be constituents. After all, Romney grew up in Michigan and spent most of his adult life in Massachusetts. But people close to him say that Romney—who famously turned around the floundering Salt Lake City Olympics in 2002, and later became the first Mormon to win a major-party presidential nomination—has long felt a deep kinship with Utah. When his 2012 presidential bid ended, he and his wife Ann chose to build a house outside of Salt Lake, and Romney has spent much of his semi-retirement in the state skiing, playing with his grandkids, and hosting an annual summit for high-powered politicos and corporate leaders in Park City.
"He and Ann could have lived anywhere in the country … and this is the place where they felt most comfortable living out the rest of their lives. They built a house to die in, basically," said a Romney adviser, who requested anonymity to discuss private matters.
More to the point, the adviser said, Romney is a true believer in the Utah model of governance—and he plans to make it a central theme of his campaign. Rather than define himself as the Republican antidote to Trump, he will champion a brand of Republicanism that he believes could be the antidote to Trumpism. Rather than barnstorm the state with withering condemnations of the president's character—as he did in 2016, when he denounced Trump as a "phony" and a "fraud"—he will seek to advance a proactive policy vision to contend with Trump-style nationalism.
Romney will continue to call out the president's behavior when he  feels compelled to, advisers say—as he did in the wake of Charlottesville—but he won't be piling on after every outlandish early-morning Tweet. "I would be surprised if he mentions Trump's name 10 times on the campaign trail," said Miller.
Of course, such a strategy is unlikely to satisfy those yearning for a dose of #NeverTrump catharsis in Romney's rhetoric.
"I think a lot of people are predicting this kind of cage match between Romney and Trump," said Boyd Matheson, who served as Senator Mike Lee's chief of staff and is now an editor at the Deseret News. "Some of those people hate Romney, and some of those people hate Trump, and both of those groups are going to be sadly disappointed. He's not going to pick fights with the president just for the sake of picking fights."
But while Romney may not be joining the resistance quite yet, his allies argue that this circumspect strategy could be more productive in the long run.
Even as Trump has successfully conquered much of American conservatism, deep-red Utah has remained surprisingly resistant to his forays. In the 2016 primaries, Trump suffered his worst defeat in the state, finishing dead last behind even John Kasich. He ended up carrying Utah in the fall, but with just a paltry plurality of the vote—in a state that had backed Romney against Obama by nearly 50 points. And in the year since he took office, there has been little indication that the state's Republicans feel pressured to board the Trump Train. When Trump rolled out his controversial travel ban, Utah's governor went out of his way to tout the state's history of welcoming refugees. Meanwhile, in last year's special election to replace Representative Jason Chaffetz, the winner was a relatively moderate, business-friendly mayor who admitted that he hadn't voted for Trump.
"I always laugh when people say we're the reddest of red states," said Rod Arquette, a popular conservative talk-radio host in Utah. "I don't believe we are as conservative as people say we are. On some of the moral issues, we're conservative. But I also think we're willing to listen and try to solve problems. We have a culture of collaboration here."
That culture has made headlines in recent years as policymakers, faith leaders, and activists across the political spectrum have worked together to come up with innovative approaches to immigration, homelessness, religious freedom, and LGBT rights. Many Utah Republicans believe their state offers a model for what post-Trump GOP governance might look like.
These dynamics help explain how Romney has managed to remain so popular in a heavily Republican state (one poll put his statewide favorability rating at 69 percent) while keeping his distance from a Republican president. And while a handful of obscure Republicans have expressed interest in challenging Romney, he is widely favored to win the primary and the general. As Arquette told me, "I think the coronation has already begun for Mitt Romney."
Romney's influence in the state was on full display this week, when Utah Republican Chairman Rob Anderson gave an interview to the Salt Lake Tribune harshly criticizing the Romney's candidacy. "I think he's keeping out candidates that I think would be a better fit for Utah because, let's face it, Mitt Romney doesn't live here, his kids weren't born here, he doesn't shop here," he told the paper, adding, "He has never been a Trump supporter."
Instead of casting doubt on Romney's chances at the seat, Anderson's remarks were met with a swift and punishing backlash from Utah Republicans. One top elected official told me he was "shocked" by the comments. Another high-powered Republican called the interview "idiocy," while a third charitably chalked it up to Anderson's "anxiousness" and "inexperience." (All three sources requested anonymity to offer candid assessments of a local party leader.) By day's end, Anderson was forced into a full retreat, releasing a statement that praised Romney and expressed "regret" that his comments "came across as disparaging or unsupportive."
But if Romney appears politically invincible now in the state he hopes to represent—and champion—in Washington, his advisers insist that he's not taking anything for granted. In the weeks to come, he is expected to travel the state extensively, meeting with voters, immersing himself in hyperlocal issues, and prioritizing Utah news outlets over national media.
"I think when he pulls up in his pickup truck in a county convention with the other candidates and walks up without a big entourage, Utahns are going to be blown away by that," said Thomas Wright, a Republican National Committee Member from Utah. "I think that's what he's going to do."