Romney Is Already Being Considered for a Republican Leadership Position
Senate GOP leaders have expressed an early interest in elevating the sometime Trump critic—even though he hasn't yet announced a run for office.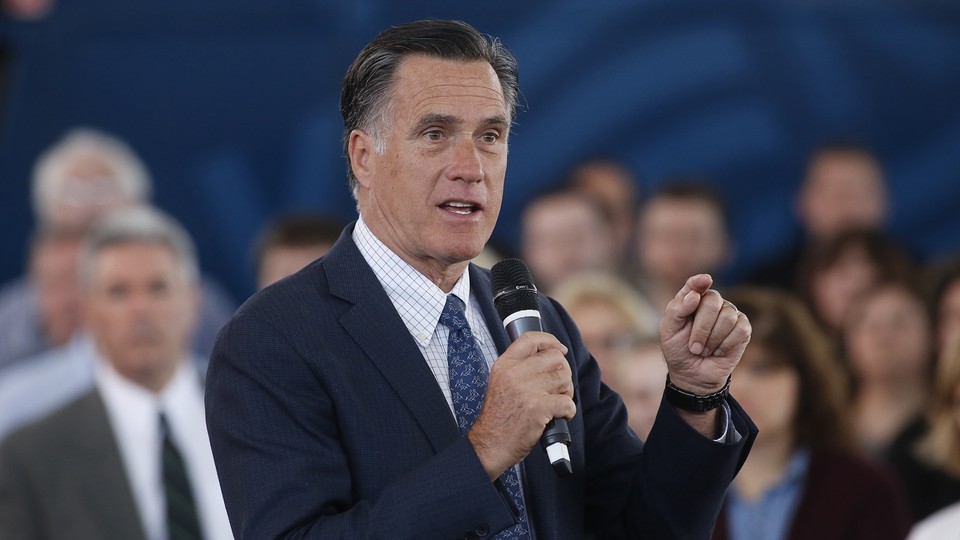 Mitt Romney hasn't even officially announced his candidacy for U.S. Senate, yet Republican leadership is already seeing stars.
According to a Republican donor with direct knowledge, Senate GOP leaders have expressed an early interest in having Romney succeed Colorado Senator Cory Gardner as chairman of the National Republican Senatorial Committee. The role involves leading the Senate GOP's fundraising arm and helping recruit and vet prospective GOP candidates for the upper chamber. A Republican source close to Romney confirmed that the idea of the Utah Republican taking over the NRSC has generated chatter in recent weeks.
On Thursday afternoon, Gardner placed a call to a GOP donor, and said that he and Senate leadership "liked Romney" for the NRSC post. "It made perfect sense to me," said the source, who requested anonymity to share details of the private conversation. "He's got the stature and a virtually unmatched fundraising base to draw upon. And he's running because he wants a national platform to help the party anyway."
On the call, the source said, Gardner admitted it was an atypical move—ushering a junior senator into a leadership role immediately following his election. But Romney is an atypical candidate, a former presidential nominee who enjoys the respect of the GOP establishment and donor class, and a traditional Republican who often acts as a sharp ideological foil to President Trump. (Spokespeople for Gardner and the NRSC did not respond to a request for comment.)
While the entire Senate GOP conference votes for leadership positions after election day, it's widely known that Majority Leader Mitch McConnell effectively dictates the results. And there is reason to believe McConnell might be on board.
According to two Republicans close to Romney, who requested anonymity to describe private conversations, McConnell assured the former presidential nominee last year that if he ran for Senate he would have more influence than the typical junior Senator. "I was not on any Gardner calls yesterday and am therefore unaware of any conversations he may have had," said a spokesperson for McConnell.
Some Romney boosters have speculated that he might take a formal leadership position in the chamber, while others have mused that he could use the Senate seat as a platform for a 2020 presidential bid. But one source close to Romney said the idea of his taking over the NRSC has gained traction in recent weeks among donors and allies. "It's definitely out there, there's no question about that," the source close to Romney said, adding, "My guess is McConnell's pushing it because it would be good for the party and good for fundraising."
The source with knowledge of Senate leadership's discussions cautioned that Romney's path to the chairmanship—should he be elected to the Senate, of course—could be complicated by his tenuous relationship with the president. Despite differing politics on issues such as trade, Gardner and Trump get along well, according to a White House official who has been in meetings with the two of them. The forecast for a Romney-Trump partnership, however, is less rosy: Romney was an outspoken critic of Trump during the 2016 campaign and never endorsed him. Following Trump's election, Romney was then a candidate for secretary of state, only to be passed over for Rex Tillerson; at the time, many believed Trump courted Romney only with the intent to humiliate him, and had never seriously considered him for the role. Since then, Romney hasn't been shy about needling Trump, whether for his comments following a white nationalist rally in Charlottesville or his "America First" brand of foreign policy. And in recent months, Trump launched a charm offensive to urge Utah Senator Orrin Hatch to seek reelection—in no small part, many believed, to keep Romney away.
"Mitt becoming Senator Mitt Romney and chairman of the NRSC elevates Trump's biggest intra-party foe," the Republican donor said. "This is not the outcome Trump wanted when he encouraged Hatch to run again." (The donor added that Gardner did not discuss in the call what Trump's reaction might be.)
Romney is scheduled to make a formal announcement about his Senate plans in Utah on February 15.