How the White House Gamed the Security-Clearance System
Even when the FBI recommends against granting a clearance, there's nothing to prevent a president from simply overriding the system.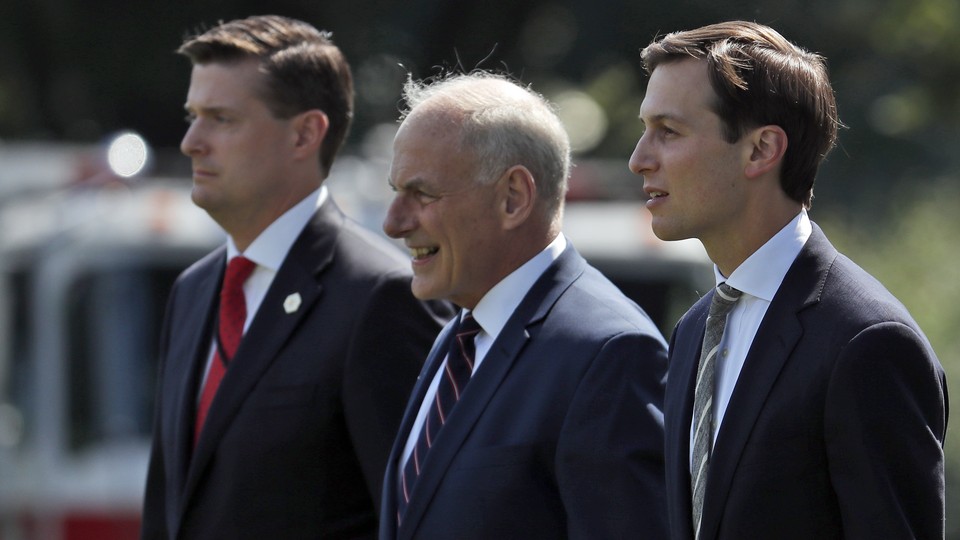 The Rob Porter fiasco has exposed the White House's duplicity, disorganization, and disregard for domestic violence, but it has also exposed some of the issues with the system for granting security clearance to federal employees.
Until his abrupt resignation last week amid allegations of physical and verbal abuse by two ex-wives, Porter had served as staff secretary, handling classified material under an interim security clearance. The question is when the White House learned about the allegations against Porter, when it learned that he would not be recommended for a permanent security clearance, and whether he would have been allowed to continue working barring the press reports about the allegations.
Testifying under oath to the Senate Intelligence Committee, FBI Director Chris Wray on Tuesday said that the White House had been aware of problems with Porter months ago. Wray said that the FBI delivered a partial report in March 2017 and completed its report in late July. He said the bureau had provided further information in November, pursuant to a request.
"I'm quite confident that in this particular instance the FBI followed the established protocols," he said.
Wray's testimony aligns with reporting about what staff in White House, including Counsel Don McGahn and Chief of Staff John Kelly, knew and when they knew it, but it conflicts with the White House line, which is that when Kelly learned that Porter had been accused of domestic violence, he quickly told Porter that he needed to resign. (In yet another account, White House spokespeople have repeatedly claimed publicly Porter resigned of his own volition.) This testimony from Wray, who Trump selected to succeed fired FBI Director James Comey, puts his bureau, which has already been a target of harsh attacks from the president, again at odds with the White House.
It also demonstrates the weaknesses in the security-clearance process. Per Wray's testimony, the White House knew in summer of 2017 that Porter would not be recommended for clearance, and yet it kept him on—in part, Washington Post reporting indicates, because the administration was so desperate for competent staffers that it was concluded Porter was indispensable. In fact, CNN reports he was under consideration for promotion to deputy chief of staff.
How could it be that Porter was still working with an interim clearance, and perhaps in line for a promotion, even after the FBI had delivered a report that recommended he not be granted clearance? In addition to showing how unseriously the White House treated the abuse allegations, this shows a fundamental truth of the clearance process: There's no mechanism to enforce it.
"The security clearance process is entirely a creation of the Executive Branch by way of Executive Order," Bradley Moss, an attorney who deals with national-security, wrote me in an email. "There are agency guidelines that set forth how long the process should take but they are just that—guidelines. They are not binding and there is no external authority that can compel an agency to comply with them."
The FBI can recommend that an individual not be granted clearance, but it doesn't actually do the granting. For White House staff, the White House itself makes that decision. Sometimes it will inform a staffer that he or she will not receive clearance, giving that person time to quietly and gracefully leave government. But there's no statutory procedure that would prevent a president from deciding to let an employee work under interim clearance for eight years across two full terms.
Director of National Intelligence Dan Coats, another Trump appointee, highlighted this problem during Tuesday's Senate Intelligence Committee hearing, where he sat alongside Wray. "The process is broken. It needs to be reformed," Coates said. He called for restricted access to classified material when an interim clearance is required.
This is not the first time officials have called for reforms to the security-clearance system, but past discussions have often centered on how to speed up the process and eliminate backlogs of clearances waiting for completion. Both intelligence officials and ranking Democrat Mark Warner highlighted the continued problem of delays Tuesday. Because the system is slow and deliberate, interim security clearances are a common feature. The White House has pointed to this fact in defending itself against reports that many top West Wing officials, including senior adviser (and Trump son-in-law) Jared Kushner, are still working on interim clearances.
In the immediate sense, the Porter case raises fresh questions about those cases. Are these people working under interim clearances because checks are ongoing, or are they doing so even though the checks have been completed? Porter's case does not offer reason to believe the White House can be trusted to speak honestly about this, or to act swiftly when an investigation recommends against clearance.
More broadly, the way that the White House appears to have gamed the security-clearance system, and exposed its weaknesses, is a microcosm of how the Trump administration has repeatedly encountered safeguards established under the assumption that presidents would respect them without statutory requirements. The Office of Government Ethics was designed to warn the White House when it was not complying with federal ethics rules, but as with the background checks, OGE had (and has) no authority to compel compliance, because in the pre-Trump era everyone assumed that a president would wish to be seen as concerned for his reputation. Nothing bans a president from firing an FBI director on a whim, because in the pre-Trump era everyone assumed that a president would respect existing norms and would not do so. Nothing explicitly bans a president from pushing the Justice Department to prosecute his vanquished political rival, because in the pre-Trump era no president had done so.
Trump has careened past these non-binding barriers without obstruction (so to speak), seeing them as obstacles thrown up by a deep state that was either determined to thwart him personally or else simply too sunk in the swamp. What he and his aides seem to have missed is that these guidelines exist to protect the president, too. Litigation over Trump's conflicts of interests is still pending, but the other cases are demonstrating this already. If Trump had not fired Comey, he would have saved himself the special-counsel probe that represents a major threat and distraction to his presidency. If the White House had taken the FBI's recommendation about Porter seriously when received, it could have sidestepped the latest political catastrophe.